Weight. Weight loss. Overweight. These words, for me, epitomize the scourge of life after 50 — one of them, anyway. Weight loss after 50.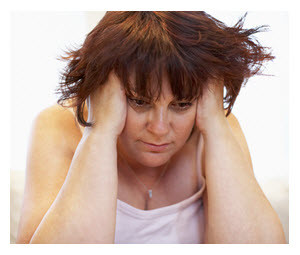 As it is, I have decades of experience at fighting this battle, one which I thought I had conquered for good, along with lifetime challenges to do with body image. So it's demoralizing to find myself here again. It's also an opportunity — to consider causes we may tend to dismiss, to identify options to improve the situation, and in sharing my experience.
And then there is the tangible and immediate: It's time I face the fact that I've packed on pounds – before I lose myself to an old nemesis.
As part of my Monday midlife makeover series, I'm opening the kimono — not to worry, only figuratively — to where I find myself on the subject of weight, and more specifically, overall discomfort at knowing I'm not the size that feels right for me.
Weight Gain After 50
We know the drill: Expect to put on a few pounds around the middle after 50. But a few pounds is far from 20 in just over a year! And at my stature, 20 pounds is five dress sizes.
To my surprise, this sort of gain is more prevalent than I knew. Apparently some 90% of women between 45 and 55 go up by 10 to 20 pounds.
Live Strong points out the health consequences:
… Weight gain at any time, including menopause, can lead to health problems, such as high blood pressure and type 2 diabetes, but weight gained during menopause may increase the risk of developing breast cancer, while losing weight during menopause may reduce your risk of developing the disease.
A few numbers of interest from my "fat" files?
As an adult, I've weighed everything from 92 pounds to 190.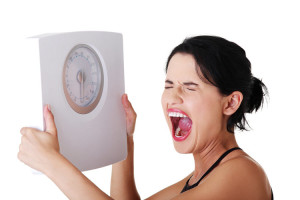 Yes, you read that right. And speaking of 92, that's on the edge of the ideal weight for a woman of my height and age, with the stated range from 92 to 124. That's a 32-pound span, which is itself, confusing.
Frankly, at 124, well… I'll just say it. I'm seriously overweight. I have pictures, but I'll spare you the details. On the other hand, eight pounds thinner at 116, I'm curvy but appear unexceptional in any way. At 105 to 108, which is my once usual size four, I'm "just right." There isn't a bone to be seen at that weight except collar bones and elbows, but I feel good, comfortable, agile.
I feel like myself.
At 92 pounds? That was a gaunt and exhausted me during and after my unpleasant divorce. Some three years later, I was a healthy size four, and I stayed that way for more than ten years.
Weight Loss After 50
So here we are. My midlife makeover. It's at least as much about holding myself to a healthier lifestyle as it is to spicing up my look,  brightening my surroundings, or injecting my professional endeavors with a new burst of energy.
About four weeks ago when I dared to step on a scale, I was horrified to see I weighed 128. Not so bad? Keep this in mind: I don't hit the five foot mark. And… the doctor's scale says my scale weighs 4 pounds light!
So here's what I did.
I stopped eating meals after 7pm
I rededicated myself to fresh fruit and vegetables
A heel injury is beginning to ease, so a week ago I started back on short walks
I'm working to facilitate more sleep
I'm trying new methods of managing stress
Most importantly, I refuse to fall victim to the myth that carrying excess weight at this age is inevitable.
Some? I buy that. But ballooning three, four or in my case, five sizes?
Shame on me.

Causes of Weight Gain We Easily Dismiss
My current appearance leaves me embarrassed. I fought long, hard and won — or so I thought — my fight against fat. Thus, you may understand my less compassionate view when I assess my situation.
I'm disappointed in myself. I'm a little bit appalled. And as the saying goes, I have nothing to wear!
I'm also smart enough to recognize that lifestyle is a significant factor. Sleep deprivation leaves us hungrier, and my work schedule is often grueling. It means early rising and late to bed, and even the occasional all-nighter. How do I manage to make it through?
Cookies. Cupcakes. A run for Reese's.
And all of this combined makes it less likely that I exercise.
It's also well known that stress is a factor. So if you're going through a divorce, struggling to pay the bills, slamming into deadline after deadline, or up waiting for your teen to pull into the driveway — it's unreasonable to think that the body will be immune. It's just as unreasonable to pretend we won't turn to food for comfort as well as energy.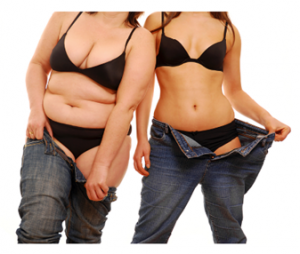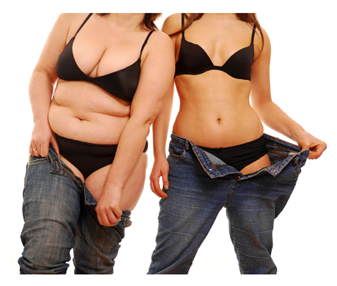 These factors aside, to ignore eating issues that get out of hand is to be very foolish. And surrender? That's not in my nature. Moreover I'm inspired when I look at one of my models of note, an elegant French woman who stands one inch taller than me, and at age 87, she weighs 105, eats everything she wants though she doesn't snack, but pay attention here — she walks a mile or more, generally every day.
Belly Fat Begone!
The New York Times supplies stellar encouragement on the subject of midlife weight loss, as Ask Well (Blog) addresses weight gain for menopausal women. In fact, an increase in activity and a change in diet can accomplish terrific results. Referring to two reputable studies, the first specifies:
… women in the diet group… were three times as likely to have lost weight…
And in the second, we see the same:
… [women in the diet and exercise group] saw greater reductions in their waistlines, and they were more likely to have remained at or below their baseline weight.
The abdominal region being the most likely to attract those extra pounds, and worrisome in terms of health risk, the Mayo Clinic's discussion of belly fat offers an excellent explanation of causes and impacts, and recommends adjusting diet, moderate exercise, and working for a slow and steady loss of extra pounds.
Concerning the measurement for women at which we have cause to pay attention — a 35″ waist or greater (and that's exhaling, not sucking everything in) — yours truly comes in at 34.75″, which is a little too close for comfort.
As for my weight loss regimen these past few weeks? I'll spell it out tomorrow. It's heavy on the fruit and veggies, but includes my favorite proteins.
Women and Body Image
So what if I'm over 50 and a size 12? Is that really a big deal?
Of course not, except… What if I keep gaining? What about that borderline middle? What about the strain that extra weight is putting on my back? What about the fact that I feel lousy about myself, that I look in the mirror and see my obese mother? That is the true challenge for me to address.
When I don't feel like myself in my body, when I flash back to the pain my mother felt in her troubled life, when I see myself becoming a person I don't recognize — I'm less likely to feel good, period.
Confidence plummets, I don't go out, and withdrawing from my social self is a throwback to adolescence and childhood. It's a replay of the shame I felt when the adults watched every morsel I put in my mouth, and pressed me to lose a few pounds.
No one should be made to feel "less than" over body shape or size.
None of us should be shamed or belittled over appearance, and certainly not a child.
And those voices we internalize?
It's hard work to banish them. We may fight their effects periodically throughout our lives.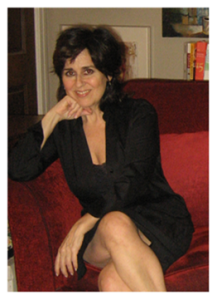 Now. That little woman sitting in a red chair… Yes, that's me, 18 months ago at size four and 108 pounds. See? Not skinny. Healthy. I miss that woman, her comfort with herself, her confidence. I look nothing like her at the moment! And that is my makeover goal — alignment of who I am with how I see and present myself. I needn't be a size four, but something in the middle of my height-appropriate range would be oh-so-much-more "me."
At Home in Our Female Forms
I will always be a curvy woman. I'm thrilled to be a curvy woman! I have friends who are considerably taller and are fit, self-assured, and stunning at size 14. It's about health and well-being, and feeling at home in our bodies; what the French refer to as bien dans sa peau.
But consider this. When we can't stand getting naked and glancing in the mirror, when we've neglected our eating, when we're caught in cycles of sugar (especially) that result from stress, overwork, and lack of sleep, when we can't wear the clothes that reinforce a pleasurable sense of self — don't we feel as if we're somehow slipping away?
Perhaps this is more true for those of us who were once significantly overweight; I recall my discomfort as a size 12, 14, 16 and larger all too clearly. The years of knowing myself fitter, flirtier, and lighter on my feet are such a contrast and brought so much delight. I'm simply unwilling to say goodbye to that me.
Halfway between the 92 to 124-pound span, the range for my age and height, is 108. It's a realistic target, and it feels like "home." However, it requires a 20-pound weight loss. From where I was a month ago, at 128? I'm down seven, 13 to go but plateaued for the past week.
What do I anticipate next? Patience, persistence, and I hope — a one-pound loss per week, then holding it there.
50 and Fat? Not for Me
I adore the freedoms the fifties bring. I know my own mind, I know what I love, and I care less about what others think. What a relief! But that doesn't mean I don't care at all, or that I don't recognize the value of maintaining one's appearance. How others see us is important. How we see ourselves, even more so.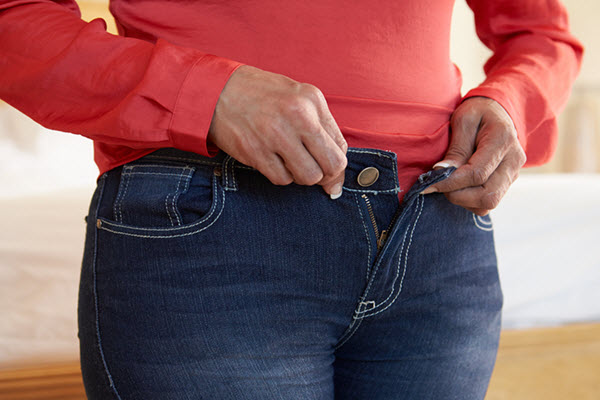 As for growing older, I like who I am becoming,
the person
, at this stage in my life. Still, I have every intention of reclaiming a better, healthier, more comfortable version of myself while remembering that physiological changes are inevitable, medications can make weight gain unavoidable, and the pain of injuries or other conditions can make exercise a challenge. Nevertheless, proper eating and better sleep habits will take me far in fighting weight gain.
Will I ever see size four again?
That's not the point, but this is. I love feeling feminine, I love fine fashions, I love the energy I have to chase my dreams when I'm bien dans ma peau. These days? I'm not feeling it. Not even close. I suspect that some of you are in the same boat.
So I'm channeling my stays in France when I ate well, walked much, and never gave weight a second thought. Even a very recent séjour saw me enjoying wonderful meals — la bettrave (beet salad) and macarons, remember? — and not gaining a single ounce.
I'm also relying on resolve, discipline, and a closet full of beautiful blouses and perfectly fitted pencil skirts. That in itself is ample motivation. And I'm picturing my 87-year-old role model, who is the epitome of French style. I look at her and I know this: There's nothing unusual in desiring or owning confidence, strength, and femininity at any age.
I'll keep you posted on how I'm doing. I welcome your suggestions, experience, and related comments.
Visit the next in the series, Midlife Makeover: Old Talk, Fat Talk. And check out the midlife makeover series in entirety.
You May Also Enjoy