Are you over 50, unemployed, depressed and feeling powerless? For that matter, are you any age and feeling hopeless because you can't seem to land a job?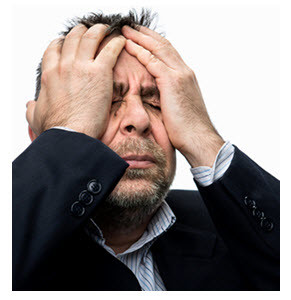 The recession may be officially over, and for some segments of the population, things are looking up. But too many are still sinking or hanging on by the skin of their teeth. Long-term unemployment or underemployment has become a way of life.
This issue, for me, is personal.
I know what it feels like to be marginalized because you're out of work. To be judged by others as if there's something wrong with you. To grow increasingly depressed, demoralized, and despairing as three months of joblessness turns into six, and then continues for a year or more; as rejection after rejection becomes crushing, humiliating, and leaves you feeling worthless.
All money-related impacts aside, you lose confidence. You wear out. You start to give up.
And you don't even make it into the "statistics." It's been too long since your last employment relationship.
A Reader Reminds Us
On a related note, yesterday a reader, someone I don't know, left a comment and asked me to please get in touch. When that happens, if I possibly can get in touch, I do.
Unfortunately, when I sent a note to the email provided, it was returned as undeliverable. Apparently there's a typo in the address. I can only hope she will return to the original post, read any responses, and try again.
What was the subject?
Right. The ongoing discussion of being 50+ and looking for work, 50+ and confronted with long-term unemployment, 50+ with the need to earn one's living, 50+ and no money to retool, 50+ and nowhere to turn. For the specifics, please reference the comment by a woman named Cindy. She was laid off after a long career as a veterinary technician, and continues to look for work with no success.
Now, it's easy to make well-intentioned recommendations. However, many assume there is money to pay for additional training, there are no health obstacles to limit one's options, there is access to transportation, and of course, a decent roof over one's head.
A stranger might advise you to stay open and flexible, consider a move if it makes sense, and per our pop culture panacea (positive attitude) — keep a smile on your face and "everything will be fine."
How often I've heard that in the past half dozen years or more. How often I've grown more discouraged when I've heard it. It's hard to smile your way through a stack of bills, your kids needing something you know you can't afford, your past work experience as good as it gets — but you, never in the running. It's hard to fight your way back when easy assumptions don't hold up and you can't get past the prejudice of ageism. And age bias in the workplace is real.
Workers Age 50+ Continue to Struggle
This New York Times article reporting on older workers notes that the post-recessionary recovery continues to leave the 50+ segment behind.
Elizabeth Olson writes:
Long-term unemployment among older workers has been a major concern. On average, 45 percent of job seekers age 55 and older… have been looking long term, according to the federal Bureau of Labor Statistics, which defines long term as 27 or more weeks without work…
Ms. Olson cites an AARP report on a study conducted in October 2014 (participants ranged in age from 45 to 70), and she quotes its co-author economist Gary Koenig:
… the study's results were "a mixed bag. You have about half who remain unemployed or have dropped out of the labor force, and the other half who have been able to find new employment, but conditions of that employment vary."
Occupations With Growth Opportunities
Also noted in The Times article:
The occupations growing the fastest, according to the Bureau of Labor Statistics, are personal care and home health aides. Other growing job areas, which require specialized training, are nearly all in the health field and include occupational and physical therapy assistants, physician assistants and genetic counselors.
Of course, you have to be physically fit enough to perform these services, have the funds to acquire new skills and certifications, and have access to public or other transportation, which means money for a car, insurance, and gas in order to commute to deliver these services.
Even if Cindy wished to transition from her veterinary background into another area of the health field, how could she do so with no transportation or money to retool skills? How could she feel anything but powerless, like she has no reasonable choices?
It's worth mentioning that The Times article speaks to the issue of age bias, to the importance of using contacts while job searching, and to the successes that many 50+ workers are having by shaping their work lives in some independent fashion.

One Layoff + One Divorce = One Decade of Crazy
Let's take off the pretty masks for a minute, shall we? These days, I'm not as job-scared as I have been in the past, but that doesn't mean it couldn't all change tomorrow. I am not in an "employment" relationship, and that means I'm a phone call away from floating in a sea of worries as I have been off and on for years.
The worst of my job-scared days? They continued for a full ten-year period, and I doubt I will ever feel "safe" again.
For one thing, the insecurity of being what is (laughingly?) referred to as a "portfolio worker" sustains an undercurrent of stress that is impossible to explain if you haven't lived it. And yes, at the moment, I have work coming out of my ears and I couldn't be more delighted. I'm also perpetually physically tired, have virtually zero time for a relationship, too little time to keep a stream of leads in my pipeline (another concern), and find no alternative but to continue as things are.
When you don't have so much as the pretense of a secure "job" — or for that matter a partner, spouse or other family member contributing to the household — it's virtually impossible to let go of the fear of your income disappearing overnight. The prospect of another long, dry spell with no money coming in is terrifying. And reserves? Cushion?
If this has been going on for a few years, those rainy day savings are long gone.
Overqualified, Over-Educated, Over 50
Despite my fancy educational background and shiny corporate career history, for a number of years I was unable to obtain work that was even remotely close to using my skills. Paying me a living wage? Let's not even discuss it. I must have applied to 100 positions over the course of several years, attended the usual networking events, and schmoozed every contact I could come up with.
No go. I suffered from the three O's: Overqualified, Over-educated and Over 50, though I may not have looked it. That last? If you ask me, age was the kicker.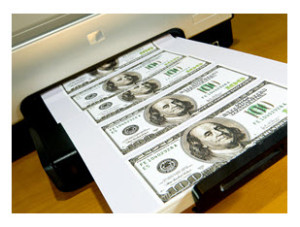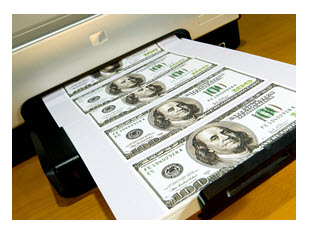 Throughout that period, as post-divorce skirmishes continued to flare (further complicating matters), I nonetheless took every project I could eke out of the woodwork, supplemented by debt.
Hello, bank bail-out? How about a few bucks for those of us who foot the bill in tax dollars?
The Borrowing Trap
Now and then, an acquaintance will make an off-hand remark about those who borrow money or live on credit cards. The assumption is that credit purchases are frivolous, or that the person who racks up consumer debt does so out of irresponsibility and poor judgment.
Never assume.
Yours truly?
I borrowed to put food on the table. I borrowed to pay for school supplies for my kids. I borrowed to enable them to take advantage of academic opportunities that they earned through their own hard work. 
I also counted my blessings. While I had no family to assist, my kids were healthy and doing well, I was basically healthy despite chronic pain, and I was able to use credit. Borrowing is a double-edged sword of course, especially if it continues for an extended period.
But for my little household, debt was the only path to survival. For all I know, it will be again.
Fighting Your Way Back
These days?
I still live on a tight budget, I dream of recovering from the years of financial devastation "someday," and I take every gig I can get.
Willingly.
I've gained new skills along the way and continue to refine them, I'm always looking for another project and thrilled when I nab one, and I'm accustomed to a 12- to 14-hour workday. I put in long hours throughout my corporate career and I have no problem doing so now. In fact, I'm grateful for these workdays and I take none of them for granted. Moreover, I suggest that few of us should take our sources of income as a given.
You know the expression — "There but for the grace of God go I." Misfortune can visit any one of us.
Layoff. Accident or illness. Gray divorce.
The phone call or email with no warning, saying "you're done" as you're replaced by someone 20 years younger.
And yes, I've internalized the wisdom of this little gem: "If opportunity doesn't knock, build a door." But I also know it isn't always possible, and the secret to success is not as simple as hard work. It's aided by the assistance of others, not to mention — luck.
What that means? I still live in fear.
Unemployed and Depressed
Forbes reminds us of the clear links between unemployment and depression, which isn't to say that underemployment or hating your job is a picnic.
Forbes staff writer Susan Adams cites a Gallup poll as follows:
"The longer that Americans are unemployed, the more likely they are to report signs of poor psychological well-being," says the study. "About one in five Americans who have been unemployed for a year or more say they currently have or are being treated for depression — almost double the rate among those who have been unemployed for five weeks or less."
She goes on to note:
The long-term unemployed, unfortunately, have good reason to be depressed. They suffer plenty of discrimination in the job market. A 2012 study by economist Rand Ghayad found that employers preferred candidates with no relevant experience, but who had been out of work for less than six months, to those with experience who had been job hunting for longer than that.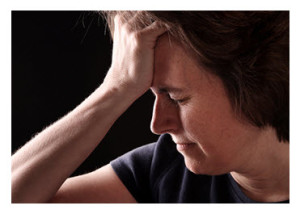 That's a striking statement, don't you think?
I'd say it's right in line with The Times column, wouldn't you? So next time you're about to judge, dismiss or ignore the acquaintance who finds himself or herself in this position, kindly reconsider.
Unemployed or Under-Employed? Over 50?
How many of you have found yourselves laid off and unable to get another job? How many of you are struggling in midlife to create a career where once you were responsible for taking care of a family?
How many of you have knocked on doors and connected until your blue in the face, only to give up?
How many of you have drained away any savings you may have had or incurred crushing debt?
Have you had more success at creating new ventures for yourself — a business or freelance work?
Were you able to rely on the assistance of family or friends for a temporary period?
If you're over 50, have you found it harder? Have you had an experience similar to Cindy's?
I'm certain that many of you have fought your way back; I'm still fighting after years, but I have seen progress. Slower than I'd like, but progress all the same.
If someone helped you out, have you paid it forward by making connections for others?
Please do read this comment from Cindy. I have responded as best I can. I'm sure she would welcome your suggestions. There many other stories and comments. I'm certain those individuals would welcome your suggestions as well.

A Note on Despair
To be in this position — wanting to work, needing to work, knowing you still have much to contribute but never getting a foot in the door — is deeply frustrating, horribly depressing, and leaves us feeling impotent. Add up these elements and you have the formula for despair.
It's brutally hard to fight your way back from despair. But sometimes, an act of compassion can help.
I've been on the receiving end of those incredible kindnesses — from strangers, from readers, and from one friend who has been living on the edge herself for years.
One small act of compassion can breathe new hope into the worst situation. And here's what I know with 100% certainty. We may be unemployed, we may be depressed… but we aren't powerless if we come together and try to help one another.
So if you have any ideas for Cindy, please offer them. And keep in mind that only when we have greater visibility — politically, organizationally — can we harness the power we need to create change.
For now, do what you can. If you know someone who is unemployed or underemployed, whether in an actual employment relationship or working as an independent (contract or freelance), please keep them in mind. Offer a suggestion — without judgment. Make a connection on their behalf — and let them know. Help by thinking creatively — and sharing your ideas. It's often difficult to think outside the box when you feel so long shut down, closed in, and deprived of the light.
If you would like to share details of your story — concerns, special challenges, questions, suggestions and successes — or connect with others, please email startingover50plus @ gmail.com.
You May Also Enjoy