When's the last time you got naked?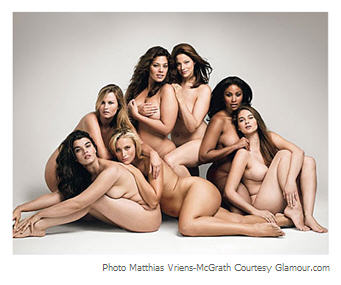 When's the last time you got naked and felt good about it?
It occurs to me how infrequently we get naked once we're no longer kids. Sure, if you're a nudist, you get naked on a regular basis. Naturally, we get naked when we bathe.
But what about bed time, sliding under the sheets with the one we love? Do we leave the lights on and linger? Do we get naked without shame or fear of scrutiny? Without our own judgment?
Most likely if you're a woman – regardless of how you look – you get naked with trepidation – with your partner, and possibly with yourself. Anyone care to offer a differing experience?
I'd love to be wrong.
When's the last time you didn't admonish yourself for some perceived flaw? For not looking the way you did before the holidays, before two kids, before the age of 30? When's the last time you looked, just to get comfortable – and maybe to say – not so bad?
Fear of Fat
Not long ago I shared my thoughts on the FAT personality – prompted by articles addressing the controversy over model Katya Zharkova's nude shots, and the theoretically "plus size" average in America – a 12 or 14. And apparently even the reference to average size is more complex than it sounds. This couldn't be clearer considering there is little standardization when it comes to fashion size and fit. Moreover, size standards involve numerous assumptions including ethnicity and female body shape.
So why is it that we're so worried about a little healthy flesh? And I said healthy flesh; I'm not talking about our well documented issues of obesity in this country, and the obviously damaging impacts to individual and societal well-being.
Incidentally, the image shown above comes from a 2009 article in Glamour Magazine, which featured beautiful nude photographs of plus-size supermodels, in all their voluptuous glory. I encourage you to glance at those pictures as well.
Women with Curves, Women with Bellies
I recall a few years back checking out The Belly Project. If you haven't seen it, and if you're a woman, you might want to spend some time browsing its pages and its photographs. It includes women of all ages, both pre- and post-pregnancies, not to mention following surgeries. And it provides a view of real bellies – in all their diversity of shapes, sizes, and surface textures.
Frankly, I found it fascinating. And educational. And a relief. Naturally, I compared my own belly to those in the images, factoring in my personal stories of weight gain and loss, age, height, and pregnancies. And that particular comparison process was healing.
This site, Mozaik Curves, presents photography and drawings of real life women who are generally on the larger side. More than bellies, and, as you might imagine from the site's name, these are women with curves and they're unafraid to show them off.
It may be your thing; it may not. These women may resemble you, your sister, your mother, your wife, your best friend – and you may not be comfortable actually seeing them in partial undress. But if you're willing, then glance – and consider. These are real women, getting naked. Very tastefully, by the way.
Youth is Wasted on the Young
Yes, the models I've referenced to this point are all young. Certainly those models in the Glamour spread, as well as Katya Zharkova, and those on the site I mentioned. They may be rounder than society currently deems ideal, but if their skin is taut and toned and smooth, they are still far different from those of us who have experienced dramatic weight loss (and gain, and loss, and gain) or the aftereffects of multiple pregnancies, or surgeries that were necessary for medical reasons.
So where are the images of real-world mature women? I'm not talking "adult" sites, but other sources, so as we age we may look and realize we are undergoing normal and natural changes – not some aberration to be covered up, or exchanged for surgical scars.
Where is our ability to honestly address the issues around fat and its perception, fat and its many psychological roles, fat as emotional hiding place, fat and the judgments we bring to the very word, fat and the damning image we carry in our heads, fat prejudice that continues to go unchecked?
Tasteful Nudes, Women Over 40, Women Over 50

What if we had images of midlife women in the nude? Not sexual images, but tasteful nudes – and women with "real" bodies at 45 or 50 or 60 or 70?
What if we had access to images of older women – oh, even an updated Calendar Girls – so we might make peace with our bodies more easily? So we might feel accepted, feel loved, feel worthy – and worthy of feeling sexual?
Then, would aging seem as frightening? Would we feel inferior to those women who trade the permanent scarring of nips and tucks for flesh that is rippled from pregnancies and subsequent weight gain and loss?
Hell, it's hard enough to find women over 50 in magazines – and with clothes on! Doesn't this have an insidious effect, rendering us increasingly invisible – or at least, trying to do so?
Nudity Without Shame
Hello, Body Project, are you out there – in process, or waiting to be conceived?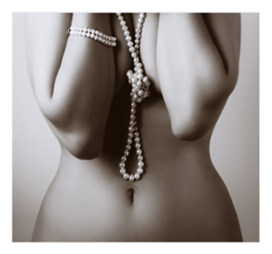 Would that we could encourage such a thing, and enjoy seeing the diversity of naked women in entirety; women of many ages and sizes – so we might all experience greater comfort – and normalcy – in the body as it is.
And I wouldn't be against including men, except that men seem so much more able to accept their bodies than women. They don't run around asking each other (or their partners) if they look fat. They don't discount their viability in the relationship market as a function of weight or BMI. They don't mentally calculate every calorie (or Weight Watcher's point) as they contemplate the meal placed in front of them. They don't suffer the Body Politic, going to bed hungry by choice, making love hungry and distracted, performing sexually while sucking in their stomachs all the while hoping they're being viewed at an attractive angle.
They don't cook for a family in an environment of plenty – while living a constancy of preoccupation that involves denial and self-deprecation.
Seeking Tasteful Nudes

By the way, I looked for two days off and on, trying to find images – tasteful images – of female nudes over the age of 50. You know – "regular" women, and preferably without air brushing or Photoshopping.
No go.
And if I had, I would've included photos here.
Listen, I'm all for women who take care of themselves – eating well and staying as fit as possible. Nor do I assume that a woman who is a size 14 or 16 or 20 isn't healthy, attentive to what she eats, and fit. But, when I speak of photographs to help us see ourselves clearly (and kindly), I don't mean carefully composed pictures of models or actresses who still look spectacular at 50 – what "society" deems spectacular. (You may recall that Farah Fawcett decided to disrobe for Playboy at 50.)
I mean something else. Something more real. Something beautiful in that reality. Something other than what I found: MILFs on adult sites (generally not over 40), "mature" women on adult sites (again, not over 40), and sexually explicit shots of overweight women (young). While there are some gorgeous sites with tasteful nudes, yes, once again, they're all young.
Like I said, nothing like the Belly Project, but with women at midlife and older – tastefully and honestly presented.
Over 50? Still sexual? Wanting to feel "normal" in your womanly curves? Desirous of feeling acceptable and accepted, and without society pressing you to undergo surgical procedures to "compete" – that you can neither afford nor want? Where do we find our role models? Our confidence?

Fat Head? Wise Head? Blind to Beauty?

If you're naturally thin, fine!
But what about the rest of us? What about all the hours (days, months, years) we accumulate, convinced we're "fat" and therefore unworthy, wasting precious life on wishing we were someone else? On trying to remake ourselves to look like someone else?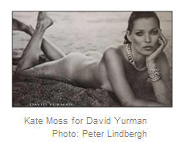 What about the years spent trying to reshape our bodies to resemble Kate Moss, and pointlessly so?
Is she beautiful? Sure! Is she too thin? Some would say she used to be (there's a bit more of her now), and others would say she's perfect – as she is, or as she was. I wonder, would she say she was ever perfect? 
What about all the hours (days, months, years) we live in our heads rather than our bodies because it seems less painful to do so? What about the blindness to our own beauty – just as we are?
Healthy Body, Count Your Blessings
If we have the good fortune to be healthy, why can't we celebrate that – and use our wiser heads, our common sense, and ignore the media madness that tells us youthful skin and bones are better than soft and welcoming flesh, better than naturally aging bodies that still serve us daily, better than whatever self-image we may carry in our heads that is never quite up to snuff?
I think we could learn from our little ones who charge through the house – gleefully – in their birthday suits. Somewhere along the way, before puberty, we teach them shame – directly or indirectly. They begin to compare their bodies in judgmental fashion; we compare our bodies – and let loose with little remarks about being fat, or wishing we had a straighter nose or longer legs or bouncier booty or something other than what we have, what we look like, the body that houses us – that is us.
We're All People, People!
I don't recall when or where it was, but several years ago I saw a photograph of a massive crowd of "regular people" standing, in the nude. Older, younger, heavier, thinner.
It was, well, eye-opening.
So many arms, legs, hips, bellies, boobs, genitals. All imperfect, and lovely in the landscape of relaxed and widely diverse human form. And after a few minutes – they all seemed somehow equalized, and natural. Why are we so afraid? So determined to compare and then put ourselves down? What is the problem with nudity, with our bodies as they are – as long as we're healthy?
What if we all got more at ease with getting naked? With ourselves, and then with our significant others?
What if we spent five minutes a day in front of a mirror, telling ourselves we're just fine as we are? Especially the women?
Would looking at ourselves daily – as well as looking at others – help return some measure of reasonableness, confidence, and self-esteem?
As for that five minutes?
This morning I did exactly that. I looked in the mirror and I said to myself: Not so bad.

Click on Glamour 2009 image to access the original and subsequent article and photos.
Kate Moss, Photo Credit Peter Lindbergh; click on image to access original as it appears on Telleestmatele.com.
You May Also Enjoy