"Beets," I say. "I must have a beet salad before we leave Paris."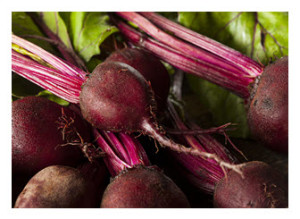 He laughs.
"You had to have Belgian fries with mayonnaise before leaving Brussels, and it's beets before departing Paris."
"Exactly," I say, as I (once again) wax poetic on my memories of "betterave" — French for beets — which I have enjoyed each time I've landed on French shores.
I persist in asserting that beets are superior in taste and presentation on Gallic soil, and that I've never had so delicious a beet salad (in all its configurations) as those I've eaten in Paris over the years.
My traveling companion claims that it's all in my head as he argues that there are perfectly delicious beets in the United States. Still, he concedes that this inelegant root offers incredible health benefits, regardless of where we choose to consume it. Please note that the gentleman in question is French, so shouldn't he be more chauvinistic and claiming credit?
Health Benefits of Beets
Among the health benefits of beets are these, as periodically reported in the press:
lowering blood pressure
rich in vitamin C, B, potassium and more
low-cal, but high sugar (great energy boost)
cancer-fighting properties
anti-inflammatory
You can read more about the beet's benefits at Mercola or at Full Circle Farms. And incidentally, I perked right up when I read this tidbit from Full Circle:
Beets contain betaine, the same substance that is used in certain treatments of depression. It also contains trytophan, which relaxes the mind and creates a sense of well-being…
Et si vous préférez la version française, veuillez vous renseigner chez Passeport Santé.
Anyone for a Cruise on the Seine?
"Cold?" he asks.
I'm thinking the donning of my gloves, my scarf wrapped tightly around my neck and pulled up to my nose, and slight shivering might be clues. I'm wearing three shirts and a wool jacket, but I'm chilled to the bone.
Especially since we're no longer walking around and the temperature has dropped. Noticeably.
On the other hand, we're seated on a Bateau Mouche that is just taking off, and I'm experiencing the City of Light in a way I never have before, while tickled at a group of 10-year old French girls seated in front of us as they merrily wave, giggle, and offer everyone around them M&Ms.
Cold or not, to pass by Ile de la Cité, the Louvre, and the Eiffel Tower by boat is an experience I am unlikely to forget. The view is nothing less than enchanting. Still, after an hour, "ça suffit" — a toasty warm café to take shelter is sounding good. And yes, I am craving craving craving… beet salad!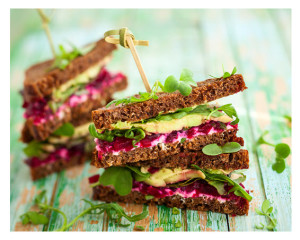 Now one never knows what form that will take. My classic choice is often as simple as "crudités," generally a colorful mélange of shredded beets, carrots, sliced cucumbers, and tomatoes. As for the salad, beets may be combined with carrots (of course), oranges (a fabulous combination), a variety of cheeses (adding some bite), walnuts or pecans, and any number of greens. I'm happy with any variation of arugula, red leaf or Boston lettuce, and spinach.
Beet Soup? Beet Sandwich?
Most of us have encountered beet soup at one time or another, common enough for those of Eastern European heritage. Can you spell B-O-R-S-C-H-T?
I can't say that I'm a huge fan of beet soup, even with a luxurious dollop of sour cream to top it off. I much prefer it in its more natural form. Apparently, all that's involved in scrubbing them, popping them in a pot, bringing them to a boil, and letting them simmer for 20 to 30 minutes. Then drain and cool.
I think I'm up to that!
Having run into a variety of sandwich recipes that include beets, I'm inclined to pursue this magical food without crossing an ocean to do so. I'm very tempted to try a version of this sandwich combining beets with avocado, arugula, a sinful slice of gooey cheese and a touch of watercress.
In any beet salad, or even a sandwich with these ingredients, to me, the vinaigrette is key; I like mine with a fearless injection of Dijon mustard.
You Can't "Beet" This
What arrived and was set in front of me?
See for yourself!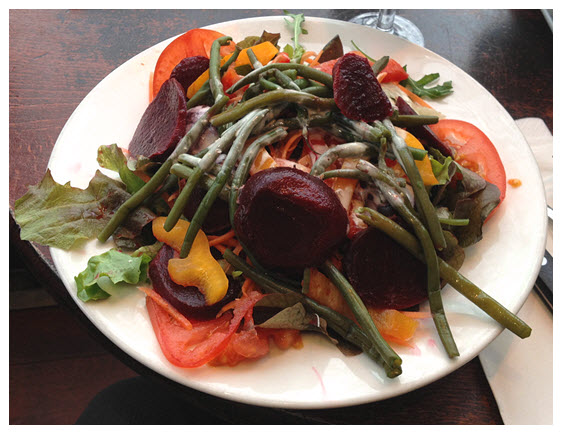 To my surprise, this overflowing plate included one of my other French faves, haricots verts, and a veritable mountain of fresh greens, bright red tomatoes, sunny yellow peppers, and of course, those beautiful beets. And they were divine! Tender, succulent, just slightly sweet…
And how can you possibly be anything but madly in love with their deep purplish color?
I do try my best to stick to a healthy eating plan, but I admit to my slips, and I do not believe in total deprivation. (My recent mention of macarons is surely testament to that.)
Inspired by my mini-moans of pleasure — or was I purring? — the conversation picks up again:
"Are you happy with your beets now?"
I reply: "J'en suis bette-ravie!"
Loosely translated (but with a play on words in French), that means I am delighted.
Please enjoy my beautiful beet salad, albeit vicariously. Eh oui, my dining partner enjoyed an outrageously scrumptious baguette with ham, and a decadent bowl of fries. (I tasted both. Perfection.)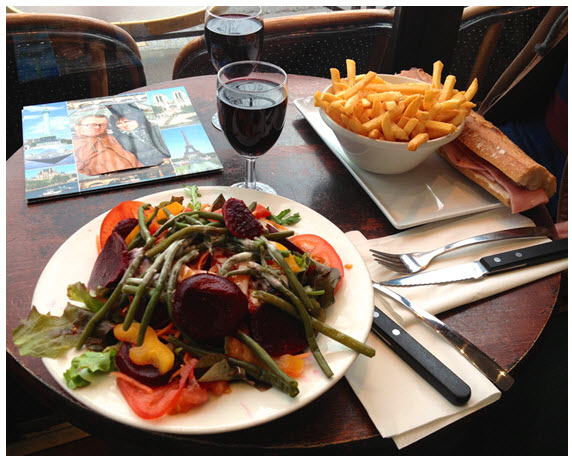 You May Also Enjoy