I'm channeling glazed donuts, raspberry danish, maple scones from the local bakery. And I wouldn't say no to a deli sandwich or a pile of fries, and I've been feeling this way since four this morning!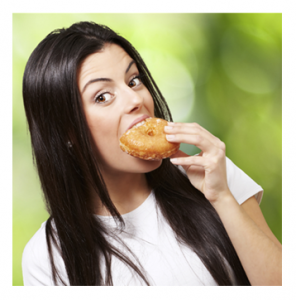 Through the night and early hours, I scavenged in the fridge and pantry repeatedly. I needed sleep, but that wasn't an option. Fortunately (I suppose), there wasn't so much as an organic cookie in the house. I had to settle for two pieces of toast, and a few hours later, a bowl of oatmeal.
Why this nocturnal noshing?
Does anyone recall a tale of Lost at the Airport? Not to mention One Reverse Voyage required?
Uh-huh. Offspring Due at Airport in the Wee Hours of the Still Black Morning. So cue the alarm clock for 3:00 a.m., and witness this weary woman wander to the kitchen on not quite 180 minutes of zzzs…  waking one son, then craving cookies, then cake, then Krispy Kremes.
At this point I estimate that College Kid is more than halfway through his Epic Trek to School. But yours truly remains foggy, bleary-eyed, and absolutely ravenous.
Sleep Deprivation in America: Statistics, Risks, Impacts
I know I'm not the only soul in these parts who is zonked out and sporting zombie peepers. And not just one night, but over the course of days, weeks, and longer.
Did you know that sleep deprivation is considered a "public health hazard" according to the Centers for Disease Control (CDC)? And the statistics, risks, and impacts are, to the say the least, alarming, with estimates that roughly one third of Americans qualify as sleep-deprived.
According to the CDC, sleep insufficiency is linked to:
… motor vehicle crashes, industrial disasters, and medical and other occupational errors… nodding off while driving, and having difficulty performing daily tasks because of sleepiness all may contribute to these hazardous outcomes. Persons experiencing sleep insufficiency are also more likely to suffer from chronic diseases such as hypertension, diabetes, depression, and obesity, as well as from cancer, increased mortality, and reduced quality of life and productivity…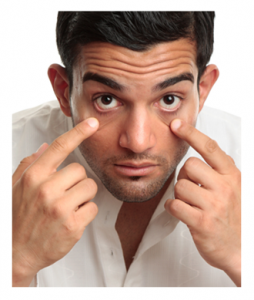 Concerned? I am. And not just about raiding the fridge in the middle of the night, but over a lifestyle that accepts ongoing press and stress that threatens our health and well-being, and that of our families.
Yet we keep at it – and I'm no exception, as we wear our "no rest for the weary" attitude, and push ourselves through necessity or habit – bearing sleep deprivation like some contemporary badge of honor.
Snacking
Have you ever noticed that when you're sleep deprived, you reach for food to stay awake? Do you go for the carbs and comfort foods you normally consume judiciously?
Remember your college all-nighters? Did you chomp the chips and crunch the cookies to sustain the hours you needed instead of sleep?
And what about the years of babies and toddlers? Was anyone else up in the wee hours and snacking? Were you up at 4 to work until 6 – with a sandwich on hand or a bowl of snacks?
Snoozing
For those who have mastered the gift of napping, I envy you that skill, and wish I could manage it. I have friends who can sleep anywhere – and do when necessary. I know others who cat nap for 20 minutes and feel refreshed. Then, if dealt an abbreviated night of sleep, they might be able to recoup here, there, or anywhere – rather than staying awake by ingesting extra calories.
The fact is – the first half hour I was awake (and needed to stay that way), my entire body was fighting to slip unconscious. What I needed was sleep, but that wasn't in the cards.
Losing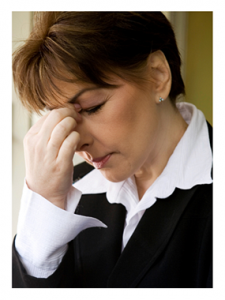 We're reading more press these days about our sleepless ways – and it's not only about mothers up all night with babies, or students cramming for a week before finals. We're losing sleep as a culture, losing common sense when it comes to priorities, losing our judgment when we're tired – but we insist on continuing, with an energy drink or excessive sugar.
To read the conclusions offered by studies, we're chipping away at our health, and our cognitive functioning is also taking a dive.
Snacking Instead of Sleep…
Many of us suffer insomnia, for any number of reasons. Millions of Americans feel compelled to short change our sleep for brief or extended periods – due to school, work, and family. If you've been up in the wee hours, and unable to catch up, it won't come as a surprise that studies tell us "Sleep Deprivation Could Spur Calorie Consumption."
As explained in a Huff Post article this week:
Researchers from the University of Colorado at Boulder found that people tend to consume more calories from after-dinner snacks if they sleep fewer than five hours a night for a week.
The study size is tiny (only 16 participants), but this isn't the only research looking into associations between sleep and eating. Also cited:
a small study in the journal Psychoendocrinology showed further evidence that sleep deprivation can make people more apt to eat bigger portion sizes. And a study presented last year at a meeting of the American Heart Association showed that sleep deprivation is associated with consumption of an extra 500 calories a day.
More Data
The accompanying slide show at Huff Post makes reference to review of 18 studies on sleep and appetite, revealing:
Too little sleep can spur some less-than-ideal food choices, including serving yourself larger portions, and a hankering for junk food, thanks to some complicated hormonal changes that occur when you don't get sufficient shuteye.
Note that sufficient shuteye is defined as a minimum of six hours.
While the Huff Post article points out that weight gain and obesity are more complex than any single dimension, may I refer you to Scientific American, which offers more detail on those 18 studies?
To Sleep, Perchance to Dream…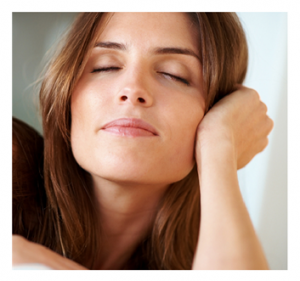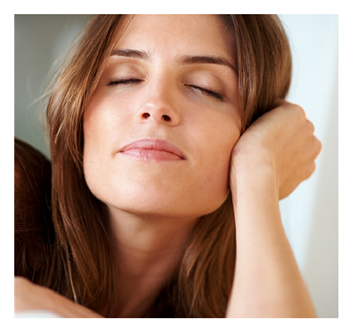 In case you were wondering, I did not take to the highway on less than three hours of sleep – and that, for the second night in a row. I opted for the price of a cab, knowing that it was the only reasonable route even if the UnBudget was Unhappy.
And why am I publishing so much later today than usual?
I'm sleep-deprived.
My. mind. is. mush.
Have you noticed changes in appetite when you're battling bouts of insomnia?
Do you use food as a crutch to make it through periods with little sleep?
Does stress rob you of sleep? Does the Daily Juggle drive you to overeat?
You May Also Enjoy