Bliss. What a delectable term. How could anything that adds to bliss possibly be harmful? Why not seek the consumer's "bliss point" when it comes to offering packaged foods?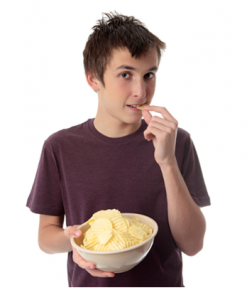 Mouth feel. Now that's amusing – and also appealing. Who wouldn't want the sensory pleasure of a variety of textures and experiences that are satisfying on the tongue?
Take Bliss Point and Mouth Feel and stir in a few other tasty ingredients. See the wizards behind the curtain concocting those favorite foods – the ones you can't seem to get enough of.
These and other terms are explained by a New York Times Magazine piece on "The Extraordinary Science of Junk Food."
It's a Must-Read – an in-depth look at aspects of the food industry that create the "products" we consume, the process of their formulation and marketing designed to hook us, and their admitted contribution to the obesity epidemic in this country.
If you doubt obesity has reached epidemic proportions, try these statistics on for size, as cited by the Times:
Today, one in three adults is considered clinically obese, along with one in five kids, and 24 million Americans are afflicted by type 2 diabetes, often caused by poor diet, with another 79 million people having pre-diabetes.
The article is long, and worth every word.
Read. Consider. Is this really what we want for ourselves or our children?
And what about the growing evidence associating poor diet and Alzheimer's?
More on Obesity, Overweight, and Body Image