My Saturday? It was heavenly. A glorious afternoon of getting (only slightly) lost, trying to find a particular farmer's market.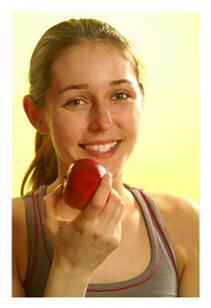 Oh, was the meandering journey worth it! Once there, I spent hours picking through the extraordinary display of offerings – from fiery red tomatoes to leafy spinach and perfect peaches, seeds and spices I'd never seen or heard of before, a fish market with an astonishing display, and of course breads to slay the skeptic in all of us when it comes to tasty and healthy in the same mouthful.
And more. So much more.
As for the price tag? Approximately $54, for nearly a week's worth of food. And trust me – that is far less than "usual" with teenagers around the place.
Not a fascinating topic? Really? Then can we agree that it's a critical topic – for those of us who wish to eat better rather than worse, as we find our dwindling dollars disappearing at an accelerating pace?
And what about the issues of health? Preventing heart disease and cancer? Now have I got your attention?
Let's consider the provocative article on yesterday's New York Times Opinion pages, by Mark Bittman, with the following teaser:
Taxing junk food and making healthy food more affordable would save millions of lives and billions of dollars in health care costs.
Mr. Bittman takes on the food industry and its marketing, and goes on to say:
Their mission is not public health but profit, so they'll continue to sell the health-damaging food that's most profitable, until the market or another force skews things otherwise. That "other force" should be the federal government, fulfilling its role as an agent of the public good…
Pop over to the Times and read. Please. Be sure to read the comments. It's a worthy discussion; an essential discussion, and I, too, believe it is indisputable that the quality of the food that we consume – or lack thereof – is killing us. And costing us a bloody fortune as a nation in the process.
Examples In Eating, Spending, And Action Over Apathy

Not long ago I wrote about obesity in America. I wrote about our need to learn more and do more when it comes to the food we eat, which we know is a critical factor in growing health problems and long-term costs. I am sharing what I'm learning about eating healthier on a tight budget.
I realize that a "restricted shopping budget" for one household of three isn't the same as another, and this is food only – not other necessities. Moreover, ask me again in a month, and I'm likely to be slashing deeper still. But for now, let me say I spent far less than anticipated, bought quality and quantity, and I estimate my savings (yesterday) at $30, possibly more.
And yes, I'm fortunate in having a number of accessible locations to choose from.  Not everyone has these options, and this is one of the problems we face when it comes to what we consume – lack of access, along with lack of education about what we're putting in our mouths.
As for my glorious food treasure, my purchases are as follows:
cage-free brown eggs (a dozen), Gouda (Dutch) cheese
sock-eye salmon fillets (enough for 3), 1 pound of fresh (wild) shrimp (enough for 3)
baby field greens, baby spinach, carrots, red potatoes, green bell pepper, red bell pepper, Chinese eggplant, Italian eggplant, zucchini, yellow squash, green onion
white nectarines, strawberries, 1 avocado
tumeric (poor woman's saffron), green olives stuffed with garlic, elephant garlic, Dijon mustard
2 baguettes rustic bread, organic farm multigrain (delicious and filling)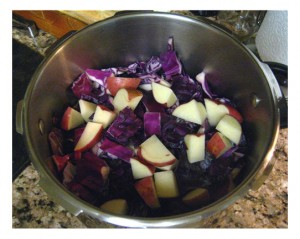 Note that I didn't buy meat, chicken, milk, yogurt or juice (I was able to find those elsewhere a few days ago – about $25 – all standard for our household). Note, too that inexpensive cuts of meat tenderize in pressure cooker recipes in no time, and I've previously mentioned that I'm doing more pressure cooker meals, most for $8 or less, feeding approximately four.
As for the olives ($1.39) and the nice chunk of cheese ($2.32), they were an indulgence. Hey! It's the weekend!
You Are What You Eat
Over the past weeks I've learned the prices and selections of local markets, and I make the rounds. Yes, it's time-consuming, but it's been worth it. And as many of you may already know – if you're willing to trim your own meats and clean your own shrimp and fish, you can eat wonderfully at a lower price – by being less squeamish.
I believe in the expression "you are what you eat" – now, more than ever. In the past six weeks or so I've changed my diet significantly, and I feel more energetic, am never hungry, and I've lost weight. I continue to eat some meat, some chicken, whatever fish I can afford (that hasn't been much lately). I'm eating a great deal of fruits and veggies, and tons of cabbage in a variety of soups and stews.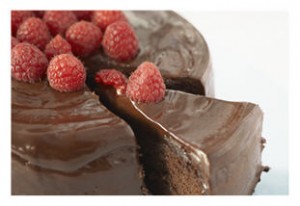 Does that mean there isn't a chip or piece of cake to be found in our pantry? Of course not. Life is too short to be crazed over every bite, or – in my opinion – to deny oneself sensual pleasures like chocolate, or whatever treat comes to mind. But they're treats – not staples.
My health and the health of my family are the priority. I'm not quite over-the-hill yet (on the contrary!), but nor am I a spring chicken. Healthy eating is a must, a non-negotiable – over clothing, over gadgets, over cars, over going out.
This is about priorities – and also enjoyment. The pleasure of food, when you eat quality. The sensuality of the colors and textures and aromas, not to mention the taste, and taking time to savor it.
What Are Your Kids Really Eating?
Did you ever read a food label? Really read a food label?
If you won't do it for yourself, will you improve your food knowledge for your kids? Are you sure you want them on a steady diet of chemicals you can't even pronounce? Isn't it worth a closer look? Isn't it worth putting your money where your mouth is – literally?
I'll say it again. It's about priorities. It's about Americans in a hurry, Americans looking the other way, Americans accepting what is easy, Americans with blinders on until it "happens to them," American money – and money better spent on a bigger picture, a longer-term picture, a healthier picture for all of us.
I'll still enjoy my occasional Big Mac, and my chunk of chocolate, and some processed foods – of course. Part of my real world requires it. But I strongly believe we can all do so much better, with a bit of education and a whole lot of insistence. We are what we eat. We need to own the responsibility for our actions, including getting what we deserve, when it comes to quality food.
As for Mark Bittman's suggestion that we insist on government forcing the food industry into better / healthier practices, I'd be curious to know what you think.
You May Also Enjoy