Body image issues? Who, me? What about you?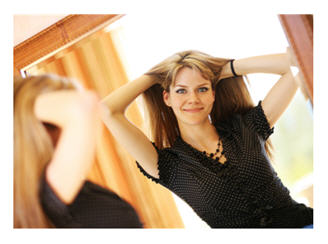 What woman doesn't look in the mirror and imagine herself taller, shorter, thinner, bustier? Who doesn't want the raised rack, trimmer thighs, tighter tummy, or bouncier butt?
And don't get me started on the self-inflicted tortures over hair, skin, hands, our less than bleach-bright smiles, our not quite pouty lips, our furrowed brows, our… well… everything.
Are there some women out there who are not body image obsessed? I imagine so, yes. But none that I know.
Listen, I like looking at a beautiful body as much as the next person, though we might not agree on what "beautiful" is.
And I'll admit that "obsessed" eventually gives way to "bothered," or some other lesser emotional state. Typically, when we're off the dating market – as in married, chasing kids, or swamped with work and otherwise focused on more immediate matters. I will also admit to a fair amount of body image misery of my own in my lifetime. I haven't always seen myself clearly, and I know that.
Women and Body Image
Like most women, I've been at war (however nicely) just to make my way in the world. Far more troubling – I have been at war with myself, esteem linked to appearance, specifically, whatever I thought was an acceptable weight and shape.
Fortunately, I'm no longer driven to step on a scale (and judge myself "good" or "bad" according to the number), I don't "what if" myself imagining a taller, thinner, or surgically enhanced version of moi, and obsession has indeed yielded to occasional bouts of self-doubt and vague wistfulness for my pre-baby body.
But it doesn't mean that I don't feel "lesser" when around a woman who is striking, statuesque, and thin. (I'm only human.) I believe this is at least in part due to the barrage of media images as to what beauty is – impossibly thin (with curves), impossibly glowing (with air brushing), and down right impossible to achieve.
Where Air Brushing Leaves Off, Photoshop Takes Over
We're long past the era of air brushing. We're on to Photoshopping already skinny bodies to contour them into ridiculous and implausible figures. There have been mini-uproars over the past few years, as news has broken periodically about digitally altered models in ad campaigns.
But when I read this recent Jezebel article on proposed Photoshop legislation I was dismayed, not only at the idealized stick with tits and ass, this particular digital media practice, but worse – the suggestion that government intervention should solve it.
Right. Laws to prevent Photoshop alteration of images.
Really?? Aren't there other things tax dollars could be doing?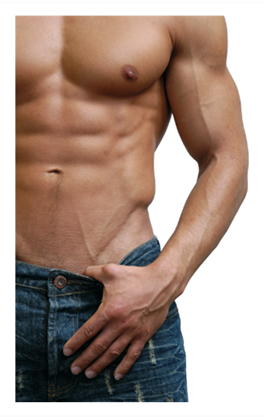 I'd prefer school programs that deal with a healthy body (affirmative steps) rather than chasing down the Photoshoppers (enforcement) who claim they're just giving the public what it wants. Might we not agree they're shaping the public view of what is acceptable?
I continue to wonder why a woman's body is such a battlefield.
Are sexual politics part of your daily contemporary cultural landscape?
As a woman, how affected are you by what you see in media?
As a man, what are your expectations of a woman's body, are they different from your own, and do either evolve as you age?
Boys and Body Image
And lest we be short-sighted, it is not just our young girls (and women) who are impacted by the barrage of imagery and associated shifting vales. Young boys suffer body image pressures of their own. I have certainly seen it in my sons, and I am fully aware that it takes form in different ways for the male of the (human)species.
I may doubt it is as oppressive, pervasive, or permanent for most men as it is for the fairer sex, but that may be a faulty assumption.
How do we even begin to fix this? How do we educate our daughters, our sons, our spouses, our partners and ourselves? How do we recognize the waste in painfully whittled waistlines, and that body as battlefield is bad news?
You May Also Enjoy