Who doesn't want to scream when it comes to their kid? At least now and then?
In the past 24 hours, one of my sons tried my patience over a long-running issue. I lost my temper – though he admits to seeing that I was holding back – but I went for a more hard-line response than usual. And today, he's working to make a few changes based on his own ideas of what may solve the problem.
Let's be real. Kids are hard work. Knee-jerk reactions are not unusual. But band-aid responses rarely change a thing.
And the latest CNN Health report discussing the problem of America's obese kids offers a classic example of a knee-jerk reaction and band-aid response. Exactly the sort of quick fix approach that has come to characterize America's decision-making process.
And it solves nothing.
Not sure what I'm talking about?
Fat Kids, Thin Arguments
Earlier this week I commented on the recently released state-specific obesity figures in the U.S., and in particular, the alarming statistics on overweight children, with estimates that one out of three children is overweight or obese. Yesterday, CNN released a Harvard study which suggests that dangerously obese children should be taken away from their parents, and put into foster care.
Not being a social worker, I can't imagine what sort of burden this would place on an already difficult job, not to mention the added load on foster parents who may be struggling to manage. Then again, foster care isn't exactly known for its consistent quality of environment.
But worse, this so-called solution bypasses the more fundamental issues – seeking to treat a "symptom" (obesity) without addressing the disease (ignorance, low income, no access to healthful alternatives).
When are we going to start tying real solutions that are not simple to complex problems that deserve our attention?
Citing from the CNN article:
"State intervention may serve the best interests of many children with life-threatening obesity, comprising the only realistic way to control harmful behaviors," the authors say in the commentary.  They argue this would be a better alternative than the expensive and potentially dangerous weight loss surgery that is sometimes used to treat obese adolescents.
Seriously?
I can't believe the report doesn't tie the incidents of extreme obesity to income levels. Are we actually likely to consider stomach stapling for these kids? I doubt it.
Lost Keys
A little closer to home – my home – there's the recurring responsibility issue with my son over lost keys, and my own realization that I haven't been dealing with the problem effectively. For two years, the number of house keys he has misplaced is ridiculous, and he admits as much.
He has offered apologies. I have sent him to spend his own couple of bucks to remake a key – walking a few miles to do so – and that hasn't worked. Last night, when he was headed out with friends (late), and it was quickly clear he had no key, I told him he could choose to stay home, or be unable to get back in.
I had no intention of giving him my key (to be lost?) and every intention of going to sleep when I wished and locking the house.
More Than Meets The Eye?
Oh, it may seem like a small thing. Or there's more going on than meets the eye, psychologically speaking. Perhaps something about access to "home," and my always being here for my son.
But at this point, I'm fed up with the inconvenience of him forgetting keys. The irresponsibility. The seeming inability for an exceptionally bright kid to resolve this problem.
My son is a great kid in so many ways, and I've never knowingly locked him out of the house. But that's exactly what I did last night. To make a point. A serious point. And I told him I was doing it.
If he went out – and I was fine with him doing so – he'd have no way to get back in until morning.
No more band-aids.
What does this have to do with obese kids and taking them away from parents?
Parents, Doing Our Best
This has everything to do with parents loving their children and wanting what's right.
As parents, we do the best we can with what we have. Our skills vary, we learn from experience, but we all know that parenting is often trial and error, and what is effective with one child isn't necessarily effective with a sibling.
Kids are genetically predisposed to certain physical characteristics, and perhaps – psychologically disposed to others. I can only make that statement as a mother, having observed my children and their friends over the past 19 years. Certainly, their temperaments and their experiences cause them to react differently, and we, as parents, treat them differently.
My son needs to understand the consequences of irresponsibility in a harsher manner. Last night I felt terrible after he left, though he could easily sleep at a friend's house. Still, I sat up in bed and second-guessed myself over handling  the situation.
This morning, when he came home, he apologized and offered several possible solutions that will be entirely his responsibility (and expense). I suspect my actions were a step in the right direction.
Obese Kids, No Simple Solution
Obese kids?
How on earth will taking them away from parents help? By dropping them into the potentially precarious environments of foster care? By dramatically reducing their intake (or so one might think) – which certainly isn't healthy?
Since when are foster parents dietitians or have access to them?
The CNN report closes with this:
The U.S Surgeon General's call to action initiative to prevent overweight and obesity has several suggestions for parents who are concerned about their child's weight. They recommend focusing on the child's health and positive qualities, not their weight and suggest trying to gradually change the family's physical activity and eating habits, instead of making the child feel different.
Again, I say – seriously?
Get Angry, Speak Up

Are we talking about the (dwindling) middle class kids? The upper crust who can afford a shrink and a fat farm for their over-eaters? I doubt these are the children that account for the 17% obesity rate. I doubt that a lower income family scraping to get through the week (or day) is able to gently suggest that their overweight children reach for the spinach and low-cal turkey burgers in the fridge, then join Mom in a 2-mile jog around the "neighborhood" – wherever that might be.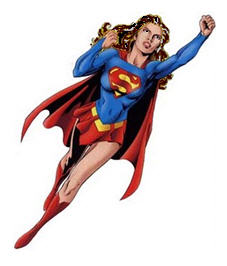 Since when is there anything reality-based about the SuperMom myth, even under the best of circumstances?
How does any of this address issues of low-income single mother households?
What about unemployed parents trying to feed their kids, any way they can?
How does it deal with a culture of poor food choices, insufficient time to shop for or prepare alternatives, no access to alternatives, and simply put – a nation with extraordinary ignorance in this arena?
How do we start acting like a responsible community and looking at our issues with open eyes – and seeing individuals, not numbers and pat answers? When are we going to deal with the consequences of insufficient education and unemployment?
When are we going to wake up, tear off the band-aids, and go for a proper diagnosis and the appropriate steps toward healing?

Big Little Wolf's Daily Plate of Crazy