A recent article appearing on the Wall Street Journal blog reports on statistics tying patterns of unhealthy eating to personality types.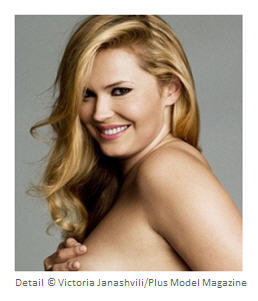 A recent article appearing in the Daily Mail (UK) Online offers up images of plus size model Katya Zharkova in the nude, to lively discussion of what is beautiful, what is "normal," and what is healthy when it comes to body types and body image.
A recent comment about women and fat, on this site, innocent in its intention, raised my ire until there was clarification.
But it still bothers me.
The issue of fat in American culture (and apparently abroad) remains emotionally charged. The definition of "fat," of beauty, of value based on appearance remains a point of contention for most women – if they fear fat or have battled it.
Fat = Bad, Lazy, Letting Yourself Go (And Worse)
The notion that "fat" equals "bad" makes my blood boil.
Admit it. Most of us associate "fat" with sloppiness, laziness, or not caring about one's appearance. There's nothing new in this association; I've lived it off and on throughout my lifetime, my mother lived it in a far more painful way throughout hers. And yet, my grandmothers and great-grandmothers did not.
My, how times change. And with them, our definitions of beauty.
Of course, we also know a great deal more about health, the impacts of stress and lifestyle on health, and we are beginning to understand more about food content and health, though we seem to speak of this much less. Instead, we focus on personal habits or, as in one of the referenced articles, personality traits.
There is something damning in that tendency. And outrageous.
Body Image, Body Style
Today, Marilyn Monroe's luscious and feminine form would be considered "plus size." Likewise, many of the other beauties of the forties, fifties and sixties. Then along comes the popularity of Twiggy, and an increasingly emaciated look.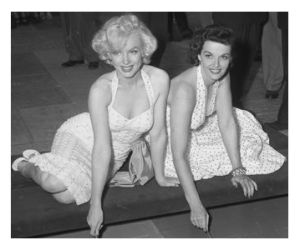 It's interesting timing, when you consider that idealizing skin and bones emerged with growing social movements for Civil Rights and Feminism. It's odd to me that in seeking greater exercise of a fuller set of options, the bounty and beauty of a woman's curves were sacrificed in the process.
Do you know a woman who hasn't wished herself thinner, curvier, taller, shorter – and poked, prodded, pained or paid to attain an element of control over her body type?
Why fashion dictates transitions from voluptuous figures to reed-thin ideals to tits-on-a-stick to boobs-and-booty is, frankly, beyond me. But a woman's body ought not to be the battleground of societal confusion, though it certainly has been since the latter half of the 20th century. And so we march along, carrying the Body Politic into our bedrooms as well as the boardroom.
Emotional Eating, Fat Habits
We all know about emotional eating. We're upset, we're exhausted, we're mindlessly consuming. We're feeding feelings rather than hunger, and overeating can be as damaging as a few too many drinks or any number of other addictive behaviors we so easily acquire.
Of course, if we overeat and it never shows on our bodies – no one is the wiser. If we suffer certain eating disorders, no one is the wiser until they impact our health.
Sometimes, our emotional eating is directly linked to processing stress. This is the direction of the data and conclusions discussed in the WSJ Blog article, which states:
The same parts of the brain that control emotions and stress response also govern appetite, several studies have shown.
The article (rightly) includes other behavioral factors, but goes on to say:
those who scored high on neuroticism — the tendency to easily experience negative emotions — and low on conscientiousness, or being organized and disciplined, were the most likely to be overweight and obese.
The FAT Personality Types
And there's more. Much more. There's a description of the Night Owl, the Stress Junky, the Mindless Multitasker, the Giver, the Perfectionist.
For each personality type, there are mentions of eating habits and the way food is processed in the body. There is also a suggested "fix" to deal with the behavior and the deleterious health impacts.
So where's the problem?
I have no quarrel with research of this type, and I recommend the WSJ article. It's interesting, and possibly helpful – if you recognize an aspect of your own behavior-driven eating, and wish to do a better job of managing it.
But do note the contradictions. Not only is there a correlation (referenced) between scoring low on organization / discipline and tendency toward obesity, there are also references to perfectionism and obesity. So which is it? Might I not conclude that obesity can be linked to almost any personality type?
Apparently, I'm screwed. I'm all of the above. Should I simply give up?
Fat Bias
Here's where I have an issue. Is there anyone who doesn't recognize herself in at least one of these personality types? Isn't this where millions of us find ourselves, in the crazed pace of contemporary culture? If we have the metabolism and hereditary factors that do not result in gaining weight, would anyone wag a finger or make derisive comments suggesting we are undisciplined or disorganized or mindless?
It's the inherent prejudice that infuriates me – the abusive assumptions and the fact that society squeezes women at every turn – including at the waistline – in an impossible set of tacit and explicit mandates as to how we should look and how we should act.
I can't help but believe that under the guise of improving our health, this is one more way to say "she is overweight because she's lazy" or any number of other undermining remarks that encourage women in our capacity and fullness to be and feel smaller than we are.
And the epidemic of obesity? The epidemic of emotional eating? We admit that they exist, but why aren't we addressing the root problems – those to do with culture, not to mention the availability of healthy foods?
What's Real, What's Spin?
I love the article in the Daily Mail that discusses the extent to which body size expectations have changed in the past two generations.
I love that we are offered nude views of a beautiful young woman who is a size 12, with exquisite flesh, and contrasted against a skinny "typical" industry model.
Specifically, the article restates what is written across one particularly telling image:
'Twenty years ago the average fashion model weighed 8% less than the average woman. Today, she weighs 23% less.'
I personally believe that a healthy diet and regular exercise are critical to a healthy life. Equally critical – adequate sleep, reduced stress, and the quality of the food we put in our mouths. Sleep deprivation is epidemic in this country. Stress is spilling over nearly everywhere we look. Turn to your cupboards, your fridge, your pantry. Read the ingredients listed in your food.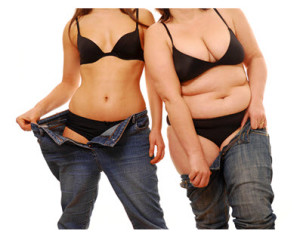 What's real? What's spin? How can we discount hereditary factors, food quality, health conditions or medications – and blame behaviors and people for not living up to an unachievable standard?
Obesity is a serious problem. But a size 12 woman is not obese; she's normal. A woman who spends her life in constant yo-yo dieting to be a size 4 may be commonplace, but is she normal?
Fat and Sassy?
In a world where we are quick to sum up, to classify, and to dismiss a complex problem; in a world where we are dismissive of individuals – might we learn from the science behind these findings, and focus on the foundational issues that cause stress? Might we seek to be more mindful eaters – yes – but not ignore the sleeplessness, the job worries, our food and pharma industries, the killing pace of our current lifestyle – and admit that these are political issues?
Let me be clear. I've been fat; really fat. I was invisible. And I hated it.
I've been thin, and didn't feel thin enough. I was praised, though I still didn't like myself.
I've been at weights and shapes I disdained, and never realized the beauty of my body.
Now in midlife, I recall the body I once disliked, and recognize its full and feminine beauty. I accept the form I currently possess, and I know the set of stories that it recounts. I seek to maintain comfort in my skin, comfort in my clothing, a size which is suitable for my frame, and good health. None of it is easy; my head is as filled with the damning words and wagging fingers of a lifetime as any woman's. But what I would truly like is a future for generations of women, in which the negative noise no longer finds a place.
More thoughts on obesity, overweight, and views of body image in America:


Click on the detail image of Katya Zharkova to access the original article and photographs.