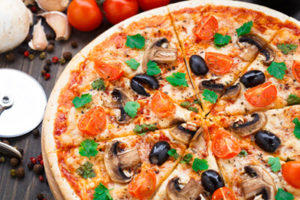 Pizza. Make that veggie pizza, heavy on the mushrooms and olives. Oh, what a craving I've had, though I'm not sure why.
Macarons. Those captivating confections I first tasted in Paris in all their gorgeousness of fanciful flavors in pretty pastels. (I wouldn't mind a few of those either.)
Carrot cake! With extra cinnamon. Cinnamon toast… Or maybe a slice slathered in peanut butter instead.
Did I just say peanut butter? We all know where that can lead. Reese's peanut butter cups! What could be better when you're craving chocolate with a little ooey-gooey something extra?
And peanut butter cups are oh-so good on salted caramel ice cream.
Salt. Maybe I'm craving salt. A nice small bag of kettle chips sounds scrumptious. Or fries. Salted, peppered fries. Now that's an awesome accompaniment to pizza! Then again, fries are even better with a steak… a pretty, pink-in-the-middle filet with fries, asparagus, a lovely Hollandaise. Better still, brisket with potatoes. My mother's brisket…
Shall I stop now? Craving anything? Do you know why? And if you're craving food you know you shouldn't eat, how do you manage to stop yourself?
Are Food Cravings Purely Emotional?
Listen, I'm the first to admit that I am highly suggestible when it comes to specific foods. I am an emotional eater, though not all the time. Still, when I'm craving any of the foods I just mentioned, I know I'm on the verge of eating away feelings rather than satisfying my hunger.
I associate a few of these calming, capricious, calamitous comestibles with rebellion — against too many days of dieting. Others are auspicious offerings of reward for tedious tasks completed. A couple comport themselves as comfort food, and all are power-packed with pleasure.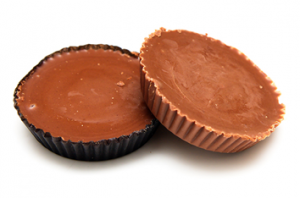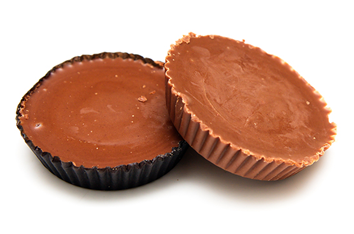 Like any emotional eater, even an intermittent one, I am driven to reach for specific sweet, savory, or simply "filler" foods when feelings find they've nowhere to go but the fridge or the pantry.
But this isn't the way I always eat, and this certainly isn't the reason I'm currently craving pizza.
Often, what we eat harkens back to special moments in our lives given that food sparks memory. But this link also works the other way around. Emotional recollections may drive desire for specific foods.
Flavorful Facts on Food Cravings
You might think cravings are purely about pleasure, and pleasure lives in our brain's reward system. But that hankering for hotdogs or longing for lasagna isn't so simple.
WebMD explains that food cravings are both physiological and emotional. Here's one notable element:
… memory areas of the brain (which are responsible for associating a specific food with a reward) are actually more important to food cravings than the brain's reward center.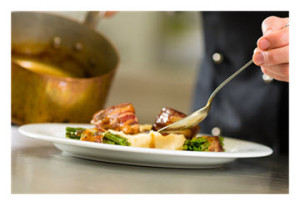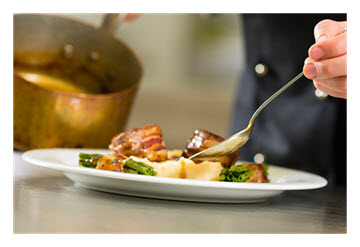 That pizza? I associate it with good times, friends, carefree moments with my kids. The brisket I mention? My mother's recipe and her mother's before her. There's no question it brings back childhood recollections of family around the table and a warming, bittersweet sensation of "home."
Of course, those of us who have ever been pregnant are well aware of the fact that our bodies will surely tell us what they need. We understand there is science behind the cravings in pregnancy — I couldn't get enough strawberry yogurt throughout my first pregnancy — but what's the deal the rest of the time?
What do the experts have to say on the subject of our overwhelming spicy, sweet, or salty desires?
Soothing Your Savage Breast
Emotions do indeed drive a desire to eat, and when we yield, we may feel better for reasons that are physiological. For example, ice cream will cool us down, spicy foods will warm us up, and we know that foods with tryptophan will tend to make us sleepy, while a hit of dark chocolate is happy-making energy almost any time.
As for cravings directing us to foods that soothe the savage breast, consider this from WebMD:
For many of us, cravings kick into high gear when we're stressed or anxious. Carbohydrates boost our levels of the hormone serotonin, which has a calming effect. And recent research suggests that the combination of fat and sugar may also have a calming effect.
When I'm craving cake, Reese's, a bar of dark chocolate, ice cream?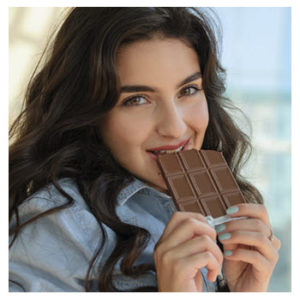 Typically, these are moments when I'm anxious, stressed, or frustrated after fighting my feelings for hours or even days.
Obsessing over a fine filet?
I likely need protein and iron, especially since I don't routinely consume red meat. And the preference for my mother's cooking layers on the flavor of family, however fleeting.
Cravings by Time of Day?
My penchant for pizza?
Cue the cuckoo to be striking three! I'm experiencing an ebb in energy, and most of my cravings don't arrive before afternoon. Cravings also hit in the evening when reserves of resolve are depleted because I'm tired, but also less occupied, more likely to allow the mind to drift to worries, and therefore in greater need of comfort.
Now about the luscious list of tasty temptations above… my musing on macarons may be a sign of too little travel more than anything else. And it may be worth noting that lately I've also been buying beets (healthy and easy to find), which I associate with France. Again, this reinforces the notion that I may be craving the cosmopolitan… and I don't mean the drink!
Salted caramel ice cream? All I can figure is this: I eat little salt, so perhaps I've been running low. Beyond that, a two-week heat wave has left me languishing and longing for All Things Cool on the Palate. And ice cream is just the ticket.
By the way, when temperatures plummet and I'm cold cold cold, I don't seek spicy but I do crave carbs; I'm ravenous and reaching for bountiful, beautiful brunches and breakfasts… aren't you?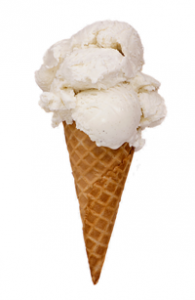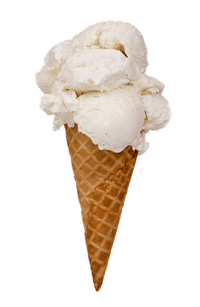 And when I daydream of pizza piled with spinach, peppers, onions, and yes — those mushrooms and olives — I know that a heap of veggies is what I really need. I interpret these pizza particulars as nagging nutritional notices more than anything else.
How to Kick Your Cravings (Or Manage Them)
So how do we defeat those devilish desires for all things sweet or salty? Especially if we've been trying to stick to a healthy diet?
WebMD tells us:
De-stress in other ways
Variety! Boredom with food is demotivating
Eliminate temptation: get offending (unhealthy) foods out of the house
Don't let yourself get "hangry" (so hungry you're angry)
Journal what you're craving and when
From my own experience I would add:
Take 10 minutes (see if the craving subsides)
Distract yourself (A walk? A magazine?)
Engage in positive self-talk ("you can do it!")
Try substitutions; when I'm craving dark chocolate, sometimes a small espresso will do
Pay careful attention to whether you're actually hungry — and when you're not
Daunted by Dieting Deprivation?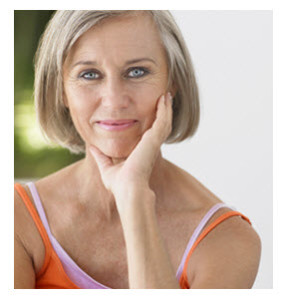 No surprise here, but all my cravings are more likely to occur if I've been dieting, and I'm feeling a need for color, flavor, and texture diversity. Let's not forget that appetites are sensual. So a biggie for me in the Craving Management Department — please the eye and the tongue — but keep in mind long-term goals such as staying healthy or dropping a few pounds.
Now, all calm counsel aside, as long as this is not about medical restrictions, sometimes the best solution is to give in, understanding that you're craving certain foods for a reason. If you're an emotional eater, try to discern the reason and give light to your feelings.
If that slice of pizza or dish of ice cream still beckons… indulge, enjoy, then stop… and don't beat yourself up.
You May Also Enjoy