The macaron. You think you know what it is, and then you realize you were confusing it with the macaroon.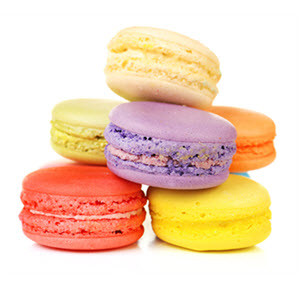 For years.
And wondering what the fuss was all about.
Then it happens. And like your first love, it is the "coup de foudre." You have no inkling that you will be struck so whimsically, so exquisitely… and by the Parisian palace of paradise itself… Ladurée.
However did you manage to wake up in Paris?
A silver platter passes… you've been sipping champagne… your eyes don't know where to light as you scan the colors and wonder which one to choose, hoping you won't be disappointed. And so you ask for a recommendation: "Which is your favorite?"
The young woman who is serving smiles and says "that one," as she points to what promises to be a delight.
You say thank you, you pick it up, you take a tiny bite… Heaven on your palate!
There's a First Time for Everything (Tasty)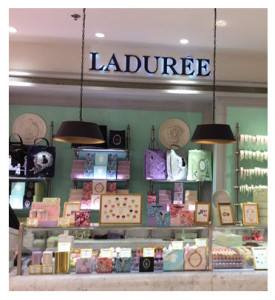 Amazingly, for all the times I have traveled back and forth to France, I've never eaten a macaron. Perhaps that's because the first time I made my way across the Atlantic, I was a teenager. At the time, I was being housed on a small farm in Normandy in a family with a houseful of children. There were wondrous new tastes, but expensive confections weren't among them.
The next time I lived in France I was a student, and on scholarship at that. I existed on a tiny budget, and other than whatever dessert might be served were I invited out — a rare occurrence — once again, luxury comestibles were not on the menu.
In the years that followed, which involved work and recreational visits, macarons were not on my radar, even if Chaumes, a pungent, sumptuous soft cheese, was.
When a recent opportunity dropped out of the sky, allowing me to pop over the ocean, I landed at a lovely cocktail party with macarons served along with other sweet things, and I was ready, willing and able to say oui to my very first time.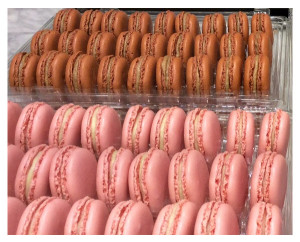 If only I had thought to bring a few home with me…
Fortunately, a quick search online reveals that Ladurée macarons are carried by a French patisserie about 30 minutes from where I reside. And this is a patisserie I have frequented two or three times before on special occasions. I am certain to find exactly what I'm looking for.
Cookie History, Anyone?
Mr. Macaron provides a bit of cookie history while explaining how this "little round almond pastry" dates to the Renaissance, made its way to France, and eventually…
… First, a macaron was just single almond cookie, crunchy on the outside and soft on the inside. In the 1830s, macaron shelves were assembled two by two, topped with jam, spices or liquors… In the 1890's, Pierre Desfontaines, second cousin to Louis Ernest Laduree, began sandwiching the two cookies around butter crème, jam, compote or ganache.
And quelle surprise when I found myself standing right there, at Ladurée, in the thrall of these cheerfully colored confections of such renown! And naturally, I was attired in proper Parisian uniform… slimming, trimming, always-chic black.
All the better to appreciate these decadent delights not only for the taste buds, but for the eye.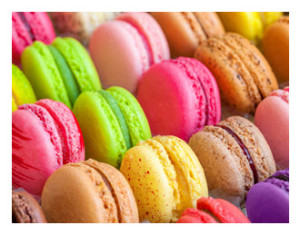 Still, how is it that I have gazed at these pretty pleasures on the glossy pages of magazines and online, and I never thought to indulge? Have I, like so many of my sex, been so concerned with the dimensions of my waistline and the fit of my jeans that I deprived myself of this seductive sweet?
I admit I've spent far too many years preoccupied with body image, and (uncharitably) convinced there was too much of me to go around (like many of us), but now and then I surprise myself. I am able to fully enjoy one something delicious, and be more than satisfied with precisely that.
Can't we enjoy something special from time to time, while still sticking to our various "régimes" — for the most part?
I say oui, and am very glad that I said yes to this classic, blissful bite! Of course, when I make my way to that patisserie I mentioned, which is a short driving distance away, I will need to remember "moderation in all things." It would be so easy to get carried away…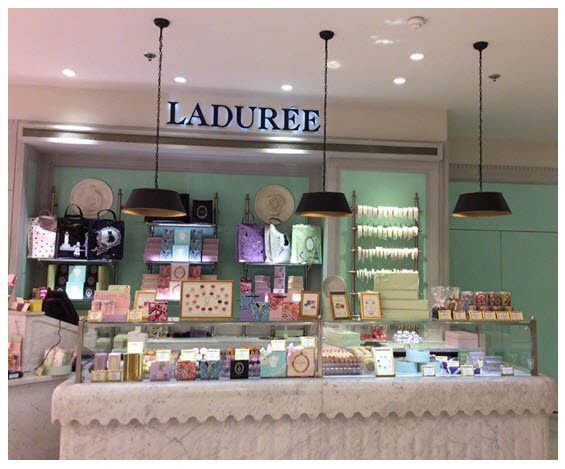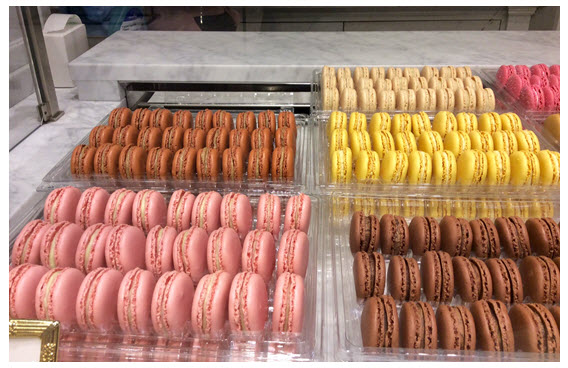 You May Also Enjoy