Yesterday I was weepy. It was one of those days. What can I say… I needed comfort. Comfort food. Healthy comfort food, at that.
Better than crying in your soup? Making soup. Then you can dispense with tears altogether.
Though the sky is dreary and damp, the colors of my veggies are cheerful and appetizing. So please enjoy my weekend cooking endeavor – a hearty veggie soup, entirely organic, at a cost of approximately $14 for the veggies and $4 for the organic broth.
Now scroll down a little. Check out the pics.
Pretty soup — even in process — isn't it?
Not only that, it's delicious.
Ingredients
2 32-oz. containers of organic chicken broth
1 zucchini
2 carrots
2 medium tomatoes
6 medium red potatoes
1 medium leek stalk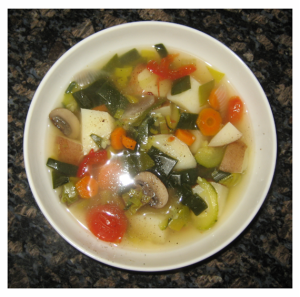 1/2 red onion
1 cup of mushrooms
3 cloves of garlic
3 bay leaves
Or any other veggies you have – bell peppers, squash, and so on – more of what you love and less of what you "just like." Have a little barley to throw in? A few spare egg noodles? Toss them in, too!
Directions
Hey, you know my style. When it comes to cooking, relax! So here goes:
Chop your vegetables.
Throw them in a pressure cooker.
Add the chicken (or vegetable) broth.
Add your seasoning (I like pepper, but I generally don't add salt.)
Allow 10 to 15 minutes of "whirling top" on your pressure cooker.
My total time is 30 minutes from the time I first close the pressure cooker until the full steaming process completes. Read the directions on your cooker. Then turn off the heat, cool the container off with cold running water. Open, season, and serve.
Sometimes I add a spoonful of Dijon mustard after the fact and mix it in.
Care to see, up close and personal?
First, an image of everything chopped and thrown in the pressure cooker. That's followed by adding the broth. Eh voilà. Soup, with a bit of steam rising off the top!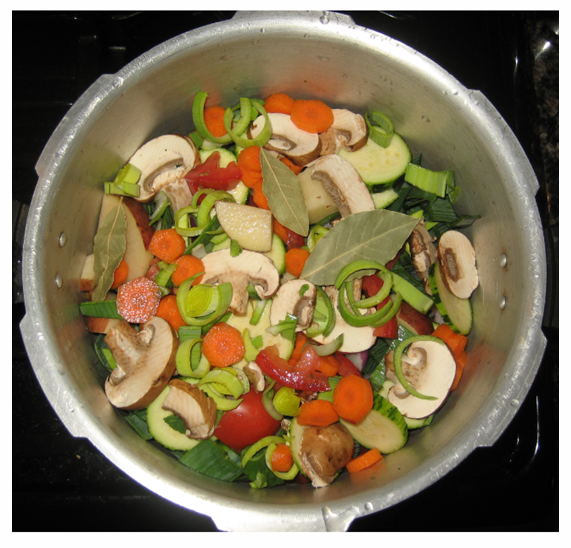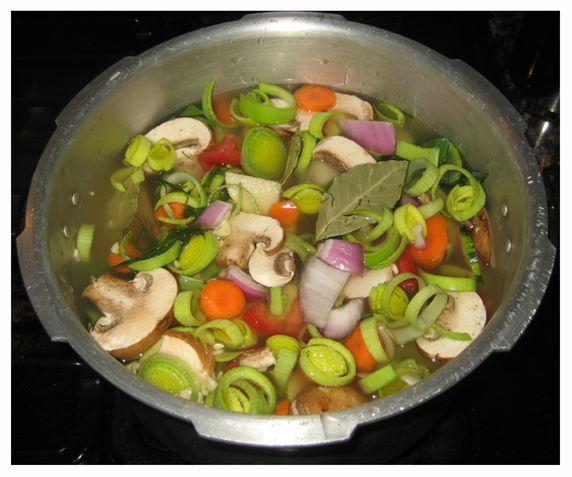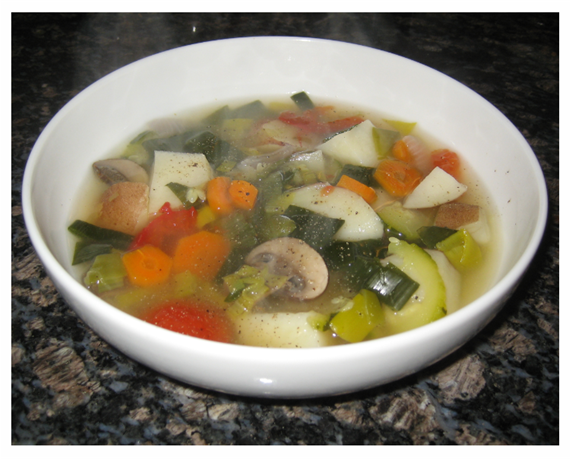 Pop by here for other pictures, this time of my winter veggie soup. (Yes, similar. But you really should see the shoes!)
Shoes Cure Blues!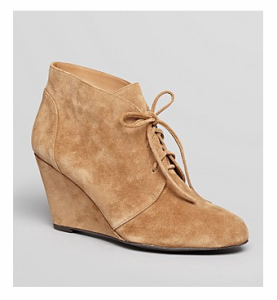 And fab footwear for a cozy evening at home with a healthy, comforting bowl of soup?
I'd say that casual (but chic) is the way to go. How about these lovely Via Spiga lace up wedge booties in cashew?
I'd wear them with jeans and a soft colored sweater top, possibly with a touch of orange… to match the carrots in the soup!
Click on the image of wedge booties to access the item at Bloomie's. 
You May Also Enjoy