Hungry? Does anyone else have a hankering for Thai food?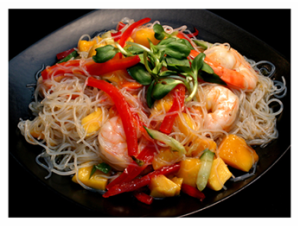 I forgot how much I enjoy Thai cuisine, but recently I had an evening out at a local restaurant and the food was exceptional – light, healthy, subtle flavors. I left feeling satisfied and not too full. (I want to return soon, and I also want to try my hand at some Thai dishes.)
I'm due for a trip to my local international market, so I may be prowling the rice noodle section and picking up some spices that are not currently in my spice cabinet.
On the menu the other night?
We were a threesome at dinner and we had great fun tasting each others' meals. We started with Miso soup, then shared a platter of sushi (salmon, tuna, and oh that Wasabi was hot!), along with an assortment of shrimp and chicken dishes with veggies and rice.
I'm also a fan of almost any Thai noodle dish (we'll need to return to that restaurant so I can indulge in Pad Thai).
Of course, we enjoyed a good glass of wine.
Thai Recipes, Anyone?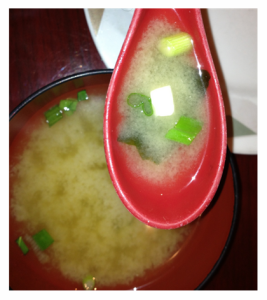 Not one to leave experimentation to the mad scientists of the world, I'm going to try my hand at Thai Mango Salad With Shrimp, among others. And while I make Miso soup now (very simply, and yes, I know it's Japanese), I'm going to try this recipe that explicitly includes seaweed.
The Miso soup we savored?
Extraordinary. (There was serious ooo'ing and ah'ing going on as we sipped and slurped. Here's a quick closeup I snapped at the dinner table.) While it's not difficult to make Miso soup, I figure that will Thai me up in a pleasurable activity for an afternoon away from my computer. And as mentioned, then I plan on tackling that Thai Noodle Salad.
(I'll let you know how it goes. I have to get to the International Market first.)
Thai'd and True…
For more Thai recipes, check these out. Any favorite Asian recipes you'd like to recommend or share?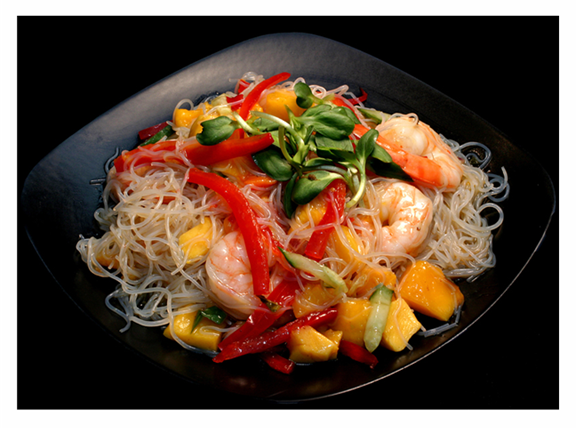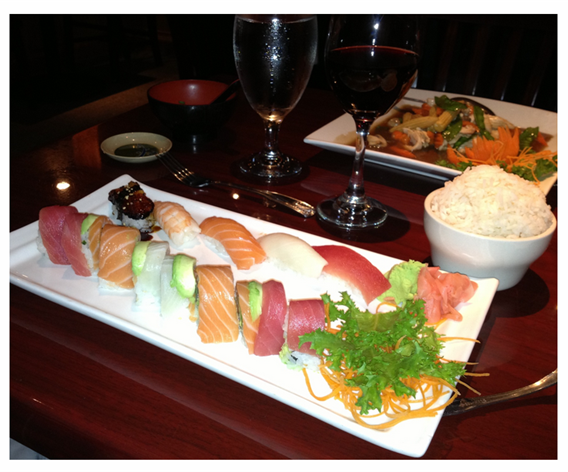 For Dessert? Pump Me Up!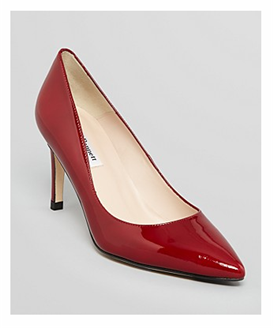 Oh, lest I forget, as some of you know, I believe that all good recipes deserve a fabulous pair of shoes. Rather than recommend a wine with your meal I prefer to recommend chaussures. L. K. Bennett's classic pumps in cherry red (at Bloomie's) have a graceful and wearable 3.25″ heel. No nosebleed!
Very elegant.
And they look lovely with your Miso soup, your Pad Thai, and your mango salad.
Incidentally, don't forget to pop by the various Daily Plate of Crazy posts on healthy eating topics. This time of year it's easy to be tempted into overindulgence, not to mention waste.
Do keep in mind that as the temperatures drop, there's nothing like a hearty homemade soup – delicious, good for you, and budget-friendly. (Naturally, to be served with your favorite shoes.)

Click the shoes to access Bloomingdale's, L. K. Bennett Pointed Toe Pumps. No compensation was received for my footwear recommendation. Me… shoes… what can I say…
You May Also Enjoy