I confess. I needed a day away from recent technology headaches and the sound of tap-tap-tapping on my computer keyboard.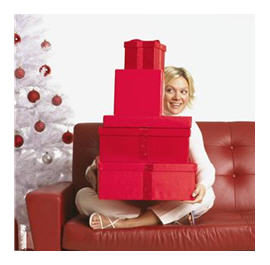 It's not quite time to listen for reindeer on the roof, but today I took refuge in a far-off shopping area, out of doors, bundled up and enjoying the crowds of shoppers.
I contented myself for most of the afternoon in a large bookstore, not pressing or stressing and leafing through books, magazines, and perusing the shelves of gadgets and toys that appear this time of year. (And what's up with Bowling for Nuns and Grow Your Own Venus Fly Trap??)
Strange gifts aside, what's better than soup after an afternoon of holiday crowds?
Yes, it's another hearty, healthy, organic soup recipe! It's basically the Jackson Pollock of soups – drip, splash, splatter and dance your way through the fridge, chopping and tossing everything that looks good into the pressure cooker with organic chicken broth, or vegetable broth if you prefer.
It's organic, in budget, and oh-so painless. (Might I add, delish?)
Care to see?

Winter Everything Soup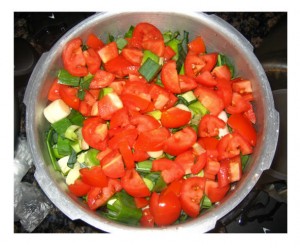 Here are the ingredients:
2 32-oz. containers of organic chicken broth
2 cups mushrooms (any kind)
6 tomatoes (medium)
6 red potatoes (medium)
3 stalks leeks
1 zucchini
4 carrots
4 stalks celery
Optionally: onion, garlic, yellow squash and whatever else you like! (I ran out of space in the pressure cooker, but I went heavy on the green and red as I was in a holiday mood. Lots of tomatoes, red potatoes with skin still on, and lots of green veggies.)

Directions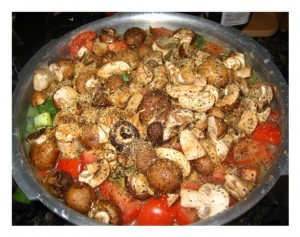 Wash and chop everything. Throw it in the pressure cooker. Add the broth. Season to your taste.
In my medium size pressure cooker, it's about 20 to 25 minutes start to finish. (Check your pressure cooker for timing instructions on a veggie soup.)
And believe me – this feeds a throng of weary wanderers, worn out in Real Life or those who are bleary-eyed from virtual shopping.
Approximate cost, depending on the veggies you use: $15
Serve with a good grainy bread and a nice glass of wine! (Keep your eye out for those reindeer…)
Not in the mood for Winter Veggie Everything Soup? Don't forget, there's also: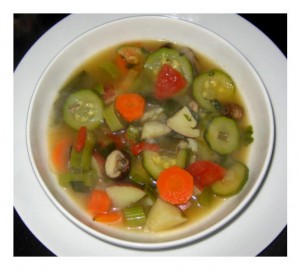 Remember. Food is and should be glorious! You can eat healthy on a budget – but admittedly, we all need education as to what that means, and access to quality ingredients to do so.
Now. Let's not ignore the importance of fabulous footwear when you're ready to enjoy your feast.
'Tis the season for fun and frolic, so why not choose an original option befitting your mood and, well… your brood?
A faux-fur flat? A brightly bedecked bootie?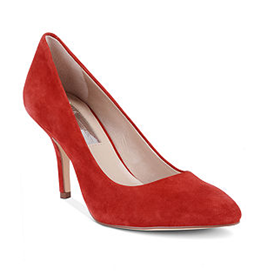 Or maybe you prefer a spicy red classic heel, not too high, and reasonably priced?
This one at Macy's caught my eye.
I might have to go back out… just to try it on, of course.
You May Also Enjoy