What's not to adore about a man who knows his way around the, um… kitchen?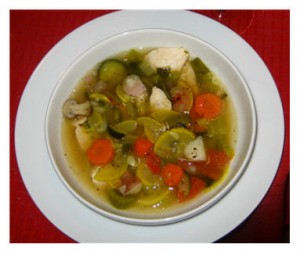 Here's a hot, hearty, healthy and purrrrfect potage as the weather cools and you seek seasonal ways to warm up your loved ones. Fireside Love Potage!
Now, now – would homemade chicken and vegetable soup stimulate the same saucy stirrings? Might I entice you to try this out – preferably sharing the chopping duties with a friend, a lover, a partner – or your kids, if they're old enough to wield a cooking knife?
Not only is this delicious, but budget friendly. You could feed a small army with the amount you can make for approximately $15, and I concoct this soup – and variations – on a regular basis. It is always consumed with gusto (by bottomless pit teens), and anyone else in the vicinity.
Care to know more?
I've been a woman on a mission these past few months – eating more organically and determined to stay healthy on a very tight budget.
I am fortunate to have an amazing Farmer's Market within a reasonable driving distance, where I can purchase organically grown produce, grass-fed beef, free-range chicken, as well as wild-caught fish. And at remarkably low cost.
Pressure Cooker Recipes

Add  one pressure cooker which paid for itself in the savings I incurred in three weeks, and voilà – healthy cooking magic!
There are so many fabulous pressure cooker recipes out there (check the web) – and almost anything can be used to make a seasonal soup or stew quickly and easily.
Remember the mentions of cabbage soup? About $5 feeds a family of four at least three meals. A light fish and vegetable soup? Ditto. A wintry leek and potato with fresh rosemary? Divine.
Recall Crazy Crevettes Sauvages à l'Espagnole (Wild Shrimp with Spanish Rice)? Largely prepared on top of the stove, and fabulous foodie fare, amply affordable.
The latest experiment? Another sexy soup, of course! (Another in the "sauvage" series perhaps?)
Fireside Love Potage 
Basically, this recipe uses whatever veggies you enjoy in a soup, along with chicken broth and a small amount of chicken.
Vegetarian? Go with vegetable broth and skip the chicken.
Ingredients:
2 32-ounce containers of organic free-range chicken broth ($4)
2 carrots, peeled and chopped
1 handful mushrooms (of your choice), chopped
1 zucchini, sliced
1 yellow squash, sliced
2 stalks, leeks
2 tomatoes (your choice), chopped
2 medium red potatoes, cubed
3 celery stalks, chopped
1/2 red onion
1/2 breast chicken, cubed ($2.50)
Seasonings of your choice (garlic, black pepper, chipotle, salt, etc.)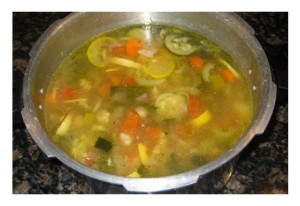 Directions:
Chop everything with your loved one (allow extra time if the kitchen heats up in the process).
Pour broth into pressure cooker. Add veggies.
Sauté chicken on stove top in small amount of olive oil (optional – garlic or other seasonings).
Cook soup approximately 15 minutes in the pressure cooker. Add the chicken. Stir. Taste. Sigh with pleasure.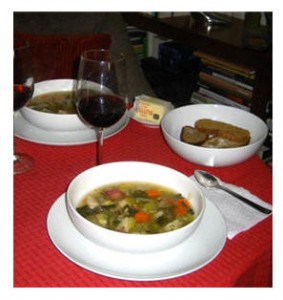 C'est fini!
It's worth noting that this soup is made in 30 minutes, start to finish, for just under $15 – and everything is organic. (Generic organic broth is reasonably priced ($2/container), organic chicken breasts are less expensive than most assume, and likewise – the veggies.)
Add a dollop of light sour cream on top if you wish (super sexy), and serve with grainy bread and red wine if you choose. (Very achievable for $5!)
Please note: No Frenchmen were harmed during the making of this simple but sensual soup.
As for the fireside element? The fireside love?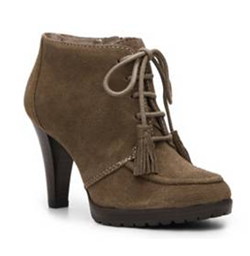 I'll leave that to your imagination, reminding you that even if you don't have a hearth or home, there are plenty of ways to turn up the heat. In and out of the kitchen.
And do pair this potage with a cozy and cute bootie if you're in a casual, snuggling mood. How about this great pick from Anne Klein, the Tutorial Bootie?
Tutorial, indeed…
Bon Appetit!
Click shoe image to access details at DSW.



You May Also Enjoy