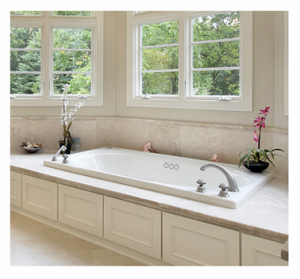 I have the scented soaps – in a mock martini glass – a gift from my sons.
A lovely loofah is propped in one corner, and a bottle of bubble bath sits on a ledge.
I have more than enough room to stretch my legs and luxuriate, yet I don't. Instead, my morning ritual consists of coffee, writing, more coffee, more writing – and a shower.
This particular morning (along with coffee, and before the shower), my reading brought me to a devilishly addictive site I've recently discovered. It's called High50 – and high fives all round to its superb writing and delectable topics, offered up from the other side of the Atlantic. And today, I was greeted by an article reminding me of a powerful reason to take to the tub.
Stress.
As the High50 article points out, we recognize the relaxing virtues of the bath, yet we don't indulge. And perhaps that's part of the dilemma; we view this non-activity as indulgence, rather than unpretentious upkeep or mindful maintenance.
I admit to this same tendency. Despite a tantalizing tub, I've never actually soaked in it.
Foreign Fantasy?
Of course, I'm dreadful at relaxing in any fashion. I blame it on my flinty New England upbringing, and find that a brisk walk (in my sassy sneaks) is the closest I come – on this continent.
Ironically, the only time I take a bath is when I travel to France where the tubs are typically tiny (then again, so am I), and somehow, I allow myself 20 minutes in the early morning or late at night, to unwind.
So why don't we avail ourselves of this handy means to catch our breath?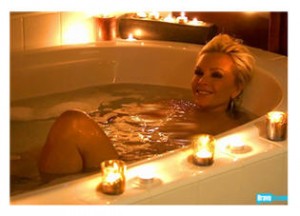 Do we somehow envision tub-as-seduction-setting, à la Real Housewives Tamra and Eddie? Short an occasion (or time) for such sensual scenes of our own, do we turn to the quick shower rather than the languorous and longer lasting benefits of the baignoire?
Body Bashful or Bathing Beauty?
Is one of our justifications for shunning the soak, as the High50 article suggests, the efficiency to be had in the shower?
Might this be the moment to reclaim a simple means to detox – one that encourages us to reacquaint ourselves with our bodies as they are, our bodies nonetheless lightened, and a sensual pleasure that should hold no stigma?
Are we reluctant to slow down unless we do so within the framework of an activity like yoga, meditation, or a three-mile run? (Can we all spell "oxymoron?")
Why do we steep ourselves in sinful sentiments when we consider stopping, reflecting, and basking (or bathing) in the doings of the day?
Is it impossible for women (especially) to see ourselves as other than Mama (bathing kids) or Minx (waiting for Hubby) when it comes to kicking back in the Kohler?
Is it as simple as habit? Couldn't a measure of time be consecrated to this easy, at-home means to relax?
Let's bring back the bath, shall we? Shared or solo, but certainly sans guilt.

Tamra in the tub, image courtesy BravoTV.com photo galleries.

You May Also Enjoy