"I want an oversize tub," I say.
"But if you take the standard, you can still have a comfortable bath, and we can give you more closet. With your shoes, you really need more closet."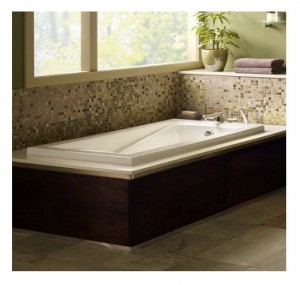 I knew he was right, but I was adamant.
"No," I say again. "I want an oversize tub. A soaking tub."
The contractor sighs, reaches for his clipboard, and scribbles himself a note. I don't make changes often, but he always seems exasperated when I do.
I stifle a sigh of my own when he says this pushes out the project by at least three weeks.
"Jacuzzi?"
"What?"
"A Jacuzzi. I assume you want a Jacuzzi. This change is so the house will be more marketable, right?"
Marketable. Yes, I thought of that.
And who but a divorced woman buys a 950 square foot fixer-upper for herself, two kids, and a giant dog? I managed to keep us in the school district and that was the goal, but I would have to think about marketability if I ever wanted or needed to sell. I'd succeeded in borrowing enough to add a little more space, and this second bath. But that wasn't why I wanted an oversize tub.
"I like tall men," I say. "No Jacuzzi. Just a large tub."
He looks at me for a second, quizzically – all six foot two of him – and holds my gaze. He's forty-something and quite attractive, but I set that thought aside, and I don't move and I don't blink. He turns back to the blueprints. He rattles on. He's talking structural walls and closet configurations and fixture specifications.
"I can give you a nice slip resistant Kohler or a Duravit that's good and deep. About 59 inches long and 30 inches wide."
I shake my head.
"If you take something that size, we can squeak about 10 inches more, right here."
He points to a spot on the plans. A closet wall. A woman can do a lot with 10 inches in her closet, but I shake my head again.
"A soaking tub," I say. "Big."
He unhooks his heavy-duty belt-clipped measure and I take that as my cue to disappear. He fiddles with whatever contractors fiddle with, and thirty minutes later we're paging through a brochure, considering angles for the back and places to lay the elbows. And naturally, sufficient ledge for shampoos, soap, and candles.
We settle on a classic American Standard that's roughly 35 x 70, and he convinces me that even he would be comfortable in something that size. And three months later I have my own toilet and my own closet and a tub big enough for a big man and a little woman to climb into, together. One day in my future – I'm certain – there will be a romantic soak. As it turns out, the timing is perfect because right after the decision to go with the big American Standard, I meet a big Frenchman and fall in love. With all six foot three of him.
Yet somehow, even when he's here and my boys aren't, we never get around to the tub. Instead, we're puttering in the garden or in the kitchen, and yes we're in bed, yet the other options never seem to come up. So I tell myself we have all the time in the world but of course, we didn't.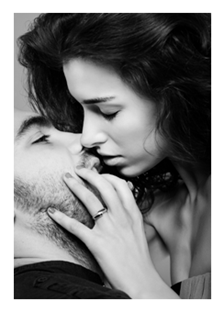 There was another candidate briefly – a sexy, jovial bear of a man – but our trysts took place on his taupe shag rug when his kids were with their mom and mine were in school, and while he was wildly adventurous when it came to a rooftop Bonsai garden or an empty stairwell in an office building, he was definitely a shower man.
There was the bearded fellow who wanted to marry me and he was even French, but that's another story altogether. He was also a fan of the tub but we never used it, and just as well, because he was only five foot four and somehow, it seemed a waste.
This morning I woke early and thought maybe I'll take Clorox to that stain on the edge, light some candles, run the water and just do it. Soak. Just me.
Then I think of the long list of tasks for the day, and I wind up turning the faucet and then the knob that controls the shower. And I step beneath the stream of hot water as usual.
Though I've never used the tub as intended – and it's been five years – I'm still happy to have it. And someday, with the right amount of time or motivation or possibly the right man, I'll fill it up, and linger. And love it. Because it isn't really about the size of the tub or the size of the man. It's about the size of my dreams, and they're big. And maybe, that's what matters.