I am contemplating my girly gams.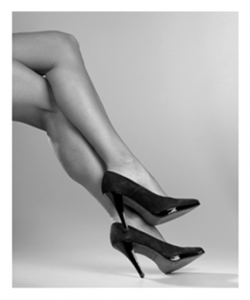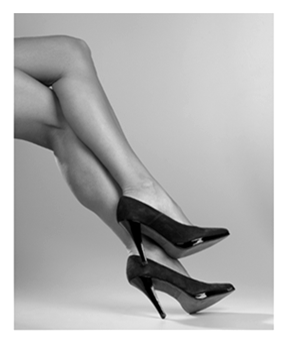 Yes. You heard me. Legs. My legs. Preferably in heels and stockings.
Hey, I'm a woman who adores her seductive stilettos and precarious platforms. Think I don't give a damn about the lethargic limbs they stand on?
Think again, though it sounds stupid silly self-indulgent, contemplating my own Lilliputian little legs.
Of course, I'm also contemplating my upper arms and forearms. No – not for the usual lamentable  loosening of skin that most women of a certain age complain about.
Pas moi. My story is a different one. A sad-sack track to atrophy, due to injuries never properly addressed. And I've had it! You hear that, Universe?
So hello, Trainers! (Not the shoes.) Any pro bono hunky topless whip-me-into-shape manly masseurs in the area?
Pain and Train, Down the Drain?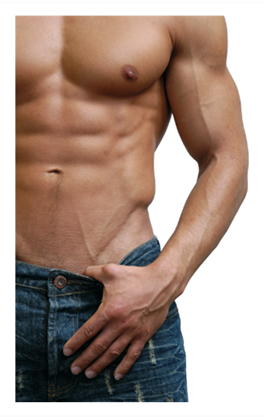 I'm tired of the pain, I'm tired of the weakness, I'm tired of the fact that my arms in particular ache and flake. I'm weary of the reality that like my legs (and middle, and back, and butt, and hips… sigh…) – nothing resembles "my body" as I know it is triggered and  configured in my head!
I understand I'm getting decrepit older, and I accept it. Ruefully. Really.
But I accept aging disgracefully to a point. Returning to the gamut of gargantuan glam gams and laughable laudable legs with which I began this wretched ramble, I confess my wee lower limbs are vertically challenged, and of the "not so wee" variety in the I-hate-my-thighs department not to mention moping musculature where once capricious calves and stunning splits were well within my romantic range.
As for that fulsome flesh I meekly mention? Very 1950s when toned, and I'm good with that! I'm also fine with the pain to gain – strength that is, to be followed by a soak wherein I recognize I wouldn't sink my rubber duckies if I tenderly lowered my sorry sore self into the tub.
Well… if I ever actually used the tub in the fashion which was designed precisely with soaking and such in mind.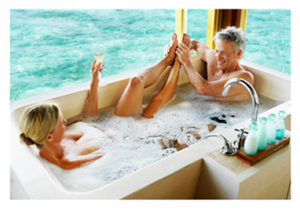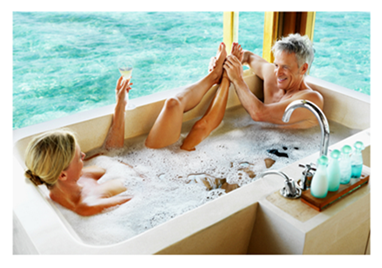 (Hello, Heart Throb? Am I ready to deign a  "oui" to your perpetual invite to a romantic bubble bath à deux and avec toys?)
Wasn't it just a few weeks ago that I pondered the spa-splendiferous appeal of water relaxation?
Why don't I ever take my own advice? Is it time for the salacious segue to the Rubba-Dub-Dub-Two-Coots-In-A-Tub section?
How to Create a Romantic Bath for Two
How to create romance for yourself and your guy (or gal), when you've woefully neglected his / her needs due to deadlines, delirium, dimmed and depressed desire, all in place of feisty fifty-something fire?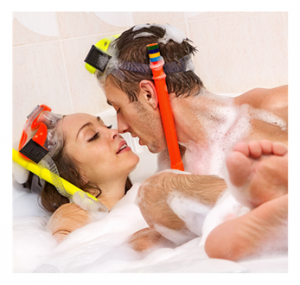 My recipe for romantic retiree relaxation?
Pop Advil for nagging back pain.
Alternately, vodka martini; optionally make "dirty."
Bend (ouch) and clean tub (*sigh*)
Prettify yourself (you figure it out)
Fill intimate or oversize seduction vessel (that's the tub) with hot water
Add bath salts, oils, or bubble inducing lotions and powders of your choice
Place candles strategically on tub ledges
(Tip: Light after you get in and slosh.)
Place any water-friendly toys (PG-13, R, or Mature Audiences Only) on ledge
Sweet smelling flowers are always a nice touch (a single rose or lily)
Loofa, sponge, or soft washcloth for bathing your partner, optional.
Petals floating in the tub? Looks good on film. Annoying in person.
Pungent and / or spicy fruits in a small bowl, accessible.
Peel me a grape. Peel me anything.
Note – orange rind with cinnamon or cloves engages aromatic arousal
Snorkling gear optional; humor, mandatory.
Wine, champagne, or other beverage to enhance the amorous advances.
Plunge (gently) with adult partner of your choice.
Tip: If you're self conscious about your body, get in first! (Then alert your invited participant.)
Figure out the rest for yourself!
Legs, My Legs, My Once Ode-Worthy Legs!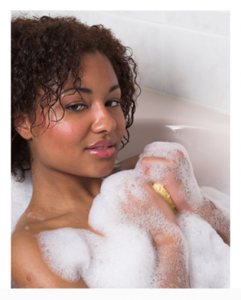 Now where was I? Still lost in the blissful Bath-O-My-Dreams? The Undersee World of Jacques Coo-Stow?
Ah yes, the legs. These legs. Okay. Not these legs you may see illustrated here, though my once-upon-a-time legs were close enough, in size Petite.
So WTF? How did they lose it so quickly, so recently, so appallingly abysmally abruptly – along with every other once firm and ferocious feral fighting part of my body?
And if I can't afford a physical therapist much less a personal trainer – how in the hell do I get my (see?) legs back if the best I can manage is a 20 minute walk every other day? What if Suzanne Somers isn't my idea of the right sort of, um… Thigh Master?
Digression, and apologies to serious sonneteers – but I feel the urge to merge, with regard to the Bard – a measure of pleasure in couplet-like leisure, an ode to the mode when my legs were a treasure; forgive me Good Will, for the lines I will spill!
This Little Woman may be losing her mind, but would that a Pro Bono Trainer I'll find!
Shakespearean Travesty Sonnet: Oh, For the Legs of My Past
I wish to find the legs I once possessed,
I'm willing to do bidding of the work,
You know, those once toned muscles now regressed,
My once so tight great gams have gone berserk!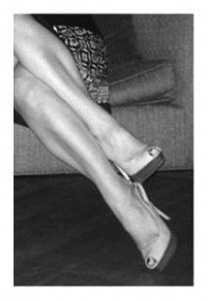 Alas, the days when ankles drove them wild!
Uprising touch, curvaceous line to calf,
Sweet hold, so firm the form as lovers smiled,
Please tickle not these knees or I shall laugh!
The mirthful journey farther – do you dare?
Those thighs that promise strength but not excess,
And limberness that comes from dancer's care,
Ah youth! Must age and injury make such mess?
I grant, I'm pleased to still retain my rack.
But may I say I want my old legs… back?