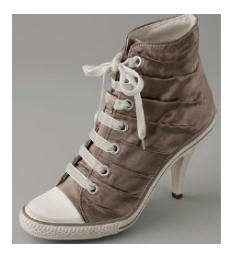 The sun is high in the sky, the air is crisp and light; it is virtually impossible for the mood to be anything but bright.
I'm donning my sassy sneaks – eh oui – heels! – for a lovely walk among the brambles and creeks, offshoots of a magnificent, meandering nearby river.
I may be a city chick most of the time, but de temps en temps – there is nothing so sublime as a taste of nature after the early cups of coffee, the stack of bills, the bit of this and that about the house, a thorough thumbing-through of my most delectable and favorite magazine – art, art, and more art – a luxury I rarely allow myself these days, and then I wonder why…
Even as I lace my shoes, I reflect on very happy news about a friend and I remind myself that each and every sunny hour is a gift: I open the door to fill my lungs, and then, off to walk, to celebrate the sky, to honor the lift and bounce in thigh and hip.
Even a moment of heightened health and well-being, offered by the cooling autumn afternoon is not to be ignored…
Taking a minute or two for yourself today ?
If not, why not?
What have you to lose?

Big Little Wolf's Daily Plate of Crazy