I'm hungry. I'm tired. I'm conjuring elegant plates and subtle tastes.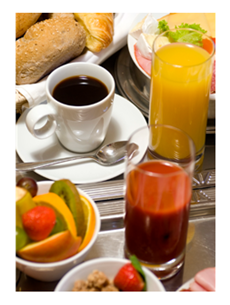 But here I sit – huddled under my oldest comforter, wrapped up in a scarf and heavy sweater, and next to me is a cup of coffee – long cold – and it's time for another. It's also time for breakfast – my sort of breakfast – many hours after being awake, and ideally, eaten in bed.
Sadly, there is no comely gentleman ready to wait on my sniffling sneezing self. (On occasion, there may be… )
Alas, nor is there room service to whip up my favorite foods and thus engage my energies or beat back the persistent Big Bad Bug. But I can still prepare breakfast in bed for myself – can't I? Perhaps it's just what the (imaginary) doctor ordered.
Luxury "Light"
Doesn't the tiniest indulgence go a long way?
Maybe it's breakfast in bed, maybe it's a splurge on a new movie, maybe it's as simple as an hour or two to read. (Maybe it's an uninterrupted hour or two to do absolutely nothing, and guilt free.)
We might like for someone else to both approve and provide our luxury "light," but for many of us, if we don't take up the charge – even on an off day – no one is going to step in and do it for us.
When we're feeling blue – or sick – sometimes we need to stop fighting it, and instead soothe our savage beast with something special, if we possibly can. (Why is it so hard for women especially – yes, I'm generalizing – to put ourselves first from time to time, to prevent running ourselves ragged and getting sick?)
Spa Service (or Do-It-Yourself?)
It's not unusual for me to daydream about taking off for some time off – who doesn't? My escape might include some pampering – room service or spa service, preferably with kitchen policies that offer the freshest and most natural foods.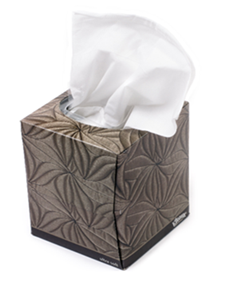 I live by my convictions relative to healthy eating, which doesn't mean I don't enjoy something gooey or salty like everyone else. But I stick to as much organic, unprocessed, and made-by-yours-truly meals as possible without, I hope, being a stick in the mud. And when I can get out of town, being able to eat well is part of the picture.
I'm convinced this is a factor in why I'm rarely sick, considering I run on all cylinders like many Americans. But today I wouldn't say no to options involving other hands, and I'm giving free reign to the urge to disappear and the images that go along with it… a small resort, or even a room within a walk or view of the Mediterranean.
No Sponge Bob; Definitely Square Pants
No doubt my desire to be lifted from the "quotidian" is to offset the fact that I seem to be having a relationship with an odd bedfellow of late – a bit of a square, but a softie inside.
No offense, Big Guy, but I'll be happy to kick you out of my life!
I'm weary of what this constant companion has to offer, and would prefer a pampering paramour who would invite something akin to a renewed and reinvigorated state.
Warm stones along the spine, for après brunch? Any volunteers to advise me on this score? I'm not entirely certain of its benefits, but it does (look and) sound exotic.
Madly in Love With… Dill!
As a slight aside, may I mention that I've engaged in a flagrant infatuation for many months now? The truth is – I've been delirious over dill. Oh, I could pen odes to the delicate, airy sprigs of this fine, feathery friend!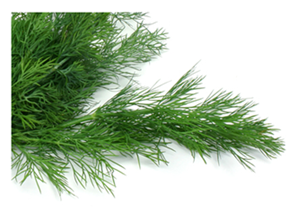 I've been scattering (or heaping) it on everything from soups to chicken to my favorite fish, and layering it into sandwiches. Occasionally I'll simply inhale its extraordinary aroma, then decide how to use it next.
My dining preference as I sit here in bed?
I'm going to pull out all the stops for what I really crave: a piece of barely cooked salmon sitting on grainy toast, with greens, tomatoes, and dill. Naturally, the French Roast will be piping hot and very strong. I'm planning on giving myself 15 minutes to pull it off, then… back into bed!
A Stone for Your Thoughts?
I'm off to my kitchen to see what I can concoct – what I hope will be a quick, healthy, tasty, luxurious little meal – which I plan to eat on a faux silver tray right here.
In bed.
Under my worn comforter. Wrapped in my scarf and sweater. Not letting the coffee go cold.
After?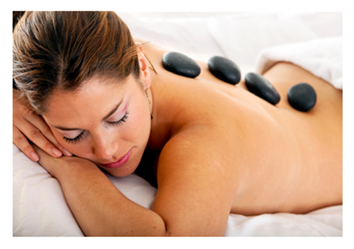 I have my Sunday Times to read, and no doubt a contemplation of those warmed stones, tenderly placed where they might most benefit.
When is the last time you were served breakfast in bed?
When is the last time you returned the pleasure?
Did either arrive accompanied by any sort of "hands-on" healing?
What's your ideal scenario of breakfast in bed?
You May Also Enjoy

Big Little Wolf's Daily Plate of Crazy