I didn't plan it this way. Really. It was just about the nippy weather, a hankering for veggies, and a quick stop through Whole Foods with $12 in my pocket.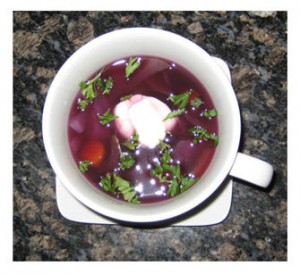 What did I end up with?
Purple soup! And with a decidedly rainbow twist, not to mention more than enough for the entire week and that oh-so good feeling when cooking is quick, tasty, healthy, and on budget.
Must I admit that eating healthy foods most of the time leaves me less guilty when the cravings for Reeses set in – and I give in?
As for the color?
Just lucky I guess… though I had the distinct impression I was channeling Bridget Jones and her "Blue Soup." But where is Colin Firth to sample it?
So are you ready for some chopping?
Ingredients
I poked around the kitchen, and other than garlic and a half red onion, there wasn't much to choose from. I went for all the vegetables that appealed to me, including red cabbage which is the source of the beautiful violet color.
1/2 red cabbage
two handfuls of mushrooms (your choice)
2 carrots
1/4 to 1/2 red onion
2 stalks of celery
4 medium red potatoes
3 tomatoes
two cloves of fresh garlic, minced
fresh dill
bay leaves
2 32-oz. containers of organic chicken broth
salt, pepper, seasonings of your choice
Directions
Have a pressure cooker? No? Get one! (Why did I go so many years ignorant of the power of the pressure cooker?)
Here goes. Very challenging.
(Not.)
Start with whatever you would like. I began by chopping cabbage and then potatoes, in case I was feeling too lazy to continue. I could have added broth and seasoning and called it a day with a delicious cabbage and potato soup. But I soldiered on. The vegetables this time of year are gorgeous!
Wash everything.
Chop everything.
Throw it all in the pressure cooker.
Pour in both containers of broth.
Add whatever seasonings tempt you.
Enjoy a glass a wine while you're working.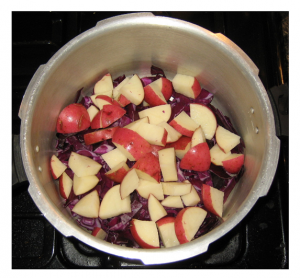 Don't drink? No worries. Put on music, relax, and enjoy the process.
As for spicing things up, I didn't go too wild. I added Herbes de Provence, fresh ground black pepper, bay leaves, and fresh dill which was too enticing to pass up.
Put the pressure cooker on high heat.
When it starts to steam, let the soup go for 10 to 15 minutes.
This varies with the pressure cooker.
(Mine takes 10 minutes to get to that point. Then I allow another 12 minutes.)
Total time? 45 minutes. (I'm a slow chopper.)
Total cost? $11 and change.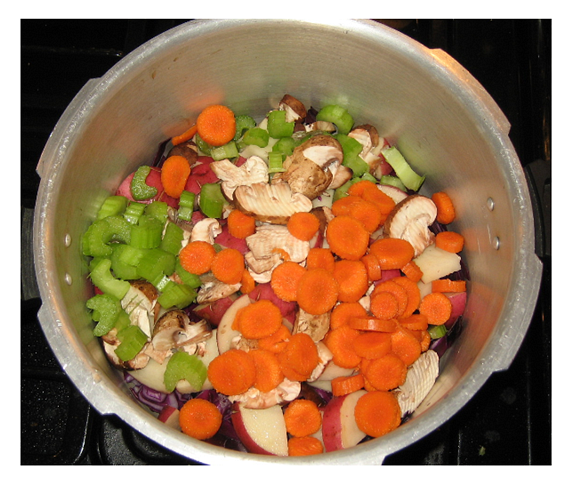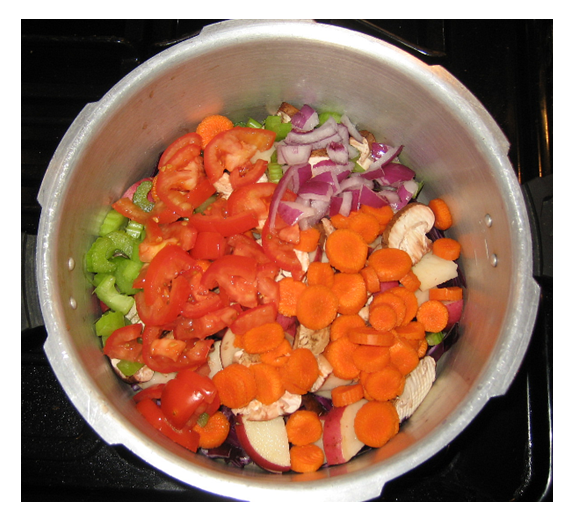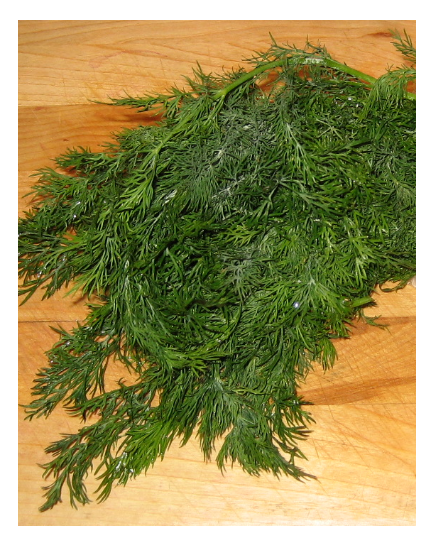 The broth was approximately $4. I spent $7 on the vegetables. I'm still eating the soup and it's been nearly a week!
And look how purple it is when it comes out of the pressure cooker. Strangely gorgeous, isn't it?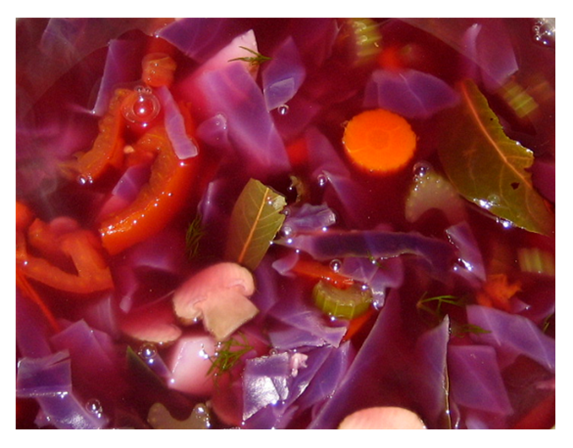 Serve with a dollop of light sour cream if you like, and a sprinkle of parsley or more dill. (The top picture is what the soup looks like when you open the pressure cooker.)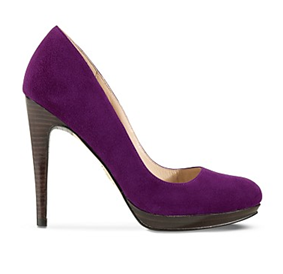 Purple pumps, optional.
More "soupes sauvages" – with a little of this and a little of that? "Tis the season:

Click shoe image to access details at Bloomingdales.


© D. A. Wolf

Big Little Wolf's Daily Plate of Crazy