No new diet. No new exercise regimen.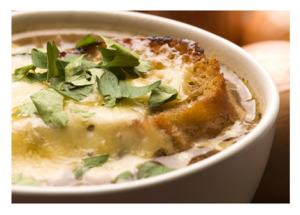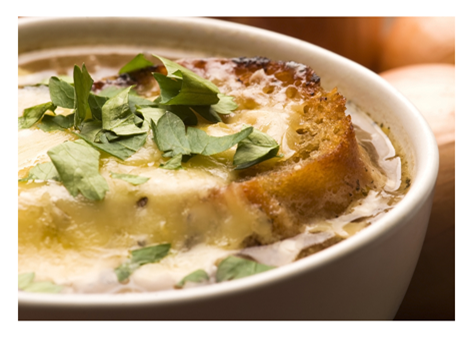 Most certainly, no resolutions, old or new.
Screw the traditional plunge into overly ambitious and maddening mandates! Open the floodgates instead – to the generalized guideline – and the sanity of reasoned measures to… drum roll please… possibly come closer to what you want.
And… while savoring Julia Child's famous French Onion Soup.
Wondering what I'm talking about?
Now come on, you already know. It's a new year and we are diabolically driven to set goals. Just a few weeks later, we usually abandon them. So why not attempt something more practical, and potentially more helpful?
Do You Know What You Want?
It's cold outside, and I'm in the mood for a bowl of French Onion Soup. But we'll return to that in a moment. Let's think more globally – about getting what we want.
If you don't know what you want, your likelihood of getting it plummets. It's logical, isn't it? So you need to reflect, be reasonable, be creative, and then… you might be able to construct the future that you wish to create for yourself.
Sometimes, knowing what you don't want is a beginning, and the process of elimination nudges you toward something better, or at least – different.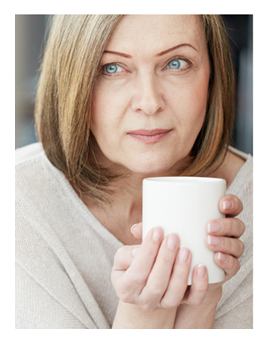 An example?
You're tired of shoveling snow just to clear a path to exit your apartment.
You don't want to spend an hour on a slippery highway to commute to work.
You don't want $300 / month heating bills any longer.
You don't feel like socializing in the winter, but you're not meeting anyone because you can't stand going out!
Hello?
Maybe it's time to consider a relocation if possible to a warmer climate, especially if you're still young enough to feel comfortable starting over.
And even if you're not? Not "young" and not "comfortable?"
That was me, some years ago. I didn't escape the winters entirely (I didn't want to), but knowing what I couldn't tolerate – and acting on it – led me to new opportunities and new adventures in my life.
Self-Improvement (Lifelong Learning?)
Perhaps you do know what you want. To be healthier, more productive, or to gain specific skills. To use specific skills. Maybe you want to make more money, to fall in love, to get out of a marriage, to prevent the end of a marriage.
And what will any of your goals require, even if you can't quite picture what the end result will look like?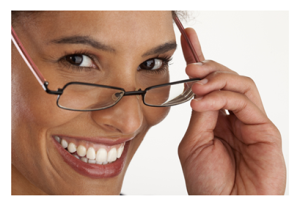 How about focus? Determination? Motivation? Figuring out if you're your own obstacle and in what ways? What if you stir in a sprinkle of sympathy for yourself, on the days that you lose focus, determination, or motivation?
As long as you don't lose sight of the big picture, are you moving closer to what you want?
What happens if you lose your momentum?
Does this all sound a little, well… loose? Right. And that's the point. My resolve not to resolve is based on experience. I do not make New Year's resolutions. I achieve more and feel better by setting one or two guidelines to keep in mind, rather than a litany of breakable promises inflicted by an arbitrary date.
By going with a generalized approach, I allow myself the flexibility to refine goals as the year progresses. And that means none of this (numbers on a scale or hours on the computer), some of that (more love, more kindness, more risk taking, more professional networking)… and – French Onion Soup.
Julia Child's French Onion Soup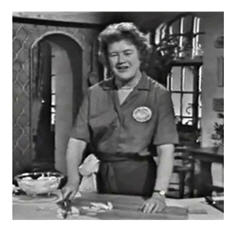 Soup is comfort food, it's healthy, it's easily varied and just as easily prepared. It's also extraordinarily affordable, and welcoming in the New Year with a bowl of Julia Child's French Onion Soup was fantastic.
First, I enjoyed the delights of a rather slow (and comic) video of the Master herself on this classic dish – slow by today's standards, and comic as Ms. Child's attention to her knives (rather than her onions) is extremely entertaining.
Now be prepared. She devotes an inordinate amount of time on the aforementioned kitchen utensils – their size, their shape, their optimal sharpening, how to make them gleam, how not to cut yourself if you're chopping onions and, well, may have hit the bubbly (or the Cabernet) before you move on to the rest of the recipe.
Suffice it to say, following Julia Child's lead on Group Recipes (but adapting for a pressure cooker to shorten the time) resulted in one fabulous and filling dish for a late night supper to see in the New Year.
Please note that other improvising took place:
Leave out the sugar
Leave out the Parmesan
Use inexpensive slices of Gruyère or Swiss rather than grated
Substitute healthier multi-grain bread for baguette.
The recipe serves six and costs approximately $12 (including organic broth, onions, etc.).
New Year, New Start, Reasonable Rationale
Accompanying the French Onion soup was a side of excellent company (also French), a bite of brie, and mixed fruit to finish. Healthy and delicious, n'est-ce pas?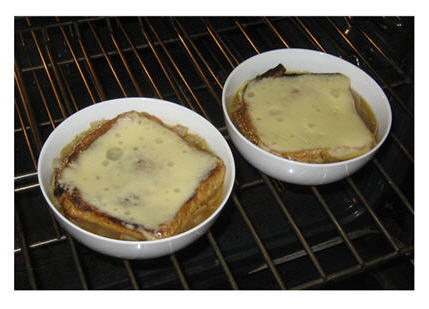 One year ago as I embarked on 2011, I certainly didn't anticipate such a pleasurable entrée for 2012. What I had in mind was an approach, a willingness to stay open, an attitude of openness as my "guide" – to new people, new opportunities, and new ways to stay energetic.
Were there specifics?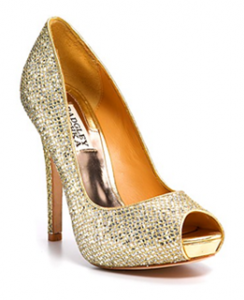 Naturally.
But not to do with soup (and look what I've learned!), a mission to shed pounds (though I have), wrinkles I might want to erase (through Magical Thinking?), languages I would like to learn (in an ideal world), or writing the Great American Novel (better yet, the Definitive Guide to French Lingerie?).
Of course I have goals for 2012 and plenty of them, but they include not beating myself up if they shimmy and shake their way into something different, of necessity or desire.
Circumstances change. We change. Flexibility is key.
And apparently, so is sexy soup.
Serve with a classic neutral heel, or better yet a beautiful Badgley Mischka Peep-Toe Pump, with a little superlative sparkle for the holidays.
Are you doing anything differently as the new year starts off?
Anticipating big changes in the months ahead?
Going for small changes that might forge a significant difference?
*Still image of Julia Child from PBS clip on YouTube.

Click on shoe to access details at Bloomingdales.
You May Also Enjoy
Big Little Wolf's Daily Plate of Crazy