Potato leek soup. FABULOUS potato leek soup. And get this – nine dollars, thirty minutes, and a gazillion nutrients.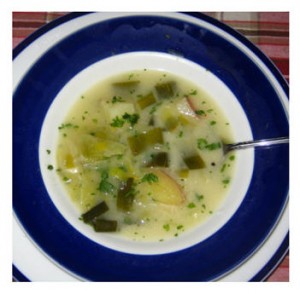 Okay, maybe not a gazillion, but beaucoup. And the best part? It's another pressure cooker recipe to feed the minions on a budget. It's definitely healthy eating, and it tastes divine!
Add bread for dipping and savoring, pour wine to your liking, and stir up some trouble after.
Soup's on!
(And might we rename it Soupe Hercule Poireau for a touch of continental flair? Sortez vos dicos, mes enfants! Cherchez le mot poireau!)
Soupe Hercule Poireau
Still curious? No French dictionary? A little jeu de mots (play on words). The French for leek is "poireau," not to be confused with the fictitious Belgian detective by the name of Hercule Poirot.
Ingredients:
3 stalks of fresh leeks
2 32-oz. containers of chicken broth (or veggie if you prefer)
4 medium red potatoes
1 shallot (chopped)
Optionally – garlic; onion instead of shallots
Directions:
Wash. Chop. Throw everything in the pressure cooker.
Send out the detectives in search of the hard work!
Allow to cook 20 minutes from "pressure cooker wiggling" time.
Serve!
Total cost (all organic): $9 (max); serves 8 to 10!
And… You may also optionally garnish with a dollop of sour cream and a sprinkling of parsley. Fresh pepper to taste.
Or, you may choose to pour your heavenly concoction into a blender, add two tablespoons of sour cream, and mix. Your result is a rich, creamier, supremely delicious soup that is comforting to boot!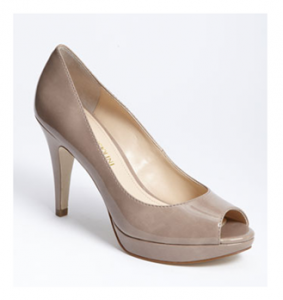 And might I suggest you accompany this recipe with a classic pump?
Why not an Enzio Angiolini with a moderate high heel? This beauty in taupe patent is available at Nordstrom, and at a very reasonable price. (I'm an unabashed Enzo fan. Elegant and extremely comfortable.)
A few more soup recipes, here.

Click shoe image to access details on this Nordstrom exclusive.
You May Also Enjoy