Traditionally, the August issue of Vogue has been one of my favorites – the splurge – even when the budget has been tight, tight, tight.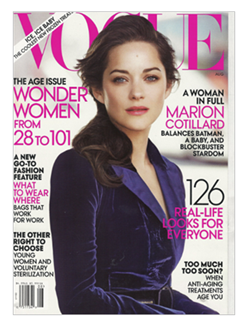 Even back when my own skin was tight, tight, tight.
Featuring women of many ages who gracefully defy age stereotypes, this year's issue doesn't disappoint. The women included are a striking mix – beautiful, "handsome," and more importantly – accomplished.
But p. 184 offers a concerning (and much appreciated) report – forehead-numbing statistics highlight the numbers of women indulging in anti-aging procedures – in particular, a younger demographic than we might expect.
In "Fast Forward," Janelle Brown sums it up:
This new face of indeterminate age is sculpted with heavy-handed injectables and surgical nips. It's angular but puffy, tight but with exaggerated, baby-like features… Forty-year-olds look 20; 20-year-olds look 40.
The article goes on to cite the American Society for Aesthetic Plastic Surgery: patients aged 19 to 34 now account for 18 percent of nonsurgical treatments (filler, Botox, lasers).
And while they're at it, plenty are asking for the bobbed nose, the sharply chiseled cheekbone, not to mention "supersized breasts and lips."
To Cut or Not to Cut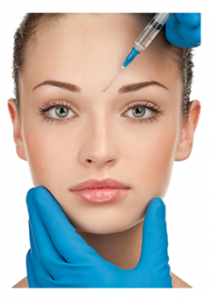 Whenever I ponder the question of cosmetic procedures or plastic surgery – the tangle of issues is anything but simple.
Shouldn't this be an individual decision? What about the collective impact on society as a whole, and our views of "beauty" as well as ourselves?
How much is too much? And how have we arrived at this place where it seems like there's no compunction about slicing into perfectly good skin (and tissue, and muscle) – in order to arrive at an altered shape or appearance?
I wonder if those who were great beauties in their youth and their prime feel the fading of their glory more keenly than the rest of us.
I applaud their courage, when they choose to eschew this sort of age defying intervention.
I also recall last year's controversy over French Vogue's 10-year old models, whose provocative poses not only disturb sexually, but these are children being used to sell a youthful glow that will always be out of reach to the adult woman.
Women, Beauty, Body Image: Supermodel Surrealism
How many of us compare our present day "maturing" selves to younger days, only to beat ourselves up over the natural consequences of living a life?
How many of us spend decades comparing our lovely, human, infinitely expressive features and form to those represented by supermodels?
I contrast the sense of urgency to "fix" what aging has wrought with supermodels who apparently say no – no to the many procedures they would have ready access to, choosing instead to age naturally, or afford themselves the lightest of touch in whatever intervention they do undertake.
And those women who cannot see themselves clearly?
We've all heard the Heidi Montag story. We've seen others – celebrities – transform from what most of us would consider "normal" to something plasticized and freakish. Who doesn't miss Meg Ryan's "before," or Renée Zellweiger's for that matter? Do we really want our emotions erased from our faces? Am I the only one who shudders when the Beverly Hills Housewives hit the small screen?
Is It Media or Is It Us?
Is part of the problem the fact that we become inured to what we're seeing in the media? That the images of women are in fact girls – or Photoshopped?
Have we always desired the Fountain of Youth, and with so many products and procedures available, we can't help but drink the Kool-Aid?
On a side note, unlike the West Coast housewife franchises, the New York Housewives seem relatively comfortable with a more natural look, even if they take advantage of whatever their lifestyle can provide in terms of an assortment of cosmetic maintenance.
In fact, in this past week's episode, a stunning 56-year old jewelry designer, Ranjana Khan, friend of Carole Radziwell, welcomes several of the women to her Miami penthouse. As a side note, she instructs them in facial yoga (in an odd and amusing scene). In my opinion, she is gorgeous – no plasticity, a genuine manner, a real woman's body, and I suspect her exercise of facial muscles (rather than slicing and dicing) has something to do with her beauty.
Might she also possess a more grounded value system and self-confidence? (In the photograph here, she is the woman on the far left.)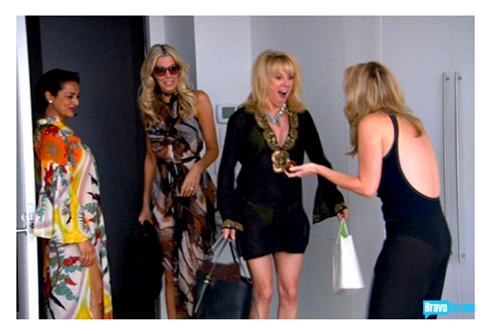 As for cosmetic or anti-aging products and procedures, am I condemning your right to enhance your appearance – or help you feel more energized, more youthful, better about yourself?
Hardly. But when Vogue's "age" issue includes an article that reminds us just how many young women are undergoing unnecessary and potentially aging procedures, could that be a hint to stop and think? To pay attention to what we're modeling for our daughters – for their sense of competence, appreciation of unique beauty, and self-esteem?
My Face, My Age, My Aging
Of course we want to look our best, and I'm no different than any other woman at the half century mark. When I glance in the mirror, naturally I see the signs of age. Naturally, I preferred my skin before those signs of age, and naturally, I continue to age.
My "age defying" secrets?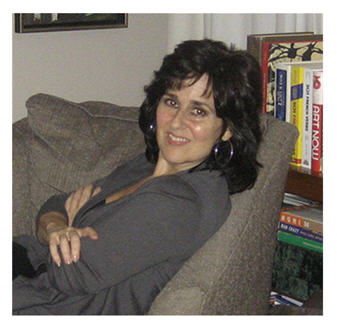 Do I have the body I would like? No. The taut jawline or unfurrowed brow? No again.  The neck I was once so proud of? (I'm shaking my head, no.)
But what you see is what you get, with a little help from Dior on the lips and Chanel on the eyes. I'm real, and it suits me.
I also know that I feel beautiful when I love, and I'm loved. I feel beautiful when I'm exercising my competence, producing work I'm proud of, and connecting with others – in honest and substantive ways.
How much pressure will I feel to do something about softening skin and deepening wrinkles in another 5 years or 10?
Ask me then. I'd like to think my approach will not have changed.
August 2012 Vogue cover, scanned.
Image of Real Housewives of New York, courtesy BravoTV. com (Click image to access original.)
You May Also Enjoy