They're gorgeous girls by any stretch. So what's the problem?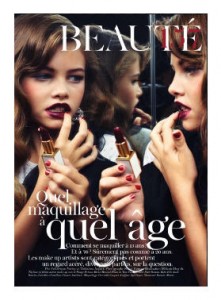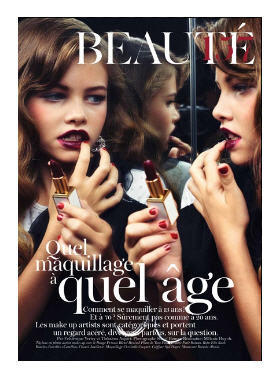 They're girls. 10-year old girls to be exact, and French Vogue's styling of the little lovelies has caused considerable consternation.
It's nothing new for French fashion to push for edgy editorial. It's nothing new to use girls to model the latest looks and silky skin; 14-year olds seem problematic enough.
Remember the controversy over Pretty Baby Brooke Shields at the age of 14 in a sexually suggestive campaign for Calvin Klein jeans?
Move over Brooke. Here comes Thylane.
Mademoiselle Thylane Blondeau is indeed a simmering sensation in a recent spread that has people talking on both sides of the Atlantic. An unsettling spread at that. Thylane is a beauty, but she is also 10 years old, propped in provocative poses that some claim are nothing more than little girls playing dress-up.
Others, and I would include myself in this group, find the imagery inappropriate and disturbing.

Girls, Sexuality; Women, Sexuality
These are not women. These are not even teenagers. Thylane and the other models are little girls.
Jezebel thinks the kiddie spread is no big deal. Be sure to note that the first image in their sequence of illustrations is one of the most innocuous. Some even compare the use of these children to the very American practice of parading young girls through the beauty pageant circuit.
Browse the web and you'll find a variety of opinions, including Blondeau's mother defending the pictures, and ABC News coverage which takes a very different view.
Personally, I don't like the idea of dressing tots or 10-year olds as tiny women, and pushing our precocious princesses down the catwalk – for a trophy or parental bragging rights. And I certainly don't like knowing that prepubescent girls are being staged in sultry scenes, as if this is entirely acceptable.
Fashion? Art?
For those who call this art, I would reply that these aren't photographs on a gallery wall with any sort of social agenda, for example, an examination of millennial mores and sexual confusion. Instead, it's an invitation to more sexual confusion. As for falling back on the right of fashion photography to push the envelope?
Non, non, et non. That's too facile, too far, and a knee-jerk response to crossing a line I believe we should uphold.
Don't we make it difficult enough on our young girls – as they absorb the insidious lesson that sexually appealing appearance = value? Since when do we want to encourage teenage boys or men to gaze at 10-year olds and view them as sexually accessible?
Since when would adult women want to buy any of these fashions or products – draped on a child's body?
Even the French media seem to be concerned with this maddening move, as some articles call the spread "scandalous."
Our Culture of Sexuality
I certainly wouldn't qualify as prudish by any standard. I'm a proponent of consenting adults being allowed to enjoy their sexuality as they please, in the privacy of their homes, and as long as they do no harm.
I repeat: adults, and do no harm.
While I realize this publication appeared on French newsstands, isn't this a display of our increasingly global sexual schizophrenia? And the trickle-down effects into contemporary culture? Aren't our teenage girls and young women confused enough about sexual expectations and relationship dynamics, not to mention body image?
What about our adult women, and the way we feel about aging?
What about our boys and men, and the impact on sexual availability and a sense of entitlement?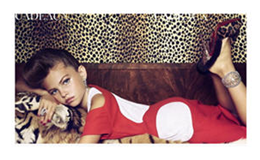 While some of the images may echo little girls emulating their mothers, those that offer up smoldering looks and lounging on beds tell another tale. I believe most thinking men and women would be appalled at these shots of their daughters, their little sisters, their neighbor's children.
And parents?
Aren't we outraged at the adults who stage these scenes and shrug it off?
French Vogue?
Bad call.


Images courtesy Jezebel.com, ABCnews.go.com, Melty.fr. Click images to access originals.



© D A Wolf
Big Little Wolf's Daily Plate of Crazy