Heidi Montag – typical American girl?



Anything to be famous? To be a pop star? I don't buy it. Heidi Montag, a (previously) beautiful 23-year old reality TV star on The Hills, now "improved" by 10 cosmetic surgery procedures.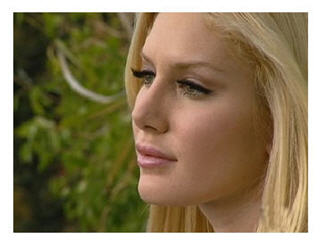 Is this what our culture is becoming? A 23-year old who is (was?) lovely, who undergoes 10 hours of procedures including brow lift, lipo-contouring, augmentation of DDD breasts, nose job revision, chin reduction, cheek implants and more, in a single surgery?
She blithely mentions nearly dying during recovery (see the video clip). And as for her answer to what she sees when she looks in the mirror?
"I see improvement."
Is this "improvement?"
Is this really what we want our daughters to aspire to? Is this America now? This young woman who wants to be a pop music star, who compares herself to Britney Spears and talks about engaging Michael Jackson's producers?
Is putting the spotlight on her surgeries good, or exacerbating the problem?
And yes. I believe it is a problem. A major problem. A Hollywood trend that has spiraled far beyond any reasonable control, and trickles down into the psyches of our daughters and our sons. I would even go so far as to say the collective effect is that this hurts all women – and is no standard of beauty for anyone to covet.
A woman's view: health and well-being

We all know there is a mind-body connection, that men and women both feel better on the inside when they believe they look good on the outside. Fine. But when we reinvent ourselves on the exterior to this extent, in the name of well-being, or a pseudo-standard of beauty, is that healthy or damaging?
Where does it stop? How young? How much?
Must we all undergo cosmetic surgery for a better sex life?
To market ourselves in this youth-obsessed, fame-addicted culture?
To look in the mirror and "like" what we see, and see what we like?
Check out the Nightline video clip, courtesy of HuffPost.
Here is one well-known cosmetic surgeon's perspective on Heidi Montag's procedures.
As a woman, an American woman, and as a parent, I am appalled. And alarmed. This is just the latest example, hyped by the media and begging many of the questions above. When do we stop living by the transient, the superficial – risking our lives for it, sinking all our dreams into it? Where do we draw the line?

Click image of Heidi Montag to access original and article on Huffington Post.