Dreaming and scheming? Moi? Well, the economy being what it is, we're all looking to enjoy our shopping smartly, n'est-ce pas? And that just might require some virtual va-va-voom.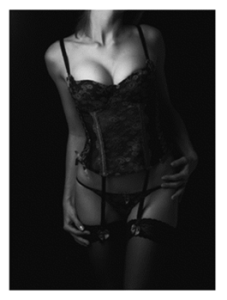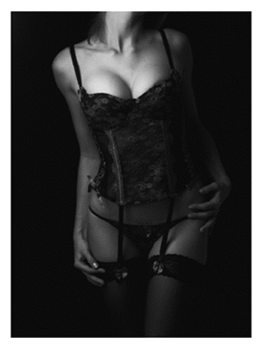 After all, what's smarter than shopping from home, and without spending a dime? Why not linger over a lookbook, or venture into the bodacious, the brazen, the bountiful – all in virtual mode?
Last evening I let my fingers do the walking – literally – as I window shopped on two sides of the Atlantic. And may I say that I always enjoy visiting Chantelle?
Who doesn't lovesexy lingerie?
And do click on the Chantelle link should you wish to  wile away some time at their site. It's all very elegant. And no language skills required! Though if you're more audacious, you'll meander the French version of the site where no mastery of the French tongue is needed either. Only appreciation – of lovely lingerie de luxe.
Other delights?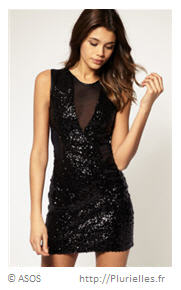 There's this delicious LBD with just enough sparkle to be flirty and feminine, and found on one of my favorite sites, Plurielles.fr, where even if you don't parler français, you'll enjoy your visit.
Do click the images to access the originals in a larger size.
As for naughtier notes and money no object?
Is it time for sexy shoes in the city? Is it ever not time for sexy shoes in the city?
May we go straight to the classic, the delicious, the desirable?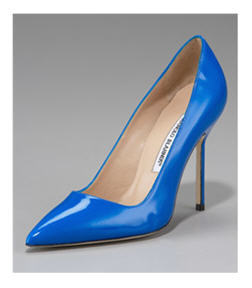 Might we speak of the classic, the seductive, the masterful and magnificent Manolos? Would a pulchritudinous patent pump do the trick if you're up for luminous neon colors?
Lest you think otherwise, I do have a practical side even when I don't have to "foot" the bill. I may indeed incline toward sassy sneaks for a saucy stroll, but who doesn't love a comfy bootie with both a rugged look and a bit of chic? These little numbers appear to be ideal for leggings or jeans, they're very inexpensive, and I adore the lace-up look with its fold-over sweater edge. Cozy and cute!
(Santa, are you listening? Better yet, are you taking notes?)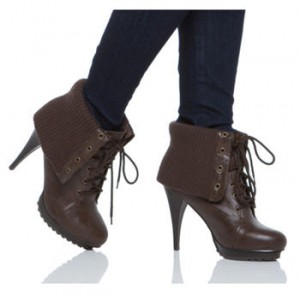 Incidentally, I've been oh-so well behaved on my budget of late, with the only leopard accessory I indulged in this season a delicious scarf which I've worn several times, I couldn't keep my tap-tap-tapping tips of the fingers from searching out the feral find, the wicked wild thing, the amply amorous animal print.
All of which is to say – I covet this delicious leopard belt at Ann Taylor, even as I admit to finding the perfect gloves to go with it.
J. Crew. Gorgeous.
But their price?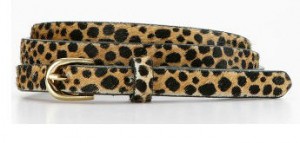 Not so much.
And speaking of price, yes, I promised a little va-va-voom in my virtual window shopping. And surely I suggested there might be a dollop of dazzle and some ogle-worthy ostentation.
We now return you to our regularly scheduled preoccupations… Dare I mention how long I've been gazing at the gorgeous underthings on Mio Destino?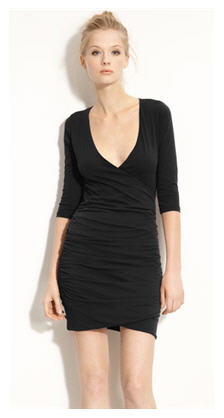 Care to visit Aubade and Simone Perele? Shall we add La Perla and Lise Charmel? A for amping up the va-va-vampy, here are a few other bodacious bits I came across.
A little sparkle at the holiday? Always fun. (The LBD above, for instance.)
But bauble-bedecked and beaded frocks aside, this little number caught my eye.
It's a fairly fantabulous look which I fell head over (four inch) heels for! This James Perse wrap dress has just the right (flattering) three quarter length sleeves, a plunging neckline (that's my thing), and a luscious (lacking?) length that suits my taste perfectly.
Love love love this!
You could accessorize it up – glitzy and glittering – or keep it simple and sleek with a simple statement accessory.
I suspect I'd go searching for just the right stilettos… (leopard?), and then possibly one of Santa's elves would take me out on the town.
I imagine I could "scare" up an elf if I tried. Shall I?
I confess that I was explicitly on the hunt for red, and was surprised not to find as much as I anticipated. But who doesn't love the Little Black Dress?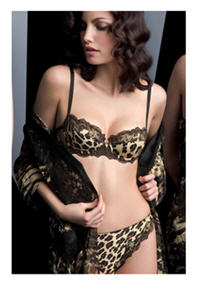 Though I was thwarted in my attempts to find lingerie to my liking en rouge, I succeeded in falling "prey" to the wild kingdom spots of a certain sweet cheetah. How about this sexy set of underthings courtesy of luxe designer Lise Charmel?
A nice touch in keeping with the leopard theme?
Any virtual shopping you'd care to share? Your favorite sites? Your guilty pleasures?