It was gorgeous, clear, and mild.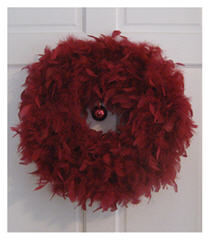 It was a heavenly drive, as I made an early morning trek to the Farmer's Market – fall foliage ablaze with reds and golden yellows.
Until.
Until a short stretch of road through a small but bustling commercial area, complete with iron lamp posts decorated in shiny bows, berry-bedecked wreaths, and already – retail windows displaying silver bells (and cockle shells?) along with fake snow.
We've only just survived the Pumpkin Patch, people!
When will we allow our holidays the pleasure of a breath between them, and us – weary consumers and worried shoppers – a more reasonable approach to what ought to be a spectacular time of year?
I am not a "bah humbug" woman, with or without little ones around the house. On the contrary. I adore the holidays. All of them! You have only to glance at my feather boa wreath for proof!
Home, Hearth, and Heart
I love prepping the turkey and all the trimmings. I delight in our relaxed celebrations – whether at home, or occasionally with neighbors. I savor the process of selecting the thoughtful "something" for my boys, a few necessities they wouldn't buy themselves, and picking out a trinket or toy for close friends.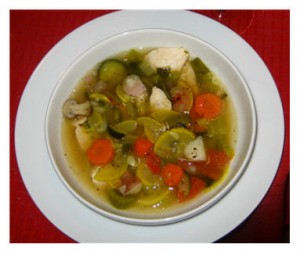 All without breaking the bank, but generally garnering a smile.
I festoon my mantel (with greenery from my backyard), and I take enormous pleasure in small touches around my home.
I bake, I trim, I wrap, and lap it all up. But not when it smacks us in the face while the Halloween candy container still sits by the front door, and the thermometer outside my window is dancing around 60. Couldn't we wait until our turkeys are gobbled before Christmas comes calling?

Food, Glorious Food
Lest this little rant otherwise fail to offer up something worthy of your consideration, permit me to suggest a few recipes – easy to prepare, easy on the wallet, and all (save dessert) hearty and healthy – inspired by my kitchen counter, currently covered with Autumn vegetables.
On tonight's menu – Red Cabbage Soup (see below). And for the weekend, Fireside Love Potage!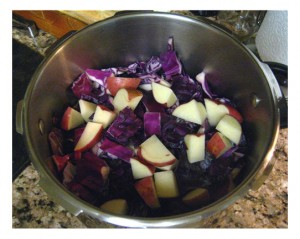 Incidentally, I'm considering paella for Thanksgiving. You heard me. And why not? It's healthy, organic, delicious, budget-friendly, and I won't have to relive the horrors of the (hysterical) Sarah Palin video clip on turkey decapitation that I saw a few years back. As for dessert, well, that would have to be French Twist Mini-Pecan Pies!
What do you think?
And might I mention that the indomitable Team Gloria was up early this a.m., hard at work making soup as well?
Red Cabbage Soup
Soup for a song! (No need for carols.) Here's the recipe, and it's a, well… piece of cake.
1 head of red cabbage
2 32-oz. packages of organic chicken broth
2 cloves garlic (optional)
2 to 6 medium red potatoes (optional)
Slice the cabbage. Mince the garlic. Chop the potatoes. Dump it all into the pressure cooker!
Add the broth, and season to taste (I add a few bay leaves and black pepper.)
It's 10 to 15 minutes of chopping (I'm slow), and roughly 20 minutes in the pressure cooker (including the time for the top to start its manic spin). Check timing for your pressure cooker.
Total cost (all organic) – $7 to $9 (depending on the size of the cabbage, and type of potatoes). Garnish with a touch of parsley and a dollop of light sour cream, should you wish. And it serves a small army!
Comfort Food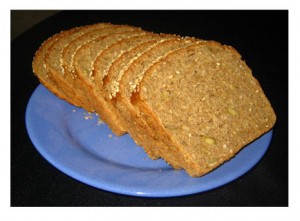 Just to be clear, while I'm eating extremely healthy foods, I haven't given up everything I love. You know, those comfort foods when we're feeling down and out – a great piece of bittersweet chocolate, warm bread, something – almost anything – that carries with it aromas (and memories) of home – wherever that may be.
For me?
Cookies and cakes in the oven provide comfort. The increasing number of soups I'm able to prepare are wondrously comforting. Add warm bread, and what could be better?
Your comfort foods as the temperatures drop?
Your opinion on holiday festivities so soon?

Big Little Wolf's Daily Plate of Crazy