It's mid-winter. It's Friday. It's a migraine morning, already. And my week has sucked.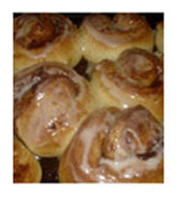 That positive attitude? It hasn't gone underground entirely, but let's just say I won't pretend this hasn't been a nasty few days – with more to come. In fact, I'll say it again. With feeling. THIS WEEK HAS SUCKED.

Ah… better.
Now what else might help when everything is going haywire? Zipping off to a tropical island? Right. But it's not in the budget, or the schedule. New shoes? That, too. No, and no.
Last resort? Real life temporary fix? Comfort food.
My faves?
Bread (preferably warm)
Cinnamon rolls (yes, warm)
Soup (piping hot)
Aromatic teas (nice and steamy)
Scones (heaven on earth).
Oh. And must I really add chocolate to the list? I'm female. Isn't that a given?

God, Give Me Strength (or Baked Goods)
I'm definitely going to need every comfort food I can lay my languishing little fingers on over the next gnarly days, though likely, my stressed-out stomach will keep me from enjoying much of it. That comes in handy for the fit of my jeans, but it means nibbles only.
I nonetheless may feel compelled to turn on the oven and do my domestic thing – if only to fill the house with the aroma. Isn't that a major element in soothing the senses?

What makes comfort food so. . . comforting?
Why we gravitate to certain foods when we need succor?
It's certainly more than a matter of taste. Might memory play a role – consciously or otherwise?
Temperature, texture, even color combine to enhance the pleasure of those recipes that calm our nerves and evoke easier times. And come to think of it, my go-to comfort foods are primarily in neutral tones. Is that part of the positive psychological effect?

Go-To Foods?
Do you know your go-to comfort foods?
Do they vary by season?
Are they evocative of other days, other places, and special associations?
Anyone else having the week from Hell?
Care to join me in virtual chicken soup? Or Godiva chocolate?

Big Little Wolf's Daily Plate of Crazy