"I was young and foolish. It was years ago. You know, a starter marriage."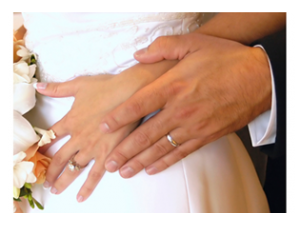 Who doesn't know someone who has used these words, or something like them?
And what, exactly, is the definition of a starter marriage?
The expression "Starter Marriage" became part of pop culture parlance by 2002, thanks to Pamela Paul's book on the subject, The Starter Marriage and the Future of Matrimony. Referring to a childless union that lasts five years or less, Starter Marriage has come to represent our first go-round with wedded bliss, in which we make our mistakes, learn our lessons, pack our bags, and chalk it up to experience.
Starter Marriage – From Bliss to Dismiss?
While Ms. Paul's coverage of the topic is far more nuanced than this, we do still refer to the Starter Marriage, often in a dismissive way.
This past week, Ms. Paul published an article in the New York Times which brings a slightly differing stance to the issue of marriage, divorce, and what comes after. And it appears to be causing a bit of a commotion.
What is she really saying? Is she no longer pro-divorce? How do we interpret the opinions she presents?
I find myself returning to her 2002 book and asking myself if the Starter Marriage is still instructive, or if it's damaging to an institution that needs all the help it can get.
Marital Misstep: No Harm, No Foul?
Though census figures suggest a slight dip or slow-down in divorce (the economy perhaps?), generally, recent data on marriage and divorce indicate that the status quo continues – roughly one in every two marriages will end in divorce.
And if you marry in your twenties and don't have children, call it quits if it's not working out – can you disregard the union and assume that no one was (irrevocably) hurt in the process? That whatever the reasons for getting out – affairs, abuse, "we're wrong for each other" – both parties will pick up the pieces and move on – with relative ease?
Remarriage success rates – or should I say, remarriage failure rates – would lead us to believe otherwise. In Why Remarry, writer Nina Collins points out that according to 2007 US Census statistics, for those 25 and older, 52 percent of men and only 44 percent of women are likely to remarry after death or divorce. Furthermore, 60% of second marriages fail, rising to 70% when step-children are involved.
Starter Marriage – Myth or Maturity?
The figures above might convince us that the Starter Marriage doesn't help. Yet can't we agree that if we're paying attention, we gain wisdom from all experience? It follows then that we would benefit from the lessons of a first marriage, just as we do from a first job, a first home purchase, a first child, and so on, right?
But the assumption that we take what we master as Mister-and-Missus-One and apply it to Mister-and-Missus-Two seems all too facile, and divorce rates for second and subsequent marriages seem to bear that out. For a simplistic analogy, nothing guarantees that skills and knowledge acquired on a first job are automatically transferable to the next; your boss has changed as have your co-workers.
Likewise, the second home means new neighbors, and the second child may differ from the first in nature, talents, and challenges.
Isn't it really a whole new ballgame when you're dealing with people – especially when we're talking about pairing up in presumptive permanence?
Starter Marriage Pros and Woes

Ms. Paul's book raised awareness relative to Gen X trends, documenting the belief in commitment among twenty-somethings (the first real generation of divorce), and likewise, that getting out while the getting is good – before kids – shouldn't mean a lifetime of stigma.
Some took the notion to task (this USA Today article is a good example), which I find to be a case of killing the messenger. Isn't something to be gained by living in (un?)holy matrimony – even for a few years? Can't the Starter Marriage yield self-knowledge, sexual maturity, and a better sense of who and what you need in a committed relationship?
Then again, what if the lessons learned include cynicism, debt, and disruption to your career? What about blows to your self-esteem that require years of rebuilding? Aren't there issues around the disassembling of joined families and friendships?
And if you're a woman – what are the odds you'll remarry if you want to? Is the Starter Marriage a "better deal" for men who remarry faster and more frequently than women? (Incidentally, I found family therapist Emily Gordon's article on this subject to be illuminating.)
Starter Marriage (The Book)
Personally, I find Ms. Paul's 2002 book a relevant reminder of the reasons people marry and the potential pitfalls that lead to matrimonial meltdown. Among the reasons – social, family, and peer pressure to marry; emphasis on the wedding rather than the marriage; if you find the right one, marry him / her (idealization of "the one").
As for the pitfalls, citing The Starter Marriage:
To a large extent, the problems that plague starter marriages are those that challenge every marriage. But the youth and inexperience of most twentysomethings, the unrealistic expectations that today's generation holds for marriage, the current gender-role confusion, the competing demands of dual-income couples in a highly mobile society, and the delaying of childbirth all conspire to make starter marriages especially fragile… When you're married, you also can't settle on the solution best for yourself; solutions must work for two people. And many people, especially in their twenties, simply aren't ready, willing or able to start thinking for two.*
While The Starter Marriage identifies problems causing couples to separate, it also attempts to alleviate the stigma of a first (youthful, misguided) walk down the aisle, describing "the right to the right divorce." (p. 180)
Paul writes:
The husband whose wife abandoned him for a wealthier man should not be viewed as a lesser person because he's – for shame! – divorced. A battered wife needn't feel morally degenerate because she finally had the courage to leave her spouse. More often than not, "good" divorces are hard to weed from "bad" ones and blame isn't easily assigned. By proclaiming certain reasons to divorce like adultery, alcoholism, abuse, addiction, and abandonment appropriate, one ignores the more nebulous but often valid reasons like depression, rage, animosity, and lovelessness…  (p. 181)
She continues:
Divorce is often stigmatized for reasons that have nothing to do with starter marriages anyway. Much of the debate isn't really about divorce per se, but about its effect on children. (p. 182)
When a Marriage Ends
Has anything changed in the decade since The Starter Marriage was written? Aren't we still fixated on the excitement of the wedding, the faux Future Happily-Ever-After, and a quick fix to the instabilities of our own childhoods of divorce – or whatever else might ail us?
Shall we stir in a cup of our Cult of Entitlement? A dollop of our disastrous economy? Don't these heighten the strains on marriage at any age, with or without children in the mix?
And our growing selfishness? Our dismissal of the best interest of the child (and disagreement over what that means)? Our raging court battles over custody? Over support?  Hasn't this all worsened in a decade – or are we hyper-aware thanks to celebrity scandals and social media mouthing off? Are these issues purely the domain of early marriage – or any marriage?
Ms. Paul herself, in her recent New York Times article, appears to be noting the niggling messiness of all things divorce, even when "amicable" and trying to make the best of it. She shares a number of examples in which women describe the various states of stigma, identity crisis, or discomfort they find themselves in – some considering themselves better off, and others, less so – out of step in a variety of ways.
She cites one of her sources, a divorcing mother of two:
"In the 1970s, when a woman got divorced, she was seen as taking back her life in that Me Decade way. Nowadays, it's not seen as liberating to divorce. It's scary."
Starter Marriage or Starter Divorce?
For some, the post-divorce path to adjustment is bumpy as expected, then manageable, then a better way to live. For others, problems persist – and often for years.
As for the children when they're involved? Will it require another generation or two in order to evaluate the real impacts?
I know my story; I know some of yours.
I find intelligence in Ms. Paul's The Starter Marriage, and agree with her conclusion that marriage should be approached not as a one-size-fits-all affair, but
with thoughtfulness and commitment… both personally and as a society. (p. 266)
My concern is with the superficially summarized Starter Marriage concept, which invariably means the Starter Divorce.
Doesn't this downplay the emotional, physical, and financial costs of dismantling marriage, or somehow set expectations that divorce is always a manageable exit strategy? How long before we come to grips with the collective damages of divorce, and the price we pay as a society? When will we calmly examine the need for alternatives to traditional marriage, and progress toward a social safety net without which families are burdened by untenable pressures, and even more so – single parents?
Divorce is not desirable, though it may be necessary. It is a matter of individual experience and circumstance; it should be a matter of two individuals' experience and circumstance. Often, that's not the case.
If anything, I found Ms. Paul's article to be measured; her sampling may not have been particularly "representative," but she doesn't claim that it is. I do believe it reflects the comprehension that divorce isn't a panacea any more than marriage offers safe haven. Instead, I conclude that we ought to adapt a more yielding understanding of the complexity – and variation – of life after divorce, looking beyond ourselves and inclusively – to our children and to our culture.
Suggestions, Questions
So what is to be learned from the Starter Marriage? And do we glean lessons from any first marriage regardless of age or stage, as long as it ends before we're utterly jaded?
Are we still operating in Starter Marriage Mode – not only for a first spouse, but thereafter?
Does a Starter Marriage attitude risk a dismissive approach to divorce?
With men remarrying more easily, does the Starter Marriage undermine a woman's future more than a man's?
Are you on a second marriage? A third? What lessons did you bring from one to the next?
*Pamela Paul, The Starter Marriage and the Future of Matrimony, p. 100

You May Also Enjoy