Unguarded

I have been writing from an unguarded place, and I do not do so often. I am uncomfortable here; my survival depends on privacy, and my own ability to maintain a certain distance from approaching realities in order to persevere – the clarity of facts and figures, debt and expenses, and the clock ticking, all too loudly.
Some days I grip the spotlight tightly. I aim it, though it is heavy and I would rather not. Its light is glaring, and I don't wish to see what is laid out before me. But I must, and so I step out from behind the wizard's curtain where I've created "appropriate" versions of my life. I step out to be heard, to speak my mind – not because it is easier, but it may be healthier.

To those who counsel me to work on my attitude and to "look for the light," I say this:
The light that shines from within has not disappeared. But there is another sort of light. Hard truth. You simply do not like the view. And frankly, nor do I.

Each morning I go about the business of parenting. I wake my son, I tend to his needs, I make sure he gets to school. And on the drive home, daily, I say thank you to my God – that both my sons are well, and that I am still here to parent them.  Then I come home and write, I search for projects, I turn from my worries to actions I can take by phone or keyboard, and to the many topics that intrigue me – a news item that catches my fancy, or something I wish to share about my children.
This is the writing I do for the pleasure of it, for the discipline, and for the discussion which follows. When I write of movies I've seen, or strolling through the mall, or falling into the deep blue of the morning sky – or better still, a lover's arms – I do so for myself, and I do so for you. As part of this extraordinary community of strangers, a place to share laughter, to gather strength, to tender hope, to find repose.
We all need moments to step outside ourselves, our stresses, our hectic lives. Positivity helps. But so does raw honesty.
The Isle of Denial

I lived in denial throughout my marriage – something like marriage – right from the beginning. I lived in denial throughout my divorce, convincing myself that the man I loved would never hurt our children. I lived in denial for years afterward, following the rules set forth in the agreement between us, trying to reason with the man who would not.
Many of us have our variations of this story, of these experiences, these disappointments. And we have lived in denial when we said "yes, yes, you're right" to the friends who popped out their platitudes from their careful, comfortable lives – words like "just forget about him – you can do it on your own – living well is the best revenge."
I accepted the lack of accountability from the father of my children, and consequently, my own double duty as a parent. There is nothing unusual in this scenario, nothing exacting in the way it has played out, and those of us in this situation – men or women – are well aware that parenting is a profession that simply goes unrecognized as such.
But time wears on and it becomes clearer that attempting to "do it all" was detrimental to my health, to my marketability (and thus capacity to earn a living), and to hopes for a sustained relationship. I also benefited, as did my children, in so far as it was I who raised them, though the background of undermining skirmishes was always present, and still is. But I have known great joy in parenting, and I believe my sons will become good men.
Make no mistake. I am fully aware that my current situation is the result of many factors, including my age in a horrendous economy, my lack of family, and dwindling options as is the case for anyone when health is compromised. But I say this with certainty: the situation I find myself in was set in motion and perpetuated by the man I married, facilitated by a broken family court system.
And I never saw it coming.
If just one woman in the process of divorcing reads what I've written and considers a different path away from denial – then these occasional writings from an unguarded place will have meaning.
I will also add that my children love their father. I would never take that from them. I see glimpses of him in them, bits I remember, and cherished. I am glad there were good moments that he shared with them, but I will not pretend that I don't pay the price every day of my life for having trusted him, and trusted our legal system.
Seeking positivity
Some of what I have written in these past days has disturbed you. If it can happen to her, can it happen to me?
Some of what I have written has touched you. I thank you for your kind words.

Some of what I have written has elicited responses like seek the light, think positively, or we all have choices.
I understand. Sometimes there's nothing much to say really, and we express concern or offer hope any way we can. Maybe you even believe that I am in this situation because I've done something, or not done something, which has resulted in my circumstances. Maybe you believe that were I a positive thinker, everything would be better.
I am a positive thinker, or everything would be worse.
One lovely and caring reader, a divorced mom, has written about the benefits of Positive Denial. She suggests that if you "tell a different story" you can change your reality. She mentions her own moments of trepidation when things looked bleak, and how positive attitude has helped. She also references another writer whose story about thinking herself outside the box – or in this case,  outside the explosive pain of a migraine – helps to change the conversation. It eases suffering.
I believe in the lessons of finding temporary relief in seeking positivity, in surviving difficult times with bits of fantasy or imagination, with a mental journey to a place where you are happier. But here's the dilemma with "positive denial" in the face of serious issues. The problem is not in the positivity, it is in the denial.
When confronting formidable problems, denial changes nothing. In fact, it exacerbates everything.
I am the example of positive denial gone awry. Years of it. Convinced that I was in the process of making things better, and reinventing my life. Perhaps I was, but denial is a temporary fix, if a fix at all.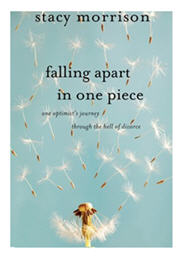 I am certainly not the only woman in this position, and nor is this solely a woman's issue. But I will cite my own commentary, When Marriage Ends and You Don't Know Why, and specifically, I will offer you the words of Stacy Morrison, former Editor of Redbook, and author of Falling Apart in One Piece: One Optimist's Journey through the Hell of Divorce – a book, incidentally, which I couldn't put down.
Ms. Morrison offers what is ultimately a very positive message, presented in a realistic, wrenching, at times brutally honest manner, including these words on the undue burdens that single mothers carry: 

… until we stand up and speak the truth of our lives to the people we work for and the governments we support, then we'll continue to shoulder the impossible.
When positive denial is dangerous
To offer suggestions of looking on the bright side may be well-intentioned, and even helpful. If anything, I am for carefully assessing a situation – discerning hardship versus tragedy for example – a distinction which is also an act of positivity, a means to put events in perspective.
But "it can always be worse" or "you need a more positive attitude" is also dismissive, even if unintentionally. Worse – it is dangerous, when coupled with denial.
Is denial ever the right answer?
What if your marriage is dying and you look away? What if you're ill? What if your child needs help? Or a neighbor, or a stranger, or an entire community without sufficient voice?
Oh, there may be times when distracting ourselves from our troubles is just what the doctor ordered. The only way to make it through another grueling day. As with many things, it's a matter of degree and context. But to practice denial as a way of life is dangerous. I know. I made a habit of it. And it equates to never addressing or resolving serious matters.
Denial was my path through a lonely marriage, and was not in my best interest, nor that of my sons. It was not in my best interest through a long and painful divorce, and in the years of its aftermath. So here I am. Not dwelling in the past, but dealing with the present. This is not a good place. But as Stacy Morrison said so eloquently, I will speak the truth of my life, and encourage others to speak the truth of theirs – however frightening – so  we will no longer be expected to shoulder the impossible.