Mother's Day.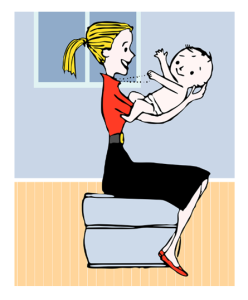 Thrilled by it? Weary of it? Think it has no applicability to you at this time?
With all the hype we generate around most of our holidays, it's no surprise that some of us feel performance anxiety in place of pleasure. There are duties to fulfill and the required preparations: purchase cards, choose gifts, plan meals, coordinate among families and of course, schedule the time to meet expectations.
If you're a mother with babies and children at home, you may find enjoyment in the day, or even take part of the "mother's day" off.
If you don't have kids and that's by choice (and you're feeling the pressure from family members), I hope you're basking in your child-free status despite the urging to procreate. Let's be pragmatic, shall we? Parenthood is not for everyone.
Meanwhile, we are all someone's child – or were – whether our parents are with us now or not. From our adult vantage point we may reach a place of balanced examination, understanding what our mothers did for us and what we do (or don't) "owe" them.
In consideration of the day, I hope you will take a moment to revisit a number of exceptional essays by women writers as they reflect on their mothers. In this mother-daughter series you will find a cross-section of experiences – everything from women who consider their mothers to be a best friend, to those for whom this fundamental bond is a source of pain.
The writers participating in this exercise range in age from thirty-something to sixty-something. Some have daughters (and even granddaughters) of their own, some have sons, and others do not have children.
It remains my intention to ask a number of men to write about their views on this subject, that is – mother-son relationships, from the adult view. I look forward to that series coming in the future. I expect it will be illuminating.
On that note, a very happy day to all those who are parents and who are not, toasting to the mothers, grandmothers, aunts, friends, lovers, spouses and other female influences that were critical to forming who we are, as men and women. And I raise my glass as well to those men – fathers, grandfathers, uncles, friends, lovers, spouses – that have been critical to parenting us, even as adults.
You May Also Enjoy