As a mother of two, it's only natural that I think of my own mother and how she parented. As the years have passed, I've come to appreciate the difficult job of raising children, and the ways in which I think my mother did well. I've also experienced the stark loneliness of parenting on my own.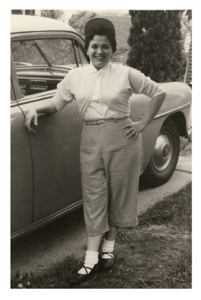 Going it alone was the case when my mother was a homemaker, despite being married at the time.
I tend to feel my mother's presence (and absence) acutely at the holidays, which is to be expected. This is the season when we wish to bask in the bosom of our loving families, though few of us live the idyllic scenes of household harmony we view on our flat screens and hand-held devices. Instead, even in basically sound relationships, conflicts are magnified, regrets are palpable, and some of us find our mother-daughter realities far from what we once hoped.
Naturally, I feel the void created of my mother's passing on other occasions as well. But then, I felt her absence when she was very much alive and we were at odds.
Sadly, that state of affairs was our reality for decades.
Mother-Daughter Relationships
Mother-daughter relationships are often characterized by years of contradictions – fierce and protective love, hurtful acting out by both parties, disapproval and competition.
We may also know extraordinary acts of compassion and generosity. But suffice it to say, when our mothers' better angels are scarce, it can take a lifetime to accept the relationship as we know it, trying to make peace with whatever we have experienced.
Mother-daughter relationships are fascinating fodder, especially as we grow older. We arrive at a near visceral understanding of the daily decisions, the constant compromises, and all the factors that influence our behaviors when we take on the motherhood role. And that role, as we well know, is too often a situation of "damned if you do and damned if you don't."
Regardless of the loving or contentious nature of the bond, perhaps we come to a place of greater empathy for our mothers, as I have over the years.
In light of the delicate and fundamental nature of these relationships, I have invited a number of women writers to explore a little piece of their adult understanding of their mothers. I look forward to sharing their memories and lessons, as I can only imagine that we will find a mix of affection, admiration, tenderness, and potentially bitterness, resentment, animus.
Some of us fight difficult parental legacies our entire lives; others bask in the best possible kind of love. Some of us are caring for our mothers now, as they move from midlife into their older years; others enjoy activities together as would close friends.
Some of us have already said our goodbyes. Others will have no opportunity to exchange those farewells in person.
My Mother, Myself
I have written of my mother directly and obliquely, from a place of remove and likewise, from deep inside a mix of emotions. The woman who bore me was formidable: She remains the shadow that accompanies me in my writing as she does in nearly every aspect of my life, the specter that is most frightening in my nightmares and poignant in my daydreams, the cautionary tale of what may happen when we push away those we love, as she did, with verbal jabs and disrespectful acts.
At times, our convoluted history has been instructive. My approach to my children drew lessons from her parenting; I did the opposite of what I thought she might. Often, I have adjusted my own behaviors when elements of her emerge in the content of my responses, or I hear her patronizing tone in my voice. Yet I have adopted her priorities when it comes to the importance of learning and the arts. And I am grateful.
I often think of my mother at Thanksgiving, one of her favorite holidays full of exuberant cooking and invited guests. I certainly think of her during the month of December, as I recall the way she decorated the mantel with relatively little – a bit of greenery, a few objects she enjoyed, paperwhites pushing upward into full bloom from their terracotta containers. Only now do I realize that I decorate in a similar fashion, though I have a Christmas tree in my home, which was not allowed when I was growing up.
I think of my mother when I look at my sons; I recall her playing with them as babies, and I smile.
I also recall when she lashed out at one of my little boys with the same cruelty she previously reserved only for me. I was livid, and after consoling him, consoled myself that his time with her was limited. I have never understood the origins of that cruelty, and why she was unable to find her mirrors, to see herself clearly and perhaps, to dismantle the barriers between herself and those who loved her.
I also see my mother when I gaze into my own mirror; I see her when I gain a few pounds and even more so, as I grow older. The view is disturbing: "I will not become my mother" is the mantra I've lived with all my life, and I thought I would be freed of her in some measure when she passed away. Yet she remains my ambiguous apparition, the naysayer in my head, and equally, the fine spirit to whom I owe my greatest passions.
Ongoing Conflict: Mothers and Daughters
While there were periods of my life when I felt my mother's pride, there were more when I felt unloved, which is not to say that she didn't love me. Still, I could not understand what I had done that she couldn't express her love for me in a way that wasn't spiteful or even diminishing, why she wouldn't allow me to "own" myself – not my achievements nor my emotions, not my friendships nor my physical space.
She inserted herself into conversations with my friends, she took confidences I shared and spun them into tales to amuse her audience, and as locks were not allowed in our house, she would barge into my room unannounced any time she pleased. This is less of an issue for a child with an open door, and a serious infraction to the adolescent attempting any sort of independence or boundaries. These are minor examples; they nonetheless took a toll.
Through all this, which I had no way to understand or articulate, my friends found my mother to be entertaining and interesting. (Perhaps I prefer the shadows as she always took the center stage.) She was able to draw strangers to her with extraordinary ease; she was known to exhibit acts of incredible generosity; her curious mind and adventurous spirit remained intact well into her 70s.
The calmest period of our relationship was during my marriage, as she adored my husband. By marrying and then having children, somehow, I had finally won her approval. When divorce exploded onto the scene and my mother sided with my estranged spouse, actively supported him in our legal and emotional battles, and welcomed him into her home to live for an extended period of time as a "loving son," I was bewildered and of course, felt betrayed. 
There were other betrayals. I have tried to bury them.
My mother passed away before we resolved our differences, though we were both attempting to rebuild some sort of bridge.
Unloving Mothers, Daughters Feel the Taboo
Clearly, I'm not alone when it comes to feeling as though I was inadequately loved by my mother. Just as clearly, I've been able to be a loving mother to my own children in spite of it.
There are many theories on unloving mothers. Some of us simply aren't cut out for all that's demanded. Some of us carry deep-seated wounds into our adult relationships, during the years we're raising children and on into their adulthood.
Psychology Today offers a variety of reasons for the unloving mother, and explains:
The taboos about "dissing" our mothers and the myths of motherhood which portray all mothers as loving isolate unloved daughters, and that discovery lifts part of the hurt and the burden but not at all of it.
I have told myself for years that I resemble my father, not my mother. Point of fact: I resemble them both. Yet when I hear a comment that I look my mother, I am disheartened. I struggle to see her beauty through the veil of hurt, and thus I am unable to find the beauty in myself.
Whatever the relationship, through parental absence, presence, acts of commission and acts of omission, the mother-daughter bond is fundamental. If we're lucky, the relationship is primarily supportive and loving. Or, as we mature as women and mothers ourselves, we can look kindly and reflect, finding the moments we will cherish, and forgiving what we must.

Part 1 in a series on mother-daughter relationships.

You May Also Enjoy