The quick quiz, the zippy list, the think-fast determination of what's important to you – as revealed through your responses.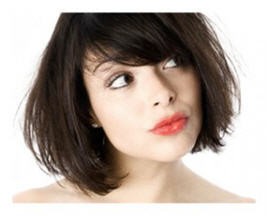 We all love those, don't we? They're fun, and they can indeed be revelatory.
For instance – Who do you want to be stuck with in an elevator for hours? What three objects do you need on a desert island? What don't you want to leave home without… when taking off on an exotic or extended vacation?
Of course, as it happens to be April Fool's Day – no fish story there – the tricky tips and teasing tidbits are impossible to avoid: The April Fool's Day subject lines are hitting my email fast and furious, the April Fool's Day topsy-turvy topics are imbedded in my morning reading, even the April Fool's Day special sales are causing me to raise an eyebrow!
Naturally, we would like to think they aren't pulling our legs on that score. As for yours truly, might this be a first of the month musing… with a ticklish twist?
10 Things I Don't Leave Home Without
When I was asked to enumerate my 10 essentials when leaving home, presumably on vacation – and asked on April Fool's Day, mind you – I was tempted to take a rowdy or rebellious route, rather than ruminating on matters at hand… rhyme crime, anyone?
However, I curbed that impish inclination, deciding instead to close my eyes and make a list – whatever came to mind first.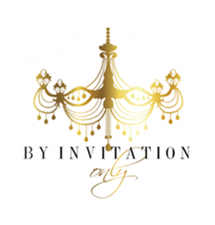 10 things I don't want to be without:
Compassion
Curiosity
Creativity
Courage
Resourcefulness
Humor
An open mind
A pen and paper!
Hot shoes and black lingerie
The man I love
Now, realistically speaking, my guy is not a thing, and I leave home without him all the time. But if I have an option, particularly when it comes to getting away and relaxing… mon homme, si j'ose le dire… the gentleman in my life is certainly included.
Practical Magic: 10 Travel Essentials
Switching up the list in ways that are more tangible, here goes. After all, theoretically, one's capacity for compassion, curiosity, creativity, courage, resourcefulness, an open mind, and humor ought to be intact with or without an overstuffed carry-on – regardless of the journey or the destination.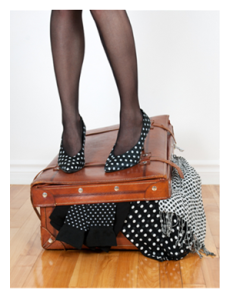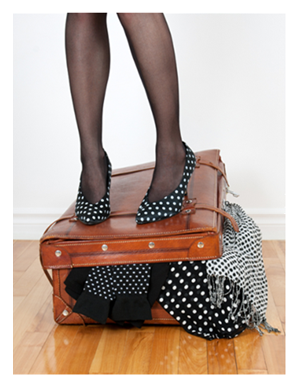 In fact, none of us should leave home without those aspects of ourselves, especially when we travel. If we are to experience another culture, new people, unexpected situations – won't we need every one of those qualities?
As for a more concrete set of must-have's, I will reshape my list:
My best observational and interpersonal self (as in, all of the above), which we shall take as a "given"
Basic gadgetry (laptop, iPhone, chargers)
My favorite cuff bracelet (DRAMA ALERT #1: Which one?)
Sneakers (along with the two pairs of heels and lingerie already mentioned; DRAMA ALERT #2: Which ones?)
A fabulous pencil skirt (gray, black or beige), a sexy top and little black jacket; uh-huh… DRAMA ALERT #3: Which ones?
My signature perfume… indispensable… and it's Chanel; no drama there
Skinny jeans
A reasonable amount of green, as in cash, currency, or moolah (I'll need to pick up something when I get wherever I'm going, right?)
A pocket French dictionary… because after all, in a world of my imaginary making, I refill the well by heading to a French-speaking island or other locale, and you never know when you'll need precisely the right term at the right time to achieve the ideal tournure de phrase…
And… last but surely not least, and most tangible indeed… the man I love
I realize that's more than 10, but shhhhh… don't tell.
Another Essential, Always in Style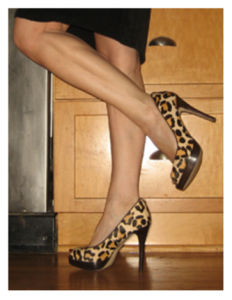 And that takes me to one last item on the list of things you don't want to leave home without – good manners, which are only good sense. Shouldn't we all be sensitive to the impressions we create as we represent not only ourselves but our countries, anytime we travel? Shouldn't consideration of others be part of our "essentials list," no matter what?
Speaking of consideration, I daresay the leopard Michael Kors peep-toe pumps may be my choice of chaussures, regardless of destination. They're comfy, they're flirty, they go with almost everything and… drum roll please… they put me just over the 5'4″ mark, which makes me feel ten feet tall.
No fooling.
What would you take with you on an extended vacation? Where is your ideal destination, if money is no object and you can spend a month – or even longer?

For more on "10 Things You Don't Want to Leave Home Without" (for that dream vacation), stop by here at Marsha's place, and see what other writers have to share on the topic.
You May Also Enjoy