It's an amusing topic I've never considered before.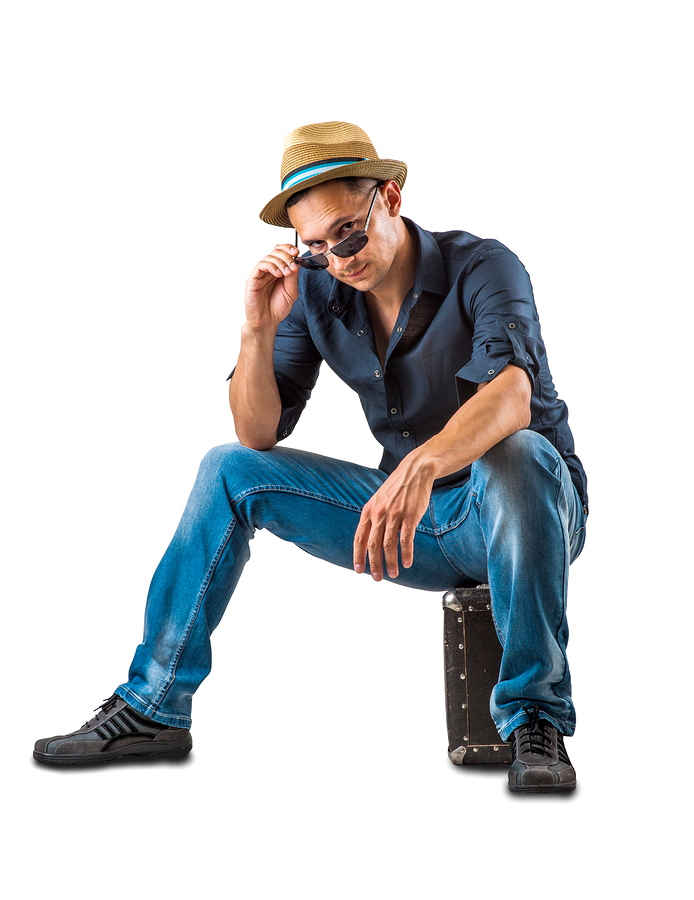 Observed and noted, then dismissed? Sure.
And the subject is man-sitting… which may be 'primal' and mark territory, or serve as some psychological statement on male sexuality.
So what, exactly, is the proper way for a man to sit? For that matter, what about a woman – and what does it mean if we violate those "rules?"
Yes, this begs the question: proper in what culture and according to whom? For the moment, let's take a very general stance in the very diverse USA.
I recall being told that a lady sits with her ankles crossed. Yup. That dates me, just a bit. Cut to a vague recollection of ballroom dancing class, not that there were any ballrooms in my future. As for the men, read on, as some claim man-sitting is a matter of ball room of another sort.
The Proper Way for a Man to Sit
If we reference All Things Wise and Wonderful About the Sophisticated Man… otherwise known as GQ Magazine, we are offered these words of wisdom on the topic of proper posterior positioning for the male of the species:
… I believe sitting up straight really does help you pay attention, or at least appear to be paying attention, which, in business, is almost as good. It's OK to cross your legs at the ankles or at the knees when you're relaxing. Just avoid the crotch-shot Sharon Stone position.
There's more, of course, but I'd say that… covers it.
The Proper Way for a "Lady" to Sit
An interesting note on cultural conventions: When I Google "the proper way for a woman to sit," I don't get direct hits the way I do when I Google the corresponding question for a man. However, a search for the proper way for a "lady" to sit yields the desired results.
Amazing, isn't it? Gender stereotypes persist in language usage, and clearly, in expectations of body language as well. And clearly, "man-sitting" — for a woman — raises a few eyebrows, depending on where she is, how she's dressed, and the eye of the beholder.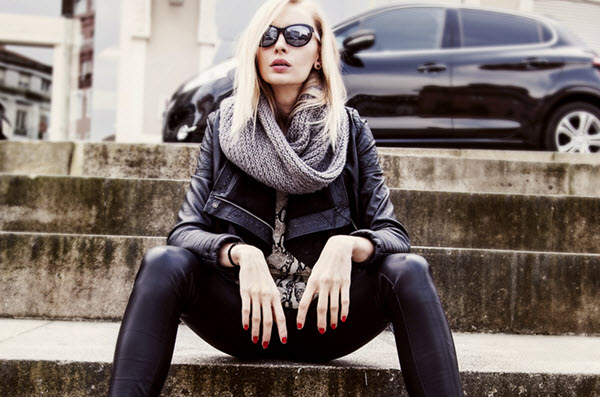 Naturally, I think about how I sit any time I am out in public – not only a matter of good posture and all that – but the length of my hemline if I'm wearing a skirt, the impression I will make even if in pants, and tending (in either case) to cross my legs in what most would consider appropriate fashion.
Ladies, Step Into the Time Machine!
In case you're wondering, here's the low-down on sitting down, if you're of the female sex, at least according to Wiki How, and summarized (unceremoniously) by Yours Truly.
Smooth your skirt, sit up straight, keep knees together, keep ankles together (preferably crossed), and hands demurely in your lap.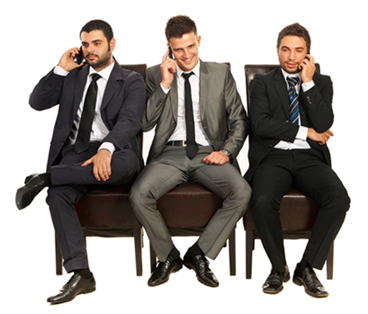 OMG. Am I back on the sidelines at ballroom dance class? Has nothing changed in all these years?  I'm tired of the Powers That Be telling women how to sit, how to stand, what to wear, what not to wear – not to mention how we should dress our age!
Here's my take on the subject: Keep what's private undisplayed in public.
Hello? Common sense?
Man-Sitting is… Wide Spread
Now, whereas women are dictated to on a regular basis, I will jump on the bandwagon when it comes to the phenomenon known as man-sitting, though even in this I'd say it's a matter of degree.
According to Dan Stewart's delightful article that appears in 'The Week, man-sitting in public is described as:
… stretched out… legs at right angles, butt pushed forward in your chair… oblivious to all who surround you.
Mr. Stewart's coverage of this social "faux-pas" continues:
But man-sitting isn't just about what Gothamist's John Del Signore called "territorial alpha-male meathead shit." Most modern men are able to resist the subconscious, proto-masculine temptation to display their junk to potential mates.

… this phenomenon isn't limited to apelike male specimens…. men young, old, fat, and thin thoughtlessly airing out the seam of their pants… it's more accurately a kind of posture towards the world — a way of marking territory, but remaining open to society.
Public vs. Private: Body Language Counts
Adding to the anti-man-sitting sting, Mr. Stewart cites The Guardian:
… writes Barbara Ellen at The Guardian…

This is about what could be termed the zoning of entitlement — male space, female space, shared public space. Isn't it high time that some people learned to tell the difference between public and private? [The Guardian]
Reminding us that a little discomfort isn't the end of the world – and aren't women constantly subjected to what isn't comfortable? – the conclusion is straightforward: "Learn to sit with your damn legs crossed" – at least, in public.
And by the way, adopting the modified, open-angled crossed leg position is fully acceptable. Just try not to crowd out the others seated in proximity.
Your Stance on Sitting?
Slump and spread in man-sitting style? Pas moi.
While I might plop unceremoniously par terre if I'm alone, legs splayed and reading the newspaper, I sit "like a lady" around others as I was taught, though I say "no thanks" to the hands in the lap and the dainty act of ankle crossing.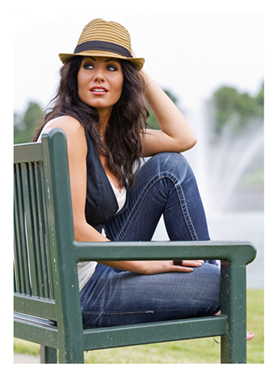 Of course, how we sit in private is entirely up to us; this issue of "man-sitting" is a public one, and how we seemingly communicate (over)confidence, insecurity, sexuality, and so on.
According to the sources I referenced, that is.
Still, let's be fair. I certainly couldn't man-sit in a pencil skirt, now could I… Though in trousers or my fave skinny jeans paired with stilettos or booties, any variation of man-sitting offers an interesting visual tension between tough and feminine.
Don't we see the Modified Man-Sitting model in many an editorial, um… spread?
There are also many more casual positions "acceptable" for a woman, particularly when wearing jeans, suggesting anything from demure to friendly – and frankly, about comfort. But women typically think a good deal about the image we convey in how we sit, don't we?
Aren't we still concerned about (and constrained by) inadvertently sending the wrong message?
You May Also Enjoy