"Dress your age!" Have you been on the receiving end of that remark? Have you said or thought those words about someone you know? Maybe you've heard or used this variation: "That isn't age appropriate." How many of us wonder if the "dress your age" rules we once grew up with still apply, and if so, exactly what that means and when?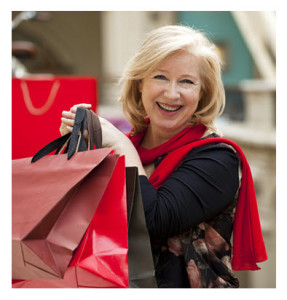 I have mixed feelings on the "dress your age" issue, as I don't think it's cut and dry, just as issues of style are both personal and contextual. I've known women who rock a highly personalized look at 55 that I couldn't have pulled off at 25. And while there may be a handful of guidelines that are indeed applicable to most of us, I suspect we will find many exceptions.
None of this means we aren't aware that we may want to rethink our wardrobes as we grow older. Don't we change things up when we're younger, too? After all, bodies change throughout our lifetimes, and so do our clothing needs, tastes and budget.
The "Should I Wear" List
Recently, sifting through a pile of clothing pushed toward the back of my closet, I unearthed shorts I haven't worn in two years. Along with the shorts were some tank tops also ignored in the same time period. And I asked myself: Can I still wear shorts? Can I still wear tank tops?
I checked out another section of my closet where some of my favorite outfits hang, many of which I haven't worn in five years or longer. I asked myself: Can I still wear that fitted top? Can I still pull off a skirt with a slit like that? What about the décolletage?
As I began to consider the "Should I Wear" List, which potentially includes any number of once loved items that I may no longer feel myself in, the real question is this: Why wouldn't I feel comfortable in these clothes?
And the answer, for me, is not about age but rather about fit, function and confidence.
My tentative list includes:
Should I wear shorts?
Should I wear short skirts?
Should I bare my arms?
Should I wear low cut tops?
Should I wear a skirt with a slit?
Should I stop wearing certain colors?
Should I wear big earrings? More accessories? Different accessories?
Fit, Function, Confidence
One of the fashion basics that I mastered in my late twenties is this: Fit and proportion are essential.
As a diminutive woman who has always been on the curvy side, I rarely find anything to fit me off-the-rack. Even petites, frequently, require alterations. Not only will I proclaim that separates are my friend — how many of us have a top half one size and a bottom half another? — but so is a good tailor, not to mention a needle and thread for simpler sewing tasks like hemming.
As for fit, I also learned long ago to highlight my good features, and allow a bit of flowing fabric to neatly cover anything I don't care to have "body-hugging." Certainly, this last was easier in the late 1980s through the 1990s, when body-hugging was less the norm than it seems to be today.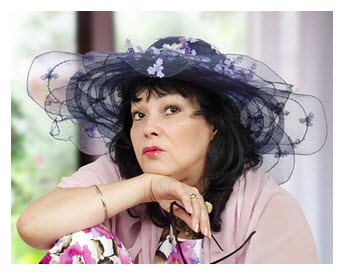 Another lesson?
When part of the corporate world, I paid attention to what was appropriate for the office (both in the US and in France), and I conformed. This is common sense, or ought to be. Shouldn't we all dress the part when it comes to our professional attire? We want our performance to get notice, and not cleavage or thighs, much less over-the-top outfits that are ill-advised in a traditional work environment.
Don't get me wrong — looking great is a plus in any personal or professional exchange. I think we would all agree on that. But the purpose of dressing the part is to place you and what you have to say in the spotlight, and not the other way around. And, feeling comfortable, appropriate, and attractive in what you're wearing will give you confidence.
Why am I reminding you of the need to consider fit, function and confidence?
What You See Is What You Get?
I believe that fit, function and confidence are style guidelines most of us can live with. They lend us latitude, yet they ground us in common sense. Besides, when in doubt, less is more, and to me, that means going with the classics — clean lines, simple styles, and the best quality you can afford.
Returning to my "Should I Wear" list above, the conclusion I draw is this: If the fit is good, if what you're wearing is appropriate to the occasion, if you're comfortable in what you're wearing, if you feel attractive and confident — you'll rock it!
At the very least, you won't feel ill at ease. And by the way, if it's summertime, this also applies to the timeless traumas of appearing in public in a bathing suit!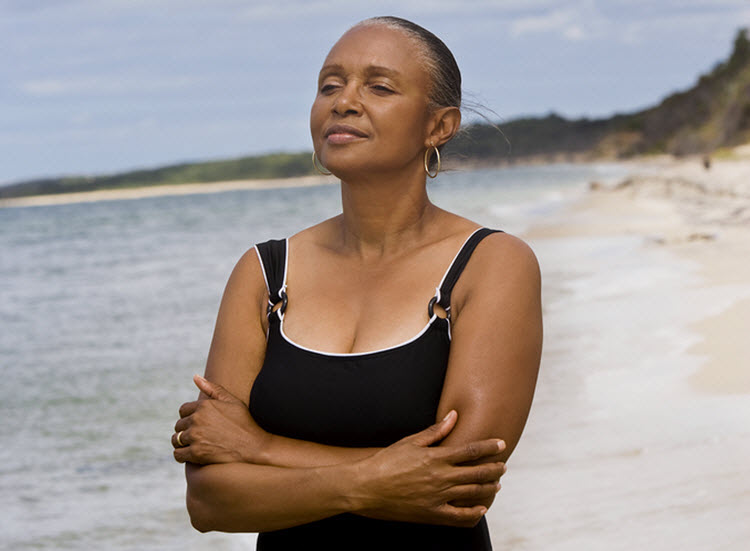 Now, all of the above is easy to put into a sentence or two, but living it is another matter. If we find ourselves staring into the mirror and taking inventory of the ways in which we see aging taking hold, no matter what we do, we aren't going to feel very good. And in similar fashion — this is one I suffer from — if we've put on a few pounds, we may look in the mirror and perceive a much heavier self than the rest of the world sees.
You can think of that phenomenon as the "fat fake-out."
So what happens when we sense we aren't seeing ourselves clearly? How do we ever choose clothes?
Study the Selfie (Kindly, Please)
How to help yourself through that dilemma?
Don't ask your spouse or significant other — he or she can't win on this one. Come on. Admit it.
Don't ask your teenage or young adult kids — they'll either tease or tell you what they think you want to hear! (In either case, you won't feel better, and you won't get a straight answer.)
Do find a woman friend whose opinion you trust, and whose ability to be straight with you but also kind is just what the doctor ordered.
Do take a selfie — preferably with an iPad or similar so you can take your picture with a delay feature and at a certain distance. Take front, back and side. Better still — a short video where you walk, turn, walk back and pretend to be talking!
Do consider looking at those images later — and an acquaintance made this recommendation recently (I thought it was brilliant) — simply remove your head from the images temporarily. If you don't think that's you — how does "she" look?
I can't tell you how many times I've reconsidered a prior opinion of how I look when I've managed to remove the (self-sabotaging) emotion from the situation, with the assist of an image.
Shorts? Minis?
That list above?
Even in my twenties, I didn't go for short-shorts, so I certainly wouldn't wear them now. I will wear shorts to just above the knee, and roomy enough to put my hands in my pockets and feel at ease. I see plenty of women in my city in loose-fitting shorts of a similar length; this, too, tells me I can feel comfortable. And I only wear shorts when doing something of a casual nature, and generally outside. What I was comfortable with in my twenties has not changed on that score.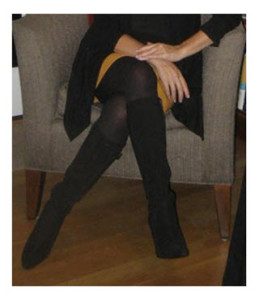 Skirt length?
I like my skirt length one to three inches above the knee, which is the same length as when I was younger. That's where I am comfortable and again, it feels fully appropriate as anything that is "revealed" is in reasonably good shape — as it was some years ago. I will add that we should all consider our skirt length when we sit down. (How often have we forgotten that one, myself included?)
Baring the arms?
This one is another exception — for myself. I no longer have the toned arms I once did; I'm less comfortable baring my arms, but that's me, and it isn't a function of age so much as it is a matter of lost muscle tone resulting from injuries. If you're comfortable baring your arms at 85, I say — do it!
And I feel precisely the same way about most of my own "Should I Wear" list. That slit skirt? It isn't outrageous and it still looks good! Décolletage that is still pretty? Why wouldn't I dare to bare — if the outfit and occasion mesh?
Help! My Body Has Changed So Much!
Earrings, scarves, jewelry, colors… Once again, I believe the guidelines are not so much a matter of age, but of personal style, scale, and the confidence to pull off what you love. In fact, I know a few women who have tossed the "rule book" altogether and their exuberance is reflected in their fashion choices, and it totally works.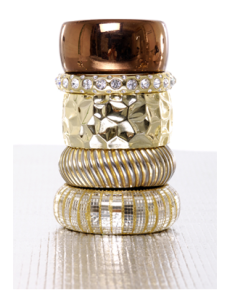 This isn't to say that some fashion choices simply won't stand up as they once did. For example, if your hair color has changed, you may find that some of your favorite tones no longer make you look your best. Take up that phone or iPad and get that selfie! If you've changed your hairstyle as well, the shape of your glasses or the size of your earrings may also need tweaking. And if you haven't updated your hairstyle in 20 years, should you?
What if you don't realize what you look like now? What if your body has changed enough in the past few years — for better or worse — that you don't know what to put on?
You got it. Turn to the trusted friend or the objectivity of the camera lens. And, err on the side of kindness to yourself if you can.
What if you did wear minis when you were younger?
This is one of the few items on my exception list, and that thought was reinforced by a recent Real Housewives of New York episode when one of the fifty-something year-old characters wore a very pretty but super short skirt. She has lovely legs, but the effect was one of trying too hard. On the other hand, seeing her in a bathing suit with a fantastic body, I whispered a "you go, girl" on that one.
Let's Remember the F Word… Fun!
My approach on any other "shoulds?"
If the fit is right, if you feel that what you're wearing is appropriate for the occasion, and if you feel good in it — go for it! Besides, shouldn't fashion be fun? If we loved it when we were 35, can't we still love it 20 years or 50 years later?
I say that's a yes. And one of the pleasures of a few years under one's (chic little) belt is knowing who we are and taking ourselves less seriously.
In one of those happy coincidences that are bound to occur from time to time, my friend Tish Jett is spending this entire week dealing with questions and answers on what you should wear in specific situations, and she is making her recommendations with a wonderful selection of options. Her first deals with what to wear in Paris in September — lovely topic, and fantastic stripes! — and I look forward to what she has to say throughout the week.
Please do stop by her place, see what you think, and feel free to pop back here and share what you've learned.

Enjoy more of the Makeover Series here.
You May Also Enjoy