Lately, I've been needing therapy. Serious therapy. Must I really spell it out?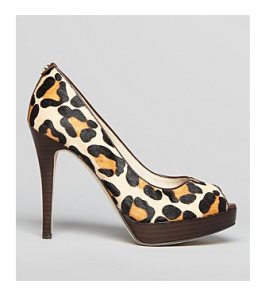 Shoe shopping therapy.
And this time of year, that includes boots. Shall I add that the Footwear Fairy appeared to me in a dream? She whispered "Come… enter the luxurious landscape of high heel heaven where you are always welcome and so relaxed…"
Uh-huh.
You know how it goes. So much to do, so little (shoe shopping) time…  But that's not an issue when compliments of the miracle of online (retail) advertising, a few treasures appear on your screen! Or more specifically, Bloomie's, Nordstrom, Bergdorf's, and Neiman Marcus began appearing on my screen. Naturally, I had nothing to do with their instantaneous arrival before my very eyes.
(You believe that, right?)
Thank You, Michael Kors…
As for the lovely leopard on the left, I'll get to that in a moment. First, I must pay homage to this sexy sensation at Bloomie's, from Michael Kors, with its lattice effect and delicate lines. I have tried on a variation of this style – a little more blinged out – and it's stunning! The other shocker? Extremely comfortable.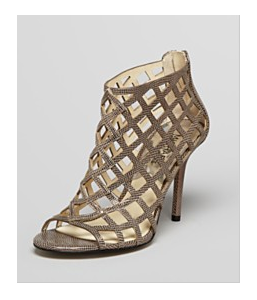 I admit to being in bootie bliss at the very thought.
And while on the subject of Michael Kors, the way he accomplishes a platform without creating a "monster shoe" is a marvel. His peep-toe platform styles are surprisingly comfortable to wear, and you have solid footing when you're walking (or dancing).
Moreover, compared to many other designers, Kors is exceedingly well priced. Just my two cents – or perhaps I ought to add a few zeroes to that, all the same.
Shoe Journalist Extraordinaire?
As for the sturdier stuff, let's just say that I passed on the combat boots.
Yes, I fully understand their function (shit kicking?), and it's a matter of taste and lifestyle. Just not my taste and lifestyle.
Moving on…
I will admit that I took a tiny segment out of my evening and made a personal pilgrimage to my local Bloomingdale's. All in the interest of proper journalistic research, of course.
The wedge ankle bootie, which has had me perplexed for awhile, is far cuter than it appears on the screen or the printed page.
Then there are these Schutz sandals. Don't they look like fun to try on?
I'm dying to try these babies. As a petite woman, I can't pull off this sort of thing in a skirt or dress (my legs are about three inches long, and ladies, booties on short legs in a dress cut us down in size!) – but with the right straight-leg sexy pants? That's a whole other tale of tootsie temptation.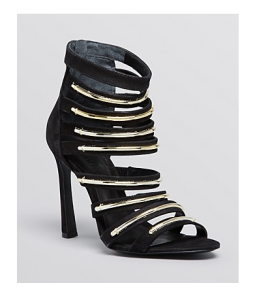 So what do you think?
Heel Heights. Enough Already!
While I don't wear 5″ heels as a general rule – and I know there are plenty of platforms out there that offer a woman a full 7″ in additional stature, I continue my insistent and plaintive plea to designers: Enough already!
While I am always intrigued by shoes as art form, I find 3″ and 4″ both sufficient and lovely in so many styles. Why don't some of these sexy platform-less numbers come in a 3.5″ or 4″ heel height? So much more wearable, a prettier proportion (in my opinion), and a broader market besides.
Any designers listening? (Fortunately, Stuart Weitzman tends to show classic but updated pumps in a variety of heel heights, which is most appreciated.)
Thank You, Bloomingdale's
Returning to the matters at hand (and foot), a heartfelt nod to the exceptionally savvy and customer-oriented sales team at my local Bloomingdale's. (Don't we remember how delightful they were some months back, as the lovely Kim modeled the most amazing Brian Atwoods?) I wonder if these lovely people get a cut of the profits off my feet alone, especially in the years when shoe shopping was a more preeminent vice. If so, they more than deserve it!
And what about these stylish convertible booties?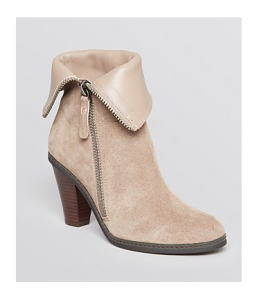 Lest you think I only run (hobble) in stilettos (or sneaks), feast your eye on these super cool suede Luxury Rebel Booties in a sensual almond color. The heel is solid and a very reasonable height, and the fact that you can zip them up and convert them from bootie to boot strikes me as both fun and practical.
Love, love, love!
Casual, yes. But I can only imagine they're wearable with any number of looks including pants and longer skirts. (These are on my "try them" list when I can, for sure!)
In fact, in my visit to the boot displays chez Bloomingdale's, there were some wonderful mid-heel options and boots of varying heights. While I didn't try any on, the variety was impressive.
Pump Me Up!
I did happen upon the red Stuart Weitzman peep-toe pumps I've been mooning over for months. I will not belabor the issue. Insert deep and soulful sigh here _________.
Now now. You know I can't pass up pumps that are calling my name, or perhaps in passing, offering up a Wolf whistle, naturellement. Speaking of pumps, we all know that animal patterns are back (or rather, still here with a vengeance), and in particular, leopard, thus the gorgeous Michael Kors peep-toe above illustrating my point.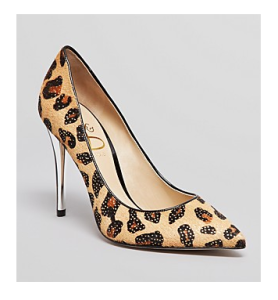 This Joan and David pump also caught my eye. It's not leopard, but rather a Cheetah print which I found flirty and a little different. A classic style with a wink. It got my attention. How about you?
As mentioned, I peeked at the wedge heel booties by several designers, as well as Marc Jacobs' wedge heel booties that I saw online. They have a deep "cleavage" and an elfin quality that caught my fancy.
Would I wear them? Could I wear them?
As a little woman, a refined heel is what looks best on me.
More Boots and Booties
In general, I find the wedge heel on boots somehow… disconcerting, aesthetically. Certainly on the tall boots. I'm tempted to try the wedge ankle bootie style when I have a little time to linger.
Any fans of this style? Comfortable, I imagine?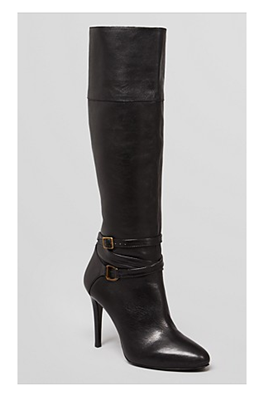 When I wandered into this Ralph Lauren tall dress boot with Kyla Heel, I smiled. Very elegant. The buckle detailing is just right – not too over the top – but tall boots need to be tried on carefully if you're at either end of the height spectrum.
Now, now. I don't want you thinking I've decided to break the bank (or rob it), much less ignore my responsible side that has me visiting DSW, Marshall's, and Ross for a fantastic deal.
(My favorite brown suede high-heeled boots were a steal at Ross a few years back – still gorgeous and much loved. And haven't I mentioned my second steal, last fall, a mid-height black boot, also from Ross? Don't you feel like you're floating on air when you pick up something sumptuous for a song?)
Reboot?
I do indeed plan a visit to those other establishments in my area when I can, where – at the very least – I shall enjoy the hunt for treasure!
Besides, even cruising the web for all this "booty" has eased my stress and upped my delight in a gorgeous autumn day.
Do you have any shoe shopping therapy scheduled in the near future?
Do you enjoy a little footwear fantasizing online?
Your preference for mid or high-heeled boots versus wedge boots or booties?
Are there combat boots and cuissardes in your closet?

Click on each image from Bloomingdale's to access the item at their site. And no, I receive no compensation for this. I told you. It's therapy!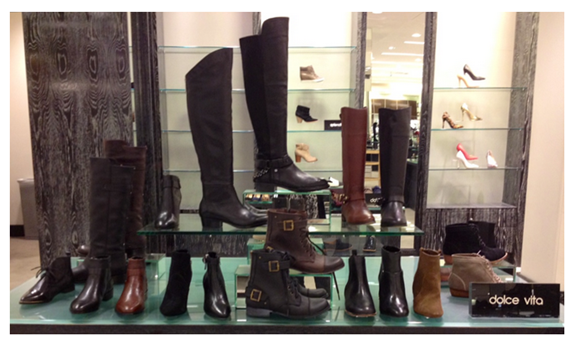 You May Also Enjoy