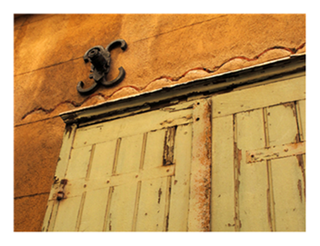 We are lost in Le Panier, Marseille's oldest neighborhood. It is rather infamous too and string-bean adolescent boys with tri-color skins of white, tan and black bray rap to see if we will blanche as we pass. I shuffle in my Prada ballet flats but know from my Manhattan years to look nonplussed. And I am, with Rémi, my strong companion beside me, but I wonder if all of those rumors about this town are true. Did a gun-wielding gang really rob a bank truck on the highway again this week? Or are we in "the Paris of the South?" What is Marseille's identity? And what is myth or only mythic?
I have "dressed up" to attend the exhibition by Josef Koudelka covering over twenty years of work on the ruins of Antiquity throughout the Mediterranean. As we wander, random-pathed, I look at the old buildings swaying inwards, so similar to those broken stones that Koudelka had captured. They are bleached blonde in the late day sun and I delight at the seeming fluidity of history. The first dealers, Greek, were here too but traded in fish rather than something fishy. A scooter swoops in front of us and red-lights to a halt. Someone calls out in the stacked apartments above us, hands gestured, a flutter of dialect rains down. I reach instinctively in my bag to pull out my camera as the scooter juts away, pulling shadows.
"It is going to get stolen if you continue," Rémi warns me gently. A long-time photo reporter, he knows. I put my little Canon G12 back with a silent swallow.
As we continue downhill, a woman with a wide stride passes us. I do a double take. She is the spitting image of Dorothea Lange's iconic "Migrant Mother." Her face is expressionless but leathery with elephant wrinkles.
"Pardon, Madame, are we still in the Panier?" Rémi asks.
"This is the end of it," she replies, giving us the once over, then adds, "I wouldn't go up to the top if I were you. Not in your car either."
"It is still rough then?"
She snorts. "Il faut avoir de la geule pour survivre ici. Il faut surtout pas montrer qu'on a peur." She marches on replying to our wishes of "Bon Weekend" with a wave over her back. I know what she means word by word and yet how can I translate it? Blatantly put, the idea is that you have to have balls to make it here and above all you can't show your fear. Take that, New York City Poker Face.
We turn the corner and pop into a bubble of quiet as the police department of the 2nd Arrondissement rises up before us. Traffic is jigsaw flowing on a busy avenue, business folk flood the crosswalk. We were here before and catch the scent of sea air coming from the ports that leads us to where we had parked our car a few hours earlier. The J-1 Hangar is shoulder to shoulder with the massive ferries ready to leave for Corsica and beyond, its cultural center freshly opened to welcome visitors for 2013 Marseille-Provence.
When the city was named the European Capital of Culture for this year, some thought it a joke or a desperate PR stunt but so far, energy is bouncing of the "I am ready for my close-up" kind. The Museum of European and Mediterranean Civilizations plus the Villa Mediterranée will join Zaha Hadid's 'Gimme high five' of a tower for a mini-architectural Olympics, each touched with symbolic waves like those that surround them. Concerts, exhibitions and installations ignite the city center while the Creative Urban Projects Programme hopes to encourage the locals to interact with artists in residence to help renovate their public spaces.
So will the "real" Marseille please stand up?
It already is standing, quite proudly so and has been for centuries. Resistant and expansive, traditional and futuristic, it is a solid mirage glowing on the Mediterranean Sea.
All text and images © Heather Robinson

Heather Robinson is a travel writer and photographer who resides in the south of France. You may visit Heather at Lost in Arles.
You May Also Enjoy