Why the combat boots?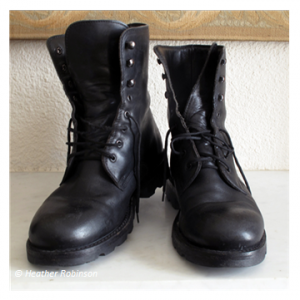 I have a lovely surprise in store, and it is… avec plaisir… that I introduce you to travel writer and photographer, Heather Robinson. Many of you already know  Heather's poetic pen and observant eye as readers of her blog, Lost in Arles, where she writes about life with Rémi Benali and their Golden Retrievers, Ben and Kipling.
You may not know that Heather earned her MFA from the Yale School of Drama, and was a professional actor in New York City before falling in love with a Frenchman and, you guessed it… moving overseas to France.
Who better to share stories and lessons – through the written word and the focused lens?
Together, Heather and Rémi have logged many miles covering the globe. They have been regular contributors to the French magazine, Grands Reportages, and Heather has also been published in Le Figaro magazine, Hotel & Lodge and Le Monde des Religions in France, plus numerous publications in Europe and Asia.
Please sit back and enjoy, as Heather muses on style and life lessons, as she transitioned from the New York life to something very different, in the South of France.
French Chic… and Shock
I turned a corner the other evening and ran smack dab into myself. Funny how that can happen.
When at shining eighteen, I slid into the Big Apple, I knew not a soul but was ready to take my bite. A friend of a friend of…well, you know how these things go, introduced me to the only person they knew, who just happened to be the ring leader of a group of Club Kids, those of the VIP access only, each more dramatic than the rest. An aspiring theatre actress, fantasy was my reality, so being swooped into their little coterie suited me just fine. I pouted prettily while being made up, scratched my scalp discreetly after having my hair powdered white à la Marie Antoinette. Six nights out we went, Mondays off.
As l'accessoire, it was easier to remain discreet, to watch the whirl and spin of that late eighties nightlife. And oh the things I did see, it was my Manhattan education. One that would serve me well as life rolled out, that brute blood of humanity exposed then hidden then floating airless yet airily to the surface once more.
From NYC to the Quiet Life in Provence
So perhaps it is not so surprising that I have had my fill of sorties for this go 'round. Fifteen years have passed, stretched out cat-like with various lives and I now reside in the South of France where I am more dazzled by the diamond bright light than nary a disco ball could shimmy shake. It is amazing how adept I have become at wriggling out of most invitations, although I recently received one where I knew that « non » was not an option.
A dear friend was hosting a party to celebrate the end of a rough period in her life. The evening was even to have a theme: « Soirée chic, détail choc. » Chic? Delightful but with a shocking detail? Needless to say, after my early forays into the outskirts of the demi-monde and later voyages en pays lointains as a travel writer, I have been exposed to so much that my bar of that particular reaction is Schiaperelli high. What actually was expected of me and did I really have to play such games? Wasn't the aspect of my actually showing up a surprise enough in itself?
I pondered these questions the evening of the party as I shaded my smoky eye slowly, face up towards the light, glass of wine perched precariously on the edge of the sink. As any new-yorkaise knows, one either goes for the clothing or the make-up, never both and frankly a slap of sparkle was just easier. I was tired from a long week and had already dressed comfortably in just what I wanted to wear: black skinny jeans, a turtle neck cashmere sweater, a strictly fitted men's charcoal pin-striped jacket hand-stitched in San Remo and my combat boots. The last I figured, might qualify for the detail, this being France.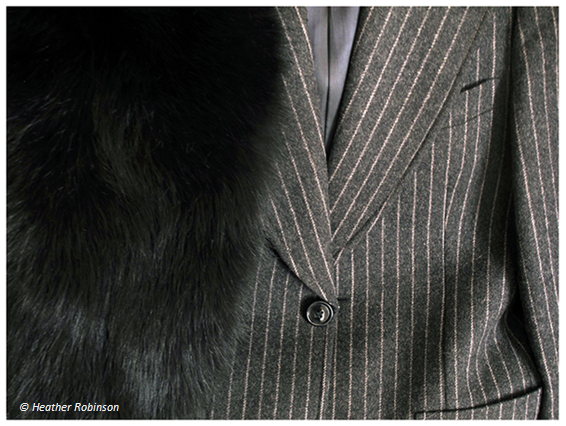 But with a mascara blink, I had a thought. My friend, a veterinarian, had often teased me about the inherent dichotomy of my occasional tendency to sport fur despite being such an animal-lover. Now that could be something provocative. I wrapped my black fox stole around my chin and clomping off I went.
Dressing for Life Lessons?
Was it the night cold on my cheeks or in my heart that I felt when I arrived? The women were all in dresses, mainly LBDs, some of the cocktail variety. I was given the head to toe, eyebrows lifted in expressing retained distaste over my combat boots, then mouths opened into outright derision over my accessory of choice (a response I do not judge).
And here is where I arrived at that corner, one that turned in me.
Whereas, even a few years ago I would have been left scrambling for footing, considering a dash home to change, wondering how to respond in this country not my own, I suddenly realized that I didn't give a flying fuck what they thought, a weight that grounded me just like my boots. I stood strong, I assumed. I explained undefensively (I only wear vintage, they are pieces I have had for many years, I understand all points of view) then changed the subject as needed.
The evening turned on its own energy while I muddled the limes for the mojitos and served the Devil's on Horseback. You see I still prefer to be just outside and observing as I did all those years before. And as always there is much to learn. At the early hour of eleven, one at which I would never have ever considered stepping out in my early days, I said my goodbyes.
As I walked home under the bluish moon, a deep contentment welled within me. What a relief to have let the others' visions of me fall to the ground like a trail of crumbs. Something told me that I wouldn't be picking up that trail again. For it isn't about them, it never was, I had simply forgotten. And what a simple happiness I felt and feel to have remembered the strength in being true. There is nothing shocking in that now is there? But chic? Yes, it is very chic indeed.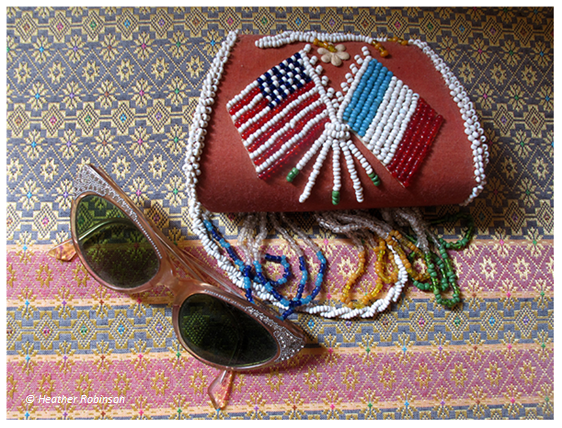 ®Heather Robinson


Heather Robinson is a travel writer and photographer who resides in the south of France. Images, Heather Robinson. You may visit Heather at Lost in Arles.

© D. A. Wolf

Big Little Wolf's Daily Plate of Crazy