When I first read about Bethenny Frankel and Jason Hoppy breaking up, I was convinced it was media gossip. I glanced briefly at an article in the tabloid press, dismissed it, and went on with other things.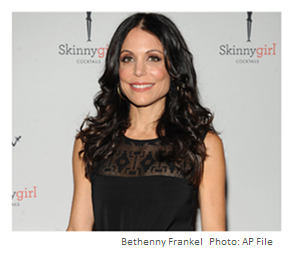 When sound bites concerning the couple's separation became too glaring to ignore, I still told myself they'd work it out.
When I saw that the Skinnygirl mogul and reality star had filed for divorce and discussions were taking place over the custody of their 2-year-old child, I couldn't even bear to read the details.
This one feels personal.
As if a friend is going through it.
Most of us experience hopefulness when we see couples marry, and naturally we feel disappointment when they split. We have impressions, we have theories. We share our opinions and conjecture. Something in us is triggered – especially if we've weathered a divorce of our own.
In trying to understand, we seek blame, we want answers, and we're intent on identifying a Good Guy and a Bad Guy.
But life isn't that simple.
Generally I don't pay a great deal of attention to celebrity divorces. I skim and move on, no doubt because I've been the busy single mother myself for years, and live a "real world" existence that requires me to maximize each minute.
Celebrity Divorces – Do They Matter?
A celebrity's life?
It has little to do with mine; I have no mega-watt career, no doting entourage, no millions to fight over, no public persona to bolster or defend in the wake of my personal interactions.
I am not concerned with J-Lo's comings-and-goings, though I wrote on it. I admit that I took no notice whatsoever when Heidi Klum and Seal hit the news. I weighed in on the Kelsey-Kayte-Camille affair, which struck me as a testament to Me Generation meets Happiness Industry, and I confess that bit of media fodder got under my skin and stayed there for awhile.
The Kardashian-Humphries marriage? Now there's one that caught our collective attention, though for some of us that short-lived union makes a mockery of marital vows. Might we mention that the divorce is enduring far longer than the marriage itself? My, how the legalities drag on, posing a bit of a glitch considering Ms. Kardashian's current relationship and pending parenting status.
Beyond momentary interest, these celebrity doings are little more to me than a daily distraction. And daily they seem to be, which leaves me shaking my head.
Why Bethenny Touches Her Audience
But Bethenny Frankel is another matter.
Maybe it's because she seems strong and simultaneously fragile, coming across as the tough cookie with a soft underbelly. We glimpsed her vulnerability on more than one occasion, most moving when her friendship with Jill Zarin ended badly, as her father was dying, and at the birth of her child.
Maybe Bethenny touches us because she "made good" with her business ventures. Maybe she touches us because like millions of others who came to know her on Reality TV, we were cheering her on to that most elusive win – a deeply satisfying relationship, and the precious gift of a healthy family.
Perhaps I relate to Bethenny personally because her upbringing was far from ideal. How many of us can say the same?
I relate to her because I can't imagine she's easy to love, and I say that with awareness that many of us are in the same boat: we're complicated, we're scarred, and we erect defenses we're loathe to let down.
I don't know Bethenny Frankel. I'm an outsider, a viewer, a member of the audience. I see what I am "allowed" to see, yet I find pieces of myself in her.
I feel for her, for her husband, and I worry for their little girl.
Sadness, When Marriage Ends
I have no idea what caused this marriage to end though I suppose I could speculate as so many have. And yes, I've scanned the rumors that flash across the Internet – everything from emasculating her husband because she brought in the big bucks, to affairs, and other assorted tales.
But truth? The movable truth of any marriage?
If I've learned nothing else a decade after divorce, it is this: There is no "single" truth in marriage. No one knows what goes on behind closed doors.
Like others who watched Bethenny and Jason over the past several years, I "attended" their wedding, I smiled at the birth of their daughter, and I cringed through their fights and let out a sigh of relief at their making up. I viewed the televised therapy sessions with interest, trying to discern how much was scripted, all the while sensing an essence that appeared both genuine and instructive.
Surely, there are regrets over the intrusiveness of Reality TV, and allowing their lives to play out so publicly.
I was rooting for this family. I was, from the cheap seats, invested in their happiness.
Sentimental? A little sappy?
No doubt.
Life After Divorce: Rebuilding Hope
As for the future, we can well imagine that Bethenny and Jason are both resilient. Naturally, money helps, assuming they don't engage in a blistering battle over their recent fortune. But any divorce is, for most of us, a personal and intense source of sorrow. I would hope they will keep proceedings fair and civil, protecting the best interests of their daughter, Bryn.
And yet here I sit, unable to shake the sadness, knowing that life after divorce is a difficult road back.
I wanted to believe – not in happily ever after – but in the value of commitment and doing the work. I wanted to believe in the tough cookie with the soft underbelly. I wanted to believe in Bethenny and Jason – for all of us who aren't easy to love.
You May Also Enjoy

Big Little Wolf's Daily Plate of Crazy