I'll fess up. I spent three hours the other night (happily) watching Bravo TV. Yep, those Housewives again.
Embarrassing Behaviors
First I watched the Real Housewives of Orange County (the Reunion Show, in two parts). Then I watched the newest episode of Real Housewives of New York. Twice.
Okay, make that four hours of Reality TV.
The Orange County women were, quite simply, an embarrassment to themselves (and to me, as a woman). As for New York? I was entertained by their fashion, style, and shenanigans – up to a point. I found myself asking – relative to all of these women (with one exception, Alex McCord) – we know they aren't "real housewives," but are they even real adults?
Why are we presented so many women fighting on reality TV? The shows are heavily edited, and we get that. But heightening drama (divorce, illness, a lover's spat) is one thing, and yes, I find it distracting (the reason I watch). But the amount of squabbling seems to be escalating, and at a furious pace! And the dirty digs? The allegiance switching, malicious misunderstandings, and vicious remarks among these women?
Is this your reality? Women incapable of sustaining friendships with each other?
Reality High School?
I had good friends in high school, both girls and guys.
As for college, my friends (all women) were spectacular. At the time, they ranged in age from 16 to 22, and they were smart, giving, aware of others and their feelings. I remain in touch with many of them, more than 30 years later.
Have there been allegiances in my life that dissolved? Friendships that were strained through changing circumstances? Of course. Just as that occurs in marriage, it can happen in friendship. But it has not been the rule in my friendships; it is the exception.
Following divorce, some of the women in my life walked away. It was painful, though I understood the reasons why. But generally, friendships with women have nourished me. And I imagine they always will.
Women and Gossip
Why do adults gossip? Why do women gossip?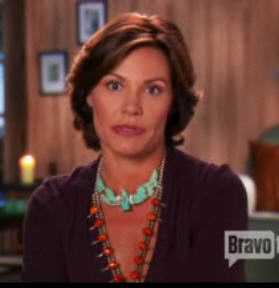 I readily admit, I am not without fault on this subject. There are times I've said something I shouldn't have, and felt guilty for doing so. Nothing like the digs these Real Housewives make!
Remember that adage – if you can't say something nice about someone, don't say anything at all? This is what I try to practice, though I don't always succeed. I believe that words hurt, and while gossip may serve the purpose of making one feel "better" (through nasty comparisons), it's a temporary fix. I'm not proud of myself when I engage in gossip, and I hope I don't do so often.
Do you gossip?
Do you think women gossip more than men?
As an adult, do you believe that it's harmful?
Real friends, real women
I cherish the women in my life, and cannot imagine dishing out or receiving the kind of digs and misbehaviors seen on these shows. As we approach what appears to be the end of a genuine friendship (Bethenny and Jill on the Real Housewives of New York), I am disheartened.
Losing a friend is painful; most of us know what it's like. Irreparable rifts over changing circumstances, one misunderstanding that leads to another – sometimes it happens, and there's no going back. But do I really want to see this played out on television?
So what's up with these women? Especially the New Yorkers?
I've come to expect more ridiculous (and typically "catty") behaviors from the OC and Atlanta franchises. But the New Yorkers let us see their real faces in the morning  (refreshing), little makeup when they're at the beach (normal), and even interacting in more usual ways with their children (amazing!).
And yet… they're increasingly behaving like 14 year old teens, though frankly, my teens have always exhibited more sense, and more loyalty.
Human nature to erect idols and then tear them down?

I've said this before; I'm not sure why I'm watching. There are elements that are enjoyable, including the fashion and style of the New York women – their events, their clothes, their charitable works (which aren't contrived, or so it seems). I enjoy the relationship between Simon and Alex (I find them intelligent and creative). I have also loved the (seemingly) genuine friendship between Bethneny and Jill, and seeing the former do so well after what we sense has been a hard and painful road.
I find Bethenny's humor wickedly delicious (though it's not for everyone). I love that she has found a good man (against the odds). I love that her career is going well. And she's now pregnant, at 39, and appears to be happy – and somewhat incredulous – at her good fortune. I love her vulnerability, and I think that's a wonderful quality to show on national television. Strong women are no less vulnerable than those who haven't had to go it alone.
But the attacks and counterattacks? The hurtful behaviors? Building up friends (or idols) only to tear them down? Hello, adolescence?
Reality TV intervention

I continue to watch, for now. Somewhat reluctantly. But that intervention I joked about once – it may be just around the corner.
Life is painful enough, and lonely without close friends. And I believe in women – in their strength and their loyalty. In their compassion and equanimity. I have no desire to watch women rip each other apart on national television, scripted, unscripted, or in any other way.
Right now, these TV shows are leaving me saddened. The women of Orange County seem uber-dysfunctional. I take no pleasure in observing their dirty tricks, their public arguments, their troubled marriages, their problematic parenting, their loss of jobs and homes and dreams. Does it all cut too close to the core?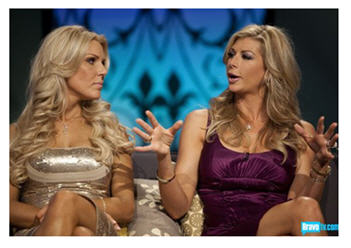 I want something different in my mindless television. Something silly, provocative, uplifting, amusing. And that's what these shows were initially. When reality – real reality – is damn difficult, it's amusing to watch reality TV which is diverting. But not this. Not the extreme hurt, the fighting, the real pain these real adults must be feeling. Even if they aren't friends, and they are providing what someone believes the public wants to watch.
Time for me to go to the movies instead, and see some recently award-winning films?

Big Little Wolf's Daily Plate of Crazy