If it is a jigsaw puzzle, even a tricky one, eventually I can manage it. If it is a gadget requiring multiple steps to assemble, I may struggle unless I have expert assistance. If I must first dismantle a mechanism and then reconfigure it to make it work, it is even more difficult for me to accomplish.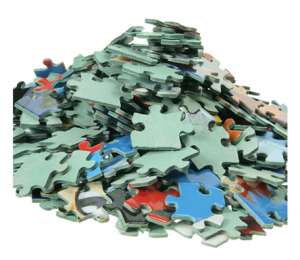 Fixing something that is broken is challenging. The more complicated, the more sophisticated, the more ways in which to potentially repair what is wrong – assuming you can identify what is wrong – the more involved and time-consuming the process.
Social systems, like human beings themselves, do not come with instructions for assembly or repair.
As Americans grapple with the unfathomable news of yesterday's killing of 20 elementary school children in a matter of minutes, we may feel at a loss for where to begin to address this country's ills. We tell each other to hold our kids and assure them they're safe. But I don't feel safe. How do I reassure myself much less my children?
It is ten days before Christmas. Like millions who have been too busy to tend to holiday-related tasks, I had a long list on my plate for this weekend: shopping, cleaning, decorating, and picking out a small tree for my small home.
Today I have no interest in shopping or decorating or choosing a tree.
Like parents across this country, I ache for the families in Newtown, Connecticut as the story continues to unfold. I turn to words to somehow deal with the horror of a senseless act of violence, wondering how we ever put an end to it, knowing there are no easy answers.
I am, perhaps like you, grieving, angry, disgusted, and bewildered.
Yet surely we cannot ignore the ease with which we purchase not only handguns but assault weapons. Surely we cannot ignore the growing issues of mental health in this country. Surely we are not so naive as to think this is a one-dimensional or even two-dimensional challenge.
There are issues of greed and politics at work in the background, of course. There are issues of fundamental values that have been eroded over decades. There are priorities in a country that talks a good game about our place of moral leadership in the world, but we don't put our money where our mouth is.
And by that I mean recognizing that guaranteeing education and a healthy environment, including accommodating the needs of mental health care, are the hallmarks of a civilized people.
There are economic issues at work as well – millions of us living on the edge of a "financial cliff" of our own, juggling multiple jobs to pay the bills. Then there are those who live in poverty, and breaking that cycle also has no easy answers.
What we see are impacts – children raised in violence and neglect; children who are not given the quality of time and attention they need; our overindulgence at times in place of common sense.
Yes, I recognize those as sweeping statements and filled with underlying judgment that reflects my own experience and values. Perhaps these words are a reminder to myself and only that, a reminder that each and every one of us is a cog in the wheel, a reminder that as part of the machinery we nonetheless own our accountability as parents, as members of communities, as voters.
We own our action and our inaction, our speaking out and our silence.
When there are no easy answers, it isn't sufficient to lick our wounds, to offer our prayers, and to get on with our daily lives. Of course our vigils and respect are appropriate and even necessary aspects of the healing process. And heal we must, but not if we as a nation and as individuals "forget" these tragedies as the weeks go by.
I fear for our country as deeply as I love it. Perhaps those two emotions go hand in hand in contemporary culture; perhaps they coexist in every generation. But just as we love our families, our partners, our closest friends – we do not do so blindly and without confronting destructive behaviors. That means dealing with the guns – some 310 million of them in the U.S – that's one for each and every man, woman, and child.
It's a beginning, and one that does not negate recognition of the complex machinery that is America, even as we see the compassionate, beating, human heart that we envision our country to be.
Here are a few more statistics from CNN which I found sadly telling:
26 — Percentage of Americans who favor a handgun ban, a record low, according to a 2011 Gallup Poll.

60 — Percentage who supported a ban in 1959, the first year Gallup asked this question.
Mental health is another significant element in this picture – that goes without saying. It carries its own set of dependencies that are related to our culture, our economy, our systems of care, and yes – our willingness to pick up the tab through tax dollars.
I'll return to data I quoted a few days ago, that the cost of one F-35 could cover four years of Reading is Fundamental for the entire country. We are as civilized as our priorities.
There are no easy answers, but perhaps some are easier than others. Nothing says we can only focus on one dimension at a time – selecting "this or that." Nothing says that in our national grief we cannot also do the hard work of speaking out, and looking to repair what we can.
Source for Gun statistics: CNN Statistics on Guns


Also of Interest

Big Little Wolf's Daily Plate of Crazy