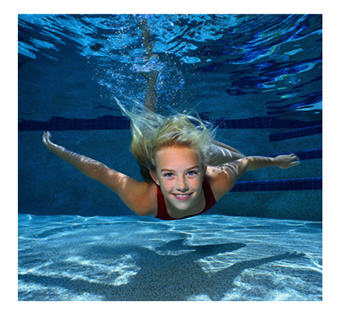 I dream that I'm swimming: I'm diving for pennies at the bottom of the neighborhood pool; I'm clocking laps underwater at the gym; I'm holding my boys, and teaching them to love the water.
In these dreams, my stroke is long and strong, my body is lithe and light, and I am always pain-free. When I wake from a dream of physical exercise – especially swimming – I feel energized. An injury five years ago eliminated swimming from my "real life," but the sensation of it, even in dream, brings me solace.
A friend has been suggesting that I try his pool, but I've been afraid. Worried that I couldn't manage it. Worried that I'd set off a bout of pain.
Last evening I popped by his place, set aside my trepidations, and decided to stick a toe in the water at last, literally.
A Toe in the Water
My concerns were legitimate; the movements that once came so naturally to me might strain the injured arm and shoulder which is never entirely pain-free. Like most of us, I prefer not to trigger chronic pain, but I've missed swimming more than I can express, nurturing the hope that someday I could give it a try even if it meant opting for a gentle breast stroke, or floating on my back propelled by a little flutter kick.
I sat by the pool and focused on the heat of the sun, which was comforting. My friend said nothing, but knowing he was there was reassuring.
Eventually, I waded in. I allowed my body to adjust to the temperature. I took a breath, I pushed off, and I swam.
If you asked me to define joy – right now, at this moment – I would say it was that moment, yesterday, and the 15 minutes that followed during which I experienced something akin to bliss. I reclaimed a dream, the physical sensation of freedom, and the natural high of pleasurable exercise – without pain.
The Power of Dreams
To those who say that giving up is easy but trying is hard, I disagree.
When it comes to dreams, giving up is hard if not impossible if you're giving up a passion, giving up what others take for granted, or giving up hope. I'm anything but a quitter; I refused to part with the slim possibility that I might be able to swim one day.
Sometimes, we believe we will never regain something of value that we've lost. Sometimes, we believe we will never be rid of pain – physical or otherwise.
We all deal with the remnants of injuries or constraints of some sort; we're more bothered on certain days, and less so on others. But my swim? It was a gift, a reminder, a lesson – to hang on to dreams, tenaciously.
And possibly, with patience, with focus, with a bit of luck – to attain them.

Big Little Wolf's Daily Plate of Crazy