Up for a bright, sunny, light meal or two?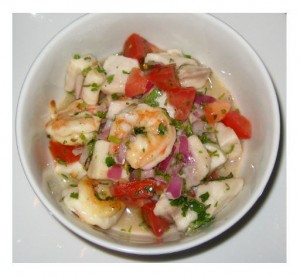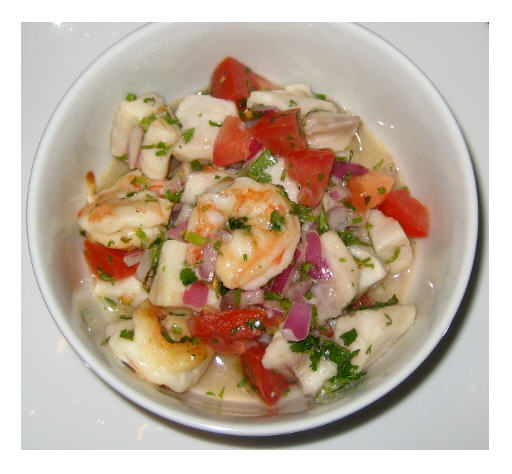 I'm always on a budget, but looking to eat organic (and local) if possible.
This weekend? I wanted no muss, no fuss – and a combination of salads, fruits, and affordable fish.
I offer you two easy, light on the pocketbook, and healthy recipes you can toss together without too much time or trouble. (Prepare to be wowed by the Ceviche recipe – especially if you've never tried it before.)
First, it's a quick-and-easy Salade Pseudo Niçoise, and then – Ceviche Sauvage!
The salad? It takes 10 minutes, less than $10, and feeds three or four. Make your own vinaigrette or use your favorite light dressing.
The Ceviche? It costs about $15 for the fish, and another $5 for the remaining ingredients – all organic! Time to prepare? 10 minutes for the shrimp, about another 20 minutes for putting everything together, and feeds four (as a meal) or eight (as appetizers). (Step-by-step pictures of the Ceviche, here.)
Salade Pseudo Niçoise
Mixed organic greens
Parsley, chopped
Cilantro, chopped
4 Hard-boiled eggs
1 can albacore tuna
3 large Roma tomatoes (or other variety)
Red onion
Optionally: olives, red or green pepper, anchovies
(No anchovies for moi, thank you.)
Wash, chop, toss, dress, and serve! (Yes, it's that simple.)
Ceviche Sauvage
Now, now. You know I love to append the word sauvage to the recipes posted here. Why, you may ask?
In French, sauvage means wild, not (necessarily) savage. In other words, I love to tweak whatever recipe I may have on hand. In fact, it's how I approach most things in life – with a soupçon of spontaneity.
As for the Ceviche – it's my first! And I confess it was a team effort. I was the Sous-Chefette, to an amiable (and hungry) Cohort-in-Cuisine.
What follows is based on the Ceviche recipe at Simply Recipes – and as mentioned, tweaked.
Ceviche Ingredients
1/2 pound fresh shrimp
1 pound Tilapia (3 or 4 fillets)
1/2 red onion, diced
1 large Roma tomato, chopped
1/2 cup fresh squeezed lemon juice (2 lemons)
1/2 cup fresh squeezed lime juice (2 limes)
Dash of oregano
Dash of Tobasco sauce (I used Cholula hot sauce)
A small bouquet of cilantro (chopped)
Ceviche Directions
Clean (and devein) the shrimp. Sauté in olive oil. Set aside.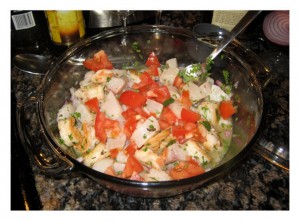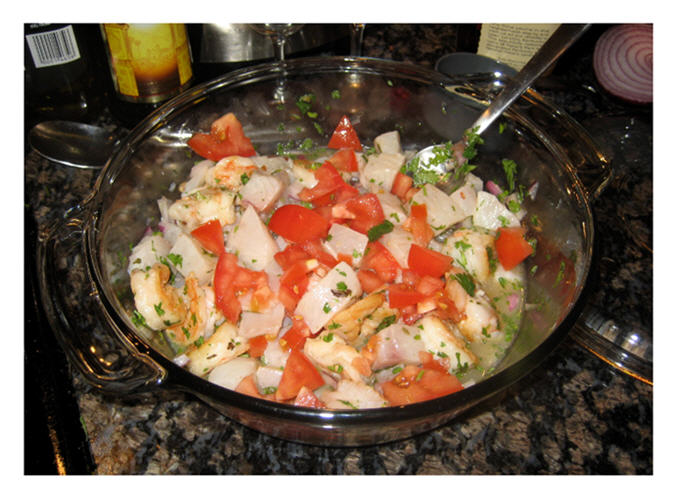 Chop everything else and toss it in a glass bowl (also known as a "non-reactive" casserole or container such as Pyrex). Pour the lemon and lime juice over the mixture. Allow it to sit in the fridge for an hour, mix, than put it back in the fridge for a few more hours allowing everything to blend.
Take it out and enjoy! Serves 8 as appetizers and 4 as a main meal. (Gorgeous, delicious, healthy, and affordable.)
More images – step by step through the process – here. Yes, mine!
You May Also Enjoy