It's a simple concept, really. Something many of us pick up along the way, dismiss as life gets complicated, and if fortunate, refashion into the habit of a lifetime. We ask: How may I help?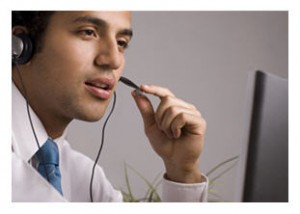 Years ago I attended a professional seminar touting a different approach to traditional networking. Rather than blatant self-interest – the typical meet-and-greet, and delivery of the 60-second elevator speech – the focus was on genuine exchange of services.
On being of assistance.
Called NetWeaving, this shift in networking style was positioned as a win-win – a sort of individual + collective benefit. The premise: when you're sincerely open to helping the other guy, you help him and yourself.
Idealistic?
Sure. And it works. Doesn't a bit of the Golden Rule help us all? Don't we feel good when we help someone else, or when we step out of our own concerns for awhile? When a customer senses that you're invested in his success, won't he be more likely to avail himself of what you have to offer?
As for the inevitable "takers" – they won't disappear. But most of us remember when someone has acted in kindness, provided assistance without strings, or delivered on their promises. We pay it forward when it's personal. We go back for more (and serve as references) when it's business.
Helping, as part of organizational or social fabric
As a teen, I used to stop by my mother's office occasionally. She worked as an administrator at a large university. Her standard response when she picked up the phone?
She spoke her name, followed by "How may I help you?" – which struck me at the time, and has always stayed with me.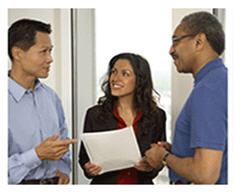 Perhaps the phrase was startling because my mother was often abrasive with me. Perhaps it was the surprising warmth in her voice, and the fact that she connected readily with strangers. Whatever our relationship, when it came to her professional life, she derived enormous satisfaction from helping solve problems, and doing so in a gracious manner.
That leads me to reminisce however vaguely about "then" and "now," the sense that Americans once prided themselves on service – service to family, to various communities, to customers. Service to country, and to humanity in general. This concept of giving was woven throughout my mid-century upbringing, by a complicated woman who nonetheless believed in "how may I help."
Teaching kids about service
For many reasons, I find myself examining the way in which I approach challenges. Only days ago, while working with a small business owner to define his competitive advantages, I offered my own by way of example. I summed up my skills and experience in a tidy three sentences, followed by
… and I'm not happy until my client is happy.
In other words, my commitment to excellence (in everything) is part of what sets me apart in the business world. My insistence on exceeding expectations is wrapped up in a belief in service. I will add that knowing myself as a people pleaser, I have to be careful with this tendency. Yet I am proud of the fact that I feel good when I help others to feel good. When I make a difference, it is tremendously satisfying.
As a parent, this is no less the case. I've been dealing with my younger son's roller coaster moods since school began in August. His schedule is jammed, his sleep is compromised, and he's cranky all too often. I would be lying if I said it didn't bother me; I'm having to draw from deep wells of patience and perspective, daily.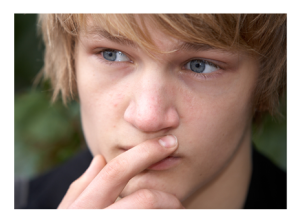 I also spend several hours each day in service to my son – not as a parent per se, but as his partner in taking him closer to his dreams: I research, I make phone calls, I shuffle his schedule and my own.
He knows it. He sees it. He acknowledges it.
This is not the only example of service; both my sons have witnessed acts of kindness, donating time and skills, and have been sharply reprimanded when they're thoughtless. Likewise, they've been praised when they think beyond their own needs, as I try to teach that self-interest and helping others are interrelated.
"How may I help?"
Presumably, my mother's polished professional line lodged itself in my psyche. She may have failed to practice the same approach at home, but she implemented the art of service in other ways, and in her own way.
As for me, I ask my teenager "What can I do to help?" several times each week. It diffuses frustration. It bonds us in a common goal. It encourages him to speak more freely, knowing there will be no judgment, only a search for solutions – together.
Healthy self-interest is a must; women often slip to the bottom of their own priority lists. I'm not suggesting we perpetuate that behavior, only that we seek to frame our words and our outlook differently, recognizing the strength of a tightly woven fabric, balance, reciprocity, and interdependence. Service, that benefits us all.
You May Also Enjoy