You already know why I wouldn't shave my head. But what else don't you know? And what if you were asked to tender tidbits on your truest self?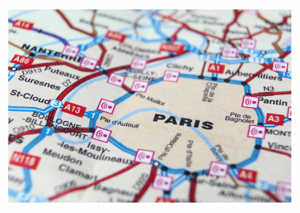 One might ask… how well do you know yourself? Do you take the time to reflect on who you once were, who you are now, and who you are becoming? This is not an indulgence for many of us, but a necessity — natural, at times wearing, but an exploration inward that serves our contributions outward.
So what if you had the opportunity to sum yourself up in 10 tidy items, sketching a perky picture of yourself? Would you choose consistency? Comedy? The serious route? Might you opt for revelatory? Random? Your very own reality check?
Would you include a mix of thoughts and actions? Accomplishments and struggles? Would you focus on a time in your life, a place in your mind, a substantive connective thread?
We all must consider our audience, naturellement, not to mention the venue. And yet…
One (fashionable) picture is worth a thousand words
What if someone requested 10 pictures of you that capture who you are? Would you choose a series of images that show a well-presented self? A messy-in-the-morning self? A playful self, a weary working self, a dressed-for-success self?
How about a parenting self?
Oh my. Depending on the stage of mothering mania, that would be a bit of a wreck!
Perhaps you prefer yourself at your easel or computer or tuba, on the soccer field or tennis court or flipping rib eyes at the grill on the deck. Then again you may go for your uber-mega-super glamorous self. Or possibly, you at your most natural.
Would you send 10 images as a spectrum of moments, a mosaic of sorts – a grimace, a frown, an off-guard snap of irritation, or unbridled jubilation? Would those 10 pictures be worth a thousand words? Ten thousand words?
As for 10 things you don't know about me, and the reason for this ramble, indeed… at the request of others I will indeed offer up 10 more dots to connect any way you like, rendering "me" a creation of your making at least as much as mine.
10 human revelations
I think I will choose 10 human revelations, fashionably extracted from the memory's Roladex, not entirely at random.
And since I have the good fortune of having received not one, but two challenges to work this self-examining exercise, that means I am hoisting the pick axe and shovel to unearth a few more bits of information about moi that hopefully will not leave you yawning.
And here we go…
From the time I could hold a pencil, I was either writing or drawing. I would write anything, though poems, plays, thoughts and stories filled my pages generally. As for the art, I was fascinated with faces and drew portraits mostly, and fashion. I loved designing clothes and drew dresses and gowns for years, with the thought that someday perhaps I might design haute couture "on the side."
The first designer clothing I ever owned was a black skirt by French couturier Givenchy, who was, by the way, Audrey Hepburn's designer of choice, and Hepburn has always been one of my style icons. I was in my early twenties when I bought that skirt on sale for $40, costly for me at the time, and I wore it for many years. It was classic, an impeccable fit, and yet one more lesson in the importance of quality. It also whet my appetite for beautiful clothes, when and if I could ever afford them. (That came 10 years later.)
For those who don't realize — it is Fashion Week season — New York, Paris, London, and Milan. While I adore high fashion, I resent the fact that the term "haute" in Haute Couture sounds very, uh… haute, which means high or tall, and thus remains perpetually beyond my diminutive reach, in stature, lifestyle, and financially speaking. While I do not worry about the rules that say I should dress my age, I follow a few fashion and style trends of interest, and have strolled (arguably) one of the finest fashion streets in Paris, rue du Faubourg Saint Honoré. Though I never had the bucks, francs, Euros or nerve to attempt entrée into a designer salon, someday – just once – I would love to do so. And despite my discomfort in crowds, I would truly love to attend a runway show at Paris Fashion Week. Perhaps Chanel or Christian Dior.
One of the reasons I'm crazy for shoes is because I have nice little feet, and as most women understand, shoes are often easier to fit than clothes. In fact, my petits pieds are (or were) small enough to buy designer goodies at sample sales. Sliding my tootsies into gorgeous shoes made me feel extraordinarily feminine. Since I have been everything from a size zero to a size 20 in my life (true, and currently a size 4), those Anne Kleins or Jimmy Choos on my feet meant the world to me, and my sense of self-esteem through "weightier" days.
For all the times I have lived and worked in Paris, I have never cruised the Seine compliments of les Bateaux Mouches. You know, the cool barges that attract tourists for the most part, not to mention a luscious scene in a famous film (Hepburn and Grant). I have also never dared to drive in Paris. (I value my life.)
I have, however, enjoyed all manner of other transportation in France. Normally I walk or take the métro when in Paris. Speaking of which, my most memorable metro ride was when I was 19 and a student, commuting across the city. I slipped and fell along the platform during the morning rush, tore tendons and ligaments in one leg, staggered to the wall, where I must have crumpled, unconscious, briefly. I was most certainly inelegantly attired (it was the scruffy seventies), and I imagine I looked like part of the (then) routine line-up of beggars and drunks, because it was several minutes before anyone stopped to help. Eventually, I was carried out and taken to a nearby hospital. In a paddy wagon. That winged Sister Bertrille Flying Nun habit would have come in handy right about then. A wee bit less embarrassing, and much more chic.
Despite my obsession with gorgeous shoes (and I really do believe that some of the designer creations of Louboutin, Choo, Vivier, Blahnik and others are art), I do not in fact sleep in my designer shoes and gorgeous stiletto-heeled boots. But that doesn't mean that I haven't, um, gone to bed in them.
I used to receive a can of ripe pitted black olives for my birthday every year, gift-wrapped, even as a child. They were my favorite food, and continue to rank very high on my list. It was only as an adult that I came to appreciate the wide selection of olives – green and black – in particular, all manner of garlic stuffed and briny soaked olives, Italian style. Mmmm. Life can be tasty.
As much as my heart belongs to France, I've always wanted to live in Italy for a period of time, or at least a visit – Rome, Venice, Florence, the hills of Tuscany. I have yet to manage it, although I have literally been within a half hour jaunt, but remaining on the French side of the border. There was a relatively recent opportunity (that I regret), when a group of rather "racy" suited-up Italian cyclists offered to take me, five years ago, when I was walking in a little town in the South of France. I'm thinking I could have gotten some gooooood … olives, if I had said yes.
I've already mentioned that I used to think I was capable of flying like Sally Field (the Flying Nun), but perhaps the problem was not my lack of Catholicism after all, but the fact that she was in Puerto Rico with a French name (Bertrille). Had I imagined myself as an Italian nun (Sister Maria?), then I could have zapped over the border to Italy (given myself the "boot" so to speak), harvested some Italian olives from the treetops, and all while soaring through the groves in the vicinity. Had I timed it right (the fall fashion collections?) perhaps I could have glided on to Milan, to catch an event at their Fashion Week.
And one extra tidbit, for good measure. Who says we cannot make our own rules from time to time?
On dark days (I have my share, as you know, and don't we all?) I pay close attention to the dialogue in my head. Especially to "first words" after periods of relative wordlessness when emotions set aside capacity for language. All too often, what slips out is: "I am in a dark tunnel." But on a good day, the conversation continues, and a response is fired back: "Wrong. You're in a beautiful room, but it's messy."
Not a bad metaphor for many circumstances, with or without wings for hats, runways for finery, constraints that threaten dreams, or whatever else life dishes out. And whatever we can make of it.

Click Jimmy Choo to access Saks Fifth Avenue.
You May Also Enjoy