A week of poor sleep, disturbing news, irritations that pile up. Too many hours of solitude, when you long for outings, laughter, children.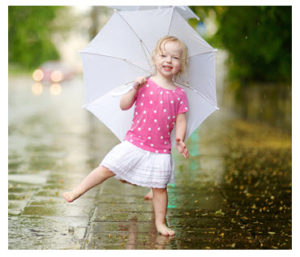 Restless reading, restless dreaming, restless legs.
The scale that refuses to budge despite days and days of dieting.
After a weekend of clouds, a brief stream of sun, downpours and thunder, streaks of violet… in the morning, the sweet smell of rain arouses an inexplicable sensation of calm.
You take a slow deep breath, hold it, then exhale.
You dab a drop of perfume on each wrist, delight in its spicy notes.
You let go of the fatigue, the worry, the annoyance. You reject the weight of the silence. You welcome the companionable quiet. You focus on your breathing.
Saved by Our Sense of Smell
It isn't so surprising that emotions are affected by scent — both the smell of the rain and the fragrance on our pulse points. We know how cooking smells propel us back to childhood; odor is closely linked to both emotions and memories.
As Scientific American points out, the link between scents and moods is a matter of associative learning:
… in order for an odor to elicit any sort of response in you, you have to first learn to associate it with some event. This explanation for how odors affect us is based on what is known as associative learning, the process by which one event or item comes to be linked to another because of an individual's past experiences. The linked event is then able to elicit a conditioned response for the original situation.
Cue the contentment when we smell soup simmering on the stove or cookies in the oven, these evocative aromas associated with happy family gatherings…
I recall this New York Times article on use of scent that points out:
The therapeutic properties of scent have been cultivated since antiquity. They were a particular fascination of medieval monks in their cloistered gardens.
Aren't we susceptible to the effects of a broad range of odors in both our public and private spaces? Turned off, turned on, uplifted, unsettled?
Danger Signs and Scents? Energizing Scents?
Psychology Today goes so far as to suggest that scents can motivate behavior, reminding us:
Smell is often the first warning of safety or danger… Smells have the power to drive your behavior on an instinctive and subconscious level. Luckily, you can also harness the power of smell and consciously use it to your advantage…
And yet —
… most people undervalue the power of scent. Fragrances have the ability to evoke both positive and negative psychological states of mind and reactions in milliseconds.
When I inhale fresh dill — I've no idea why — I feel heavenly. So yes, I add fresh dill to salads and cook with it whenever I can.
My response to the sweet smell of showers falling on freshly cut grass eludes me. I can't place this positive association, but I imagine its origins lie in childhood. And much as I love a sunny day, I'll opt for periodic visits from a soft summer rain.
You May Also Enjoy