I admit to one New Year's Eve of dancing on tables in a far-off land… a playful evening that is bright in memory.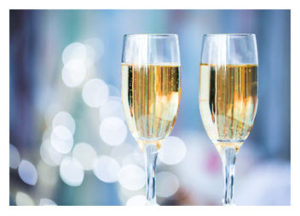 I admit to reveling in Nora Ephron's "When Harry Met Sally" as her two heroes confess their feelings — at last! — at a New Year's party.
I admit to childhood imaginings of ringing in January 1 — my mother in pearls and perfume, my father in a suit — my parents routinely heading out to welcome the new year.
And otherwise?
As December 31st rolls in, I need a breather. A quiet night. Old movies on the tube. Julia Child on YouTube!
A glass of bubbly, maybe two.
Of Rollercoasters and Resolve
My year in review? Must I, really?
Try this: I give 2016 a boot in the butt, a hearty heave-ho, and a gargantuan good riddance! Sure, there were some excellent moments, but overall… it was tough from the get-go, tumultuous throughout, but… drum roll please… sparkling at the very end.
My rollercoaster aside, can we agree it has been a grueling and disturbing election cycle, and a year too often characterized by numbing violence on both the domestic and world stage?
How to fight back?
A deep breath. A reality check. Renewed resolve — to be more open-minded, more disciplined, more resourceful; to be kinder to ourselves in defeat; never to abdicate what we believe in; always to be appreciative of love.
Change Agent?
Outcomes are never guaranteed. Change always involves risk. And after seismic change, we feel a need to pull in, to mull over, to regroup, to re-center. That is precisely what I have been doing these past weeks. Well, along with a brand new adventure in physical therapy.
Dancing on tables? Not so much.
As for the changes that swept through my 2016 — full-blown empty nest, selling my home, relocating to a new region, healing from one medical issue only to slam into another — let's just say I never anticipated the extent to which I would be thrown off my game. And consequently, deeply disappointed in myself.
God knows, disappointments chip away at the spirit. But with a little help from our friends, when we're knocked down, we get back up.
A Toast!
Tonight I celebrate simply. If I can stay awake, that is!
I raise my glass to the kindness of a friend whose caring has helped in more ways than I can count; I fête the return of laughter to my slightly shaken heart; I honor the steadfast support of my quirky, clever and magical sons; and I commit myself to giving at least as good as I get.
Your year in review? Your thoughts as you look ahead in 2017? Your means of managing seismic change?

You May Also Enjoy