All puzzle pieces in place, in life?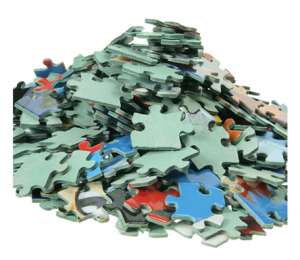 In my experience, there is no such thing. Sure, we know the occasions when it's usual to start from scratch, and we live others when we sense we are close to completing the "perfect picture."
Then again, there is no perfect. No perfect self, no perfect mate, no perfect job, no perfect kids.
Now, we might have some "perfect moments" and even perfect days. How fabulous is that!
As for accepting that life presents challenges (that we cannot solve to a point of perfection), this acceptance doesn't prevent us from striving for excellence, for beauty, or for our personal best.
And when it comes to delaying decisions as we wait for pieces to fall into place, or blaming ourselves (and others) if something seems missing, I say STOP.
Stop blaming yourself. Stop blaming others. Stop waiting for the ideal time, the ideal you, the ideal situation.
No Such Thing as "All the Pieces in Place"
When dealing with complexity, isn't it more important that we try to put key pieces in place, and similarly, that we work toward an absence of impediments to moving forward?
When we're contemplating a significant change in circumstances — career, relationship, location — if we wait until "everything" is flawlessly arranged, we just might sentence ourselves to waiting forever.
Considering a relocation, for example, these questions involving logistical and emotional complexity come to mind:
Would you relocate purely for the sake of change?
Would you relocate for the person you love?
Would you only relocate for a fiancé or a spouse?
Must you feel compelled to relocate if your spouse decides to do so?
To what extent do you factor in your children's wishes?
Is that solely a function of age and possibly special needs?
What about financial security, access to healthcare services, political leanings?
How much are you able to compromise your preference for a certain climate, lifestyle, or setting?
What about proximity to other members of your family?
And aren't these issues more complex when speaking of blending families in pursuing your Chapter Two or even Chapter Three?
Can't Find the Key to What Counts?
When faced with a complex scenario, like most of us, I experience two competing reactions.
The first? I'm overwhelmed!
And the second? I search for ways to simplify.
By simplify, I do not mean to overlook, under-appreciate, or even reduce complexity necessarily; in people, I find complexity both beautiful and fascinating. By simplify, I mean finding a gateway in, a mechanism by which to better organize the pieces I perceive, breaking them down into manageable parts, and then working with them until I finally begin to "get it."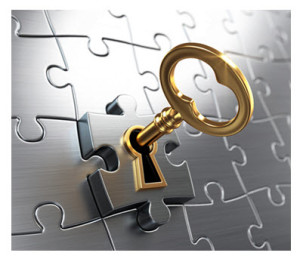 If the complexity I'm confronting involves a personal relationship, I try to honor the fact that I'm dealing with numerous unknowns, not to mention feelings other than mine. Not making assumptions is a must, but oh so difficult to do!
What else?
Time, empathy, seeking to understand motivations. These help.
I ask questions — at times, no doubt, too many.
I shut up for the answers — at least, I try.
And I'm likely to be more successful at hearing what I'm told if I divorce myself from defensive postures and emotions that I know can be triggered in me. Still, discussion is the only way I can find a key to unlocking perplexing people puzzles. And more importantly, communication is the best way I know to achieve the sort of emotional intimacy that I view as essential.
Manageable Bites Make Digestion Easier
A complex work project? Also fascinating. Here, for me, a measure of delight is likely to kick in. I adore a good challenge!
But knowing that I may be operating with something large, intricate, not fully revealed, and a moving target — I had better be ready to break it down into progressively smaller, more manageable bites, and then exercise patience and discipline as I chip away to gain a better view.
Obviously, a host of demanding situations present themselves in fragments, and when they shake us to our foundations, we wish we could picture the puzzle completed! When we face challenges of such magnitude and complexity as to overwhelm us — at first — from getting through a tricky divorce to beginning a doctoral program at age 65, here, too, breaking them down will make them so much more manageable.
And media, fanning the flames of our aspirational desires?
I say this: Take what you will that inspires and motivates, then set a path that challenges and delights!
You May Also Enjoy